Madrid hopes to consolidate its lead
January, 4, 2012
01/04/12
9:57
AM ET
As 2011 becomes 2012, we pick six teams with much to do in the new year, and a few resolutions between them that, for varying reasons, must be fulfilled: from Real's mission to knock Barca off its perch to Zaragoza's desperate battle to avoid slipping into the abyss.
[+] Enlarge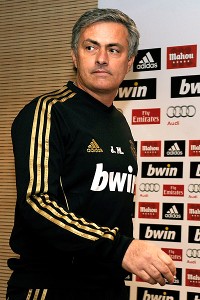 Dominique Faget/AFP/Getty ImagesThe Special One will hope that Barca's dodgy away form continues.
Real Madrid
Top at the new year for the first time under Jose Mourinho and during the Pep Guardiola era. The Portuguese would happily have taken a three-point lead at this stage if offered it in September, but a missed chance to put real daylight between the Catalan champion and the capital challenger will rankle nonetheless. What Mourinho needs in 2012 is for Barcelona's sketchy away form to continue. Real's record is 7-1-1; its rival's 3-3-1. On the road, Barcelona has won 12 points from a possible 21, scoring 11 and conceding eight. Real has reaped 22 from a possible 28, hammering in 27 for five conceded. Of course, the only away result that really mattered in the first half of the season was Barca's 3-1 win in the Bernabeu, and if Mourinho is to bring the title to Madrid, it is another record he will need to reverse; at home Barcelona is unbeaten and has scored 39 times without reply.
Valencia
Third in 2010, third in 2011, third right now. Valencia appears to have established itself as the bronze-medal club in Spain, despite the fiscal necessity of selling players any other side wants each summer. David Silva, David Villa, Juan Mata and Carlos Marchena, World Cup winners all, have been offloaded in recent years to ease Valencia's massive debt, which stood quite recently at more than 500 million euros. However, a convenient deal with Spanish lender Bankia -- to the tune of 250 million euros of debt wiped for the property rights to the old Mestalla, the club's training facilities and a chunk of commercial space at New Mestalla -- opened the way for Valencia to become a challenger again. The team should inaugurate the new stadium "in two years' time," according to the club. It may be too late for this season, with no major arrivals expected in January, but if Los Che have the finances to build rather than pull apart, the 2002 and 2004 Liga winners could soon provide a third horse for an increasingly predictable course. Considering his immediate constraints, manager Unai Emery will settle for third again and look forward to being able to look at what's on the menu, and not the price, for a change this summer.
Osasuna
Also unbeaten at home, Osasuna traditionally relies on its fortress Reyno de Navarra stadium to maintain its Liga status, being generally awful on its travels. But despite a 7-1 thrashing by Real at the beginning of November, Osasuna picked up its first away win of the season at Espanyol two matches later and then beat Betis and Villarreal at home and held Malaga on the south coast to end 2011 in fifth place. With four dogged ties on its travels already this season, it is little wonder that Barcelona considered appealing to switch the order of the Copa del Rey clash between the sides in January to be able to play the second leg at Camp Nou.
Atletico
"There is always hope," said Diego Simeone upon his arrival in Madrid on Monday to take charge of Atletico. The former Argentina midfielder is probably as famous for getting David Beckham sent off in St Etienne in 1998 as he is for anything, but he was the driving force behind Atletico's league and cup double of 1995-96 and was the popular appointment among long-suffering fans. Whether or not El Cholo can do anything with this Atletico remains to be seen. Gregorio Manzano was sacked after a bumbling King's Cup exit at the hands of Albacete -- of which, incidentally, Andres Iniesta became majority shareholder recently -- but the signs have been pointing backward since an uncharacteristically spectacular performance against Udinese in the Europa League. An institutional basket case that averages 14 new players a season forked out huge sums for Radamel Falcao and Arda Turan in the summer, but has perhaps best been served by bargain-basement Adrian Lopez and free transfer Diego. A graveyard of ambition and a knacker's yard for previously competent defenders, Simeone faces quite a task to lift a deflated squad with little real prospect of reward for the remainder of its season. "I am not frightened by the challenge," he boldly stated. Hardly surprising -- nobody with an interest in Atletico expects very much in the first place.
Villarreal
Much like Atletico with Manzano, Villarreal president Fernando Roig had publicly backed his coach but added the caveat: "patience is not infinite." That patience finally snapped when Villarreal slumped to a miserable King's Cup defeat against third-division Mirandes, which won 2-0 in El Madrigal after a 1-1 tie at home. Juan Carlos Garrido, himself promoted to the first team from Villarreal B in February 2010, was replaced by his successor in the role, Jose Francisco Molina. The former Spain goalkeeper, who won the double with Atletico alongside Simeone in 1996, takes over a team in such free fall as to self-parody its nickname of "Yellow Submarine." Bundled out of the Champions League without a single point and currently outside the drop zone only by dint of having scored one more goal than Sporting, the habitual top-10 club with a frightening record of qualifying for Europe through the Intertoto is in a relegation fight. Players said of Santi Cazorla's departure to Malaga: "The club has lost its soul." If Molina cannot turn things around before season's end -- and the return to action of Nilmar and Giuseppe Rossi won't hurt that prospect at all -- Villarreal stands to lose a lot more than that.
Zaragoza
In the Premier League, a Yuletide tradition exists that the club at bottom at Christmas is doomed to the drop. West Brom, under Bryan Robson, became the first side to buck this trend in 2004-05 with a famous final-day reprieve, popularly known as "The Great Escape." Zaragoza, though, has been busily burrowing under the fence ever since returning to the top flight in 2009. Second-bottom during the winter break later that year, Zaragoza finished 14th, five points clear of the drop zone and repeated the trick last season. 20th at Christmas, the Aragonese side was 18th going into the final round of fixtures, and Javier Aguirre emulated Robson by engineering a 2-1 win at Levante to eventually finish a somewhat embellished 13th. The Mexican will not be around to make a fist of it this year, having been sacked during the winter break. The man stepping into the breach, former Sevilla and AEK Athens coach Manolo Jiménez, knows that the stakes have never been higher for his new club. After the frugal stewardship of Alfonso Solans, who preferred to sell David Villa and Cani rather than risk Zaragoza's solvency, Agapito Iglesias had led the club to the brink of oblivion. Zaragoza has debts of over 130 million, filed Spanish soccer's biggest-ever voluntary bankruptcy petition in July, and currently boasts the most expensive squad in its history -- with a wage bill to match. Not a great investment when its one win and ten points are considered. If Zaragoza descends this season, it may well never return.