Five things we learned this weekend
April, 2, 2011
04/02/11
2:19
PM ET
It was turning out to be a fine early Saturday afternoon for Arsene Wenger. Spring was in full bloom, with sunny skies and temperatures hovering in the low 60s in North London.
Nice.
Oh, most important to the Arsenal boss, Manchester United trailed West Ham, a relegation contender, 2-0 at halftime in East London.
How things changed.
The skies darkened, and United rallied for a thrilling, controversial 4-2 win, sparked by hat-trick hero Wayne Rooney and -- not for the first time this season -- Javier Hernandez.
"We played like champions," Red Devils manager Alex Ferguson said afterward.
And they're almost there.
Arsenal stumbled at home against 10-man Blackburn, another relegation contender. The cavalry returned but Wenger's men fired blanks in the late kickoff, drawing 0-0, a third straight tie at the most inopportune time. United thus extended its lead atop the Premier League to seven points with one more game played.
Here are five takeaways from Saturday's encounters involving the top two:
1. The ref was good -- then bad
Another week in the Premier League resulted in more dodgy decisions by the officials.
Lee Mason, not one of the division's higher-profile referees, began well at Upton Park.
He rightfully awarded a penalty when United left-back Patrice Evra foolishly blocked the ball with his hand, and pointed to the spot again when the returning Nemanja Vidic hauled down Carlton Cole -- the first time United conceded two penalties in a Premier League game.
Fergie suggested that Vidic's foul was committed a whisker outside the box, although replays weren't conclusive either way, so let's give Mason the benefit of the doubt.
Yes, in a back five that included the inexperienced Fabio, Chris Smalling and Tomasz Kuszczak, it was Vidic -- a stalwart in the center of defense -- and the veteran Evra who were the culprits.
But Mason, perhaps mindful that he'd punished mighty United twice, subsequently let the away side off the hook.
That Mason only brandished a yellow card after Vidic wrestled Demba Ba to the ground as the last man was moderately understandable. The ball ran away from Ba, and the striker probably wouldn't have mustered a scoring chance.
However, with West Ham ahead 2-0 in the second half, there was no excuse for Mason not giving Vidic a second yellow when he hacked down Ba, a fine addition in the transfer window, from behind.
Even Fergie, more placid in the stands this time as he served the second game of his five-game touchline ban, admitted Vidic was "lucky" to avoid a sending-off.
Rooney sealed United's comeback with a penalty of his own. Mason, taking advice from his linesman, blew the whistle for a handball on defender Matthew Upson. In this instance, Upson had little chance to avoid contact.
2. United deserved the "W"
[+] Enlarge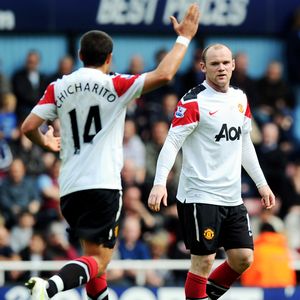 Mike Hewitt/Getty Images Wayne Rooney and Javier Hernandez led Manchester United's comeback from two goals down to win 4-2 at West Ham and increase the gap at the top of the Premier League table.
Don't let Mason's Jekyll and Hyde performance fool you. United, on the balance of play, merited three points.
Both of West Ham's goals came against the run of play, although Fergie won't be pleased with the way the defense reacted to a long ball -- as good as it was from Thomas Hitzlsperger -- that led to the opener.
United earned 11 corners alone in the first half, which probably would have led to two or three goals had Arsenal, less than stellar on set pieces, been the opposition.
Hernandez's introduction to start the second half added more urgency to United's approach, which was already substantial. Within a minute, Chicharito zipped across the box, clipping an effort wide.
The wonders of youth.
Two brilliant finishes from Rooney pegged West Ham back, and Hernandez got the goal he deserved by being in the right place at the right time -- typical of a poacher -- to make it 4-2.
Has there been a more valuable offseason addition than the 22-year-old Mexican forward?
3. Arsenal deserved nothing
Lowly team comes to the Emirates Stadium.
Lowly team sits back and defends.
Arsenal starts bright.
Arsenal lags.
Arsenal picks it up late in the second half.
Time expires.
An all-too-familiar story for Arsenal fans. From quadruple to "Can we just fast-forward to next season?"
Wenger saw speedster Theo Walcott and key holding midfielder Alex Song return to the starting lineup after injury, though he kept midfield genius Cesc Fabregas on the bench until midway in the second half.
It seems Wenger starts the Spaniard when he shouldn't, and vice-versa.
Walcott, in another customary sight, showed signs of life very early in the first half, forcing Paul Robinson into a good save. Like most of his teammates, he slowly drifted until being substituted.
Samir Nasri deserves ample credit for showing John Terry-like toughness and completing almost 80 minutes despite suffering a nasty bump on his head. Wenger, strangely, took him off with roughly 10 minutes to go -- in favor of Nicklas Bendtner. Fabregas, running the show immediately after his introduction, wasn't able to pull the strings in the final 10 minutes.
Sure, there were the customary close calls, especially since Blackburn played the final 15 minutes down a man. But unlike United, Arsenal's urgency only manifested itself in the final 10 minutes.
And compare Hernandez and Dimitar Berbatov to Arsenal's second and third strikers, Bendtner and Marouane Chamakh.
No leaders equal no titles for Arsenal … and perhaps a drop to third in the standings below Chelsea?
4. No more Almunia
Surely Manuel "Fawlty Tower" Almunia has played his last game for Arsenal, injuries or no injuries.
When the Spaniard entered against Barcelona in the Champions League, under no pressure, he sparkled in goal. Knowing thereafter he'd be the No. 1 in the absence of Wojciech Szczesny, Almunia was back to his old self against West Bromwich Albion and Blackburn.
Almunia looked shaky attempting to keep out Martin Olsson's long-range drive, and flapped at a long ball that emanated from opposite number Paul Robinson. The Arsenal crowd, normally polite (too polite), cheered sarcastically when Almunia gathered an easy ball later in the first half.
Wenger, chief architect of Arsenal's goalkeeping mess, has no choice but to use rusty veteran Jens Lehmann against Blackpool next week.
5. The numbers add up for Park
United fans were happy to have workaholic midfielder Ji-Sung Park back in the lineup. Absent due to the Asian Cup, then a hamstring injury, the South Korean hadn't featured since Boxing Day.
Park was denied by West Ham keeper Robert Green, who pulled off an instinctive save, and set up a chance for Fabio, both in the first half.
When he starts, United has gone 7-0-5 in all competitions.
The return of winger Antonio Valencia makes United supporters smile further. Valencia, making his second league start in succession, retained possession brilliantly.
If the Valencia-Rooney partnership ignites, look out in Europe, too.