'Tis the season for making lists and checking them twice: Yes, the January transfer window is just around the corner. And the name I would like to see at the very top of Major League Soccer's shopping list is Everton and U.S. national team goalkeeper Tim Howard.
[+] Enlarge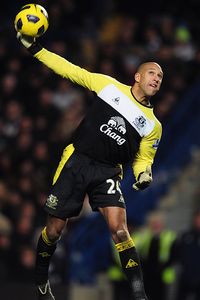 Shaun Botterill/Getty ImagesCould MLS entice Tim Howard to the league?
The former MetroStars keeper logged his 200th start for Everton in the Toffees' 1-1 draw at Stamford Bridge last Saturday -- and was very harshly judged to have fouled Nicolas Anelka for Chelsea's penalty kick. The French striker should have been whistled for deliberately charging Howard, not vice versa. One of the game's best shot-stoppers, and a commanding presence in the penalty area, the 31-year-old Howard is only just entering his prime soccer years. His signing with an MLS team would be just the tonic American soccer needs to jolt it out of its 2022 FIFA World Cup bid failure blues.
Following his outstanding performance against England this summer at the World Cup, Howard became the U.S. mainstream media's new soccer darling. His bravery on the field in that England game coupled with his inspiring personal story of living with Tourette's syndrome -- not to mention his benching at Manchester United, only to become one of the Premier League's most respected goalkeepers -- is the stuff of Hollywood. Howard isn't a celluloid hero just yet, but he's a bona fide U.S. soccer hero. MLS should offer him a Thierry Henry-size deal to come home and be the league's ambassador. Howard could help build on the momentum generated by the 2010 World Cup as well as a successful MLS season.
The proverbial rumor mill has linked MLS to such stellar potential signings as Ireland's redoubtable sharpshooter Robbie Keane, the mercurial Mexican starlet Giovani Dos Santos and the most successful MLS export to date, Brad Friedel. That's a terrific trio that would be welcomed with open arms by all MLS fans and sizable headlines by the media. None of them, though, would come close to generating the excitement that a Howard MLS return would. His EPL credibility, his All-American charm and the certainty that, barring injury, he will be a constant presence on the U.S. national team from now through the 2014 World Cup is a winning trifecta for MLS.
But even if MLS made an offer to sign Howard, why would Everton agree to sell him? He's one of the first names on the team sheet every week, and Toffees boss David Moyes is that rarity in Europe, a manager who actually appreciates U.S. soccer talent. In addition, Everton is hovering precariously around the fringes of the relegation battle and that's not the best time to be selling one of your veterans. But maybe that's the best time to make an outlandish offer. It's no secret that Everton are short on funds and to finance a New Year's revival they will have to sell some players next month. Very few pundits expected MLS to sign David Beckham from Real Madrid in the 2007 January transfer window, but that's exactly what happened.
It's time for MLS to be bold again and bring home Howard -- the one American who can sell big blocks of tickets, boost TV ratings, be a cornerstone for an aspiring championship team and be a massive building block for the league. And to cap it all: The Red Bulls need a goalkeeper. MLS and its New Jersey team would be in safe hands with the Garden State's native son.