Ronaldo is world's best player, not Messi
December, 2, 2011
12/02/11
11:52
AM ET
[+] Enlarge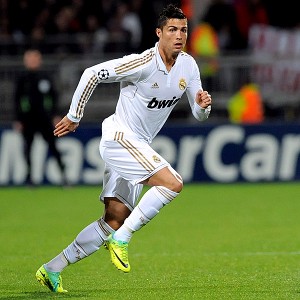 Philippe Merle/AFP/Getty ImagesHard to believe, but Cristiano Ronaldo has exceeded expectations at Real Madrid.
It's the silliest question in sports: Who's No. 1? The only way to find out is on the field of play. Yet at this time of year, the sporting ballot boxes, like Santa's P.O. Box, dust themselves off and brace for the oncoming deluge of votes. Fleeting glory and controversy usually come next. And this coming week we will see the controversy long before the glory.
On Monday, the 2011 FIFA Ballon d'Or nomination list will be reduced to a mere three players. It's not beyond the realm of possibility that the designated trio will all be Barcelona players: take your pick from Lionel Messi, Xavi, Andres Iniesta and David Villa. In that scenario, not only would a marvelous Barca player be left out of the final vote, but so would the best player in the world at this very moment: Real Madrid's Cristiano Ronaldo.
There is always an element of popularity contest in all these MVP and Player of the Year awards, and that may hurt the man from Madeira. His dives, preening and sometimes crybaby demeanor don't endear him to opposition fans and large swaths of the fourth estate. But with absolutely no disrespect meant to any of the aforementioned all-world-caliber Barcelona stars, I think the Portuguese superstar is the best player in the world.
He came to Real Madrid in 2009 with an explosion of klieg lights and massive expectations. Incredibly, he's exceeded those expectations. In baseball parlance, he's a five-tool player -- speed, dangerous in the air, dazzling crossover moves, free-kick maestro and goal scorer par excellence. He won the Pichichi as La Liga's leading scorer last season, even though his supporting cast was nowhere near that of Messi's at Camp Nou. And his 16 goals this season tops the current charts (with Messi.)
This season, Jose Mourinho has bedded his team down and it isn't quite so reliant on its dazzling genius to keep pace with Barcelona. Karim Benzema and Gonzalo Higuain have taken some of the goal scoring pressure off Ronaldo's shoulders this season, but even allowing for that, every Madrid fan fervently hopes that Ronaldo's twisted ankle will be healed and he's in prime form for Barca on Saturday.
Undoubtedly, all the FIFA Ballon D'Or finalists will be on the field that day. If the selectors have snubbed Ronaldo, look for Mourinho to call them out in the buildup to the game. He's not likely to miss a chance to motivate his countryman further and add yet another layer of spice to what's already sure to be a white-hot contest.
The Real Madrid-Barcelona telenovela, as always, will go beyond one game, and could well go all the way to the UEFA Champions League final in May in Munich. For me (and most folks) they are the two best teams in soccer, and they will settle their order of ranking on the pitch.
It's not so straightforward for individual accolades. But now is the time to vote. Like a Navy SEAL, Messi is the tip of the Barcelona spear. But when it comes to No. 1, I have to go with the Magnificent Seven, Cristiano Ronaldo.