Arjen Robben was the toast of Wembley on Wednesday night, scoring twice in a 3-2 Netherlands win over England, but it's his Dutch teammate Robin van Persie that is the toast of the EPL this season. RVP is surely a boot-in for EPL MVP honors, but will he still be playing for Arsenal next season? It's hard to imagine the Gunners being legitimate title contenders anytime soon without him.
Granted, there is no actual MVP trophy awarded to the Premier League's finest; "Player of the Year" is the preferred designation on the other side of the pond, but if ever the MVP tag belonged in English football, no player would ever be more deserving than van Persie. Currently the Premiership's leading goal scorer, his 25 goals have kept the Gunners' hope very much alive for another spot in the Champions League next season.
However, it's far from guaranteed; Arsenal's berth is still very much in the balance, and Arsene Wenger will need the often-fragile Dutchmen to stay on the field and be at his brilliant best for Arsenal to keep its long-running Champions League streak alive. Quite rightly, Arsene Wenger is furious that his star played 45 minutes for the Netherlands on Wednesday after sustaining a groin injury -- he was still fit enough to play at Anfield on Saturday and score two majestic goals, including the injury-time game-winning volley from Alex Song's lofted pass -- but that's the way things have been going of late for the North London giants.
[+] Enlarge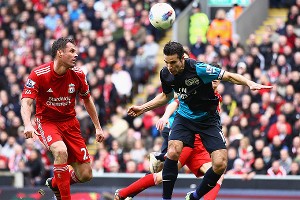 Clive Mason/Getty ImagesRobin van Persie's double at Anfield on Saturday takes him to 25 league goals in 27 games.
All told, it's been another strange season at the Emirates. Like the recent Oscars television broadcast, the Gunners' brass seem trapped in a time warp of past glory. Arsenal have moments of inspiration -- not to mention massive talent and sizable resources at their disposal -- but don't quite seem ready to change their age-old formula, even though it's misfiring and testing the patience of their fans.
While a silent movie winning the Oscar for Best Picture may have confused some moviegoers, the very thought of Arsenal's great Dutch artist leaving for pastures new has Gunners fans pulling their hair out. I enjoyed "The Artist," but watching van Persie play for Arsenal this season has been a real thrill.
Last Sunday he turned in another masterpiece as Arsenal rallied from two goals down to beat archrivals Spurs 5-2. Like Superman, RvP demonstrated again that he knows how to maneuver in a phone booth. His tying goal was a showcase of balance, technique and pure power -- performed within a space about the size of an average golf divot.
Then on Saturday, with his Gunners teammates looking uninspired and nervy against an aggressive Liverpool side, he lifted Arsenal to a crucial 2-1 away win with two sweetly-taken goals; the first, a predatory near-post header, the second an elegant first-time volley.
I'm no Arsenal fan, but I love great players and van Persie is close to joining the rarified air of Lionel Messi and Cristiano Ronaldo this season, and everyone knows it. But therein lies the rub. Arsenal's recent track record of hanging onto its best players is not good. If you get a chance, try to catch a replay of the recent Barcelona game against Valencia. Messi was sublime that night, scoring four majestic goals in a 5-1 win, but Cesc Fabregas was pretty ridiculous as well. Like Ronaldo leaving Manchester United for Real Madrid, there was an air of inevitability about Fabregas heading home to Catalonia at some point, but it must still rankle with Gunners fans that Samir Nasri left to ply his trade with Manchester City.
No doubt, money was the driving force in that move (perhaps for both sides) but Nasri is also a super-competitive guy who wanted to play on a serious contender for big prizes. Arsenal, of course, used to be a perennially serious contender for all the big prizes, but not lately.
And it's that perception that must change around the Emirates. The fire burning in van Persie's eyes is almost as ferocious as his stunning top corner blasts. There have been games this season where the Gunners captain seemed to will his team to fight for victory. Just last week, RvP's grit and leadership was a major factor in the remarkable rally against Spurs. The same could be said of his performance against Liverpool, further proving that the Dutchman is no superstar wallflower. He badly wants Arsenal to win and is doing everything he can to make that happen. But the club needs to help him.
From Madrid to Milan, the very biggest teams in world soccer will be lining up to talk to van Persie's agent this summer -- if they aren't already. Arsenal knows that better than anybody, hence the low-hanging clouds of negativity hovering over the Emirates. Signing van Persie to a new contract will go a long, long way to shifting the gloom of pessimism, but the Dutchman seems in no rush to make a decision himself.
In the Spurs' matchday program on Sunday, van Persie wrote that all contract talks with Arsenal would be put on hold until the end of the season. So, the story is going to hang around for a while. Gunners fans will be hoping their MVP ace stays around Arsenal even longer.