Elephant, pig picked for Euro 2012
Updated:
May 22, 2012, 3:18 PM ET
Associated Press
WARSAW, Poland -- Who's going to win the European Championship? Time to ask an elephant -- or a pig.
Poland's answer to Paul the Octopus -- the tentacled tipster who gained worldwide fame for his 2010 World Cup predictions -- is Citta the elephant. Ukraine, however, probably will go for an enormous beer-loving pig -- but there are doubts about whether he can handle the media glare.
The parade of supposedly psychic animals comes as the two Eastern European nations gear up to co-host the continent's most prestigious soccer championship from June 8 to July 1.
[+] Enlarge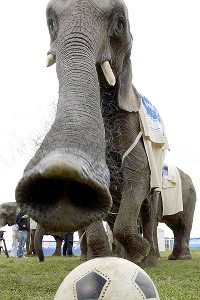 Jens Koehler/AFP/Getty ImagesCitta the elephant, showing her soccer skills in 2006, is Poland's representative to predict the winners of each Euro 2012 match.
The zoo in the southern Polish city of Krakow settled on a temperamental 33-year-old female pachyderm from India. Ukraine -- where slices of hog fat are the national dish -- is contemplating a happier destiny for a 2-year-old already named Psychic Pig.
The pig has a fondness for beer and fries and grunts in pleasure when he watches matches on television with his farmer owner, his publicist claimed Tuesday. But he still needs some PR training before he is presented to the public.
"We want to make sure he is calm -- we don't want him to get scared," said Svitlana Bovkun, a spokeswoman for Kiev city administration.
Krakow zoo director Jozef Skotnicki said Citta was chosen over a donkey, a parrot and another elephant after she correctly predicted that Chelsea would win the Champions League last week. She made her winning pick by choosing an apple above a blue-and-white logo for Chelsea, rather one from opponent Bayern Munich, which sports a red, white and blue logo.
That's the same method that will be used the day before each of the 31 matches during the European championship, which is held once every four years and is being hosted by these two ex-Communist countries for the first time.
The zoo is making one exception to its predictions schedule out of concern for religious feelings in predominantly Roman Catholic Poland: Citta will make her prediction for the June 8 opening game two days ahead, because June 7 falls on the Corpus Christi holiday, Skotnicki said.
He described Citta as a sensitive mammal brought to Europe by a German circus owner. At one point she suffered the loss of a caretaker and went into mourning. She has never borne offspring due to a fear of males.
"Because of her past experience, Citta is unpredictable and overreacts, and needs a special, gentle approach," Skotnicki said.
Less is known about Psychic Pig due to his protective media handlers. But if he can overcome his shyness, he will be brought to a specially built house in central Kiev outside Olympic Stadium, where some of the Euro 2012 matches will be played.
Ahead of each game, he will be asked to indicate the winner by deciding whether to eat from one of two plates of food, each marked with the national flags of the teams playing.
No one is talking about how the co-hosts might deal with conflicting predictions.
Paul the Octopus gained fame by predicting eight 2010 World Cup matches correctly, including Germany's run to the semifinals and Spain's victory over the Netherlands in the final. Paul made his predictions by opening the lid of one of two clear plastic boxes, each containing a mussel and bearing a team flag. He died at an aquarium in Germany later that year.

Copyright 2012 by The Associated Press
SPONSORED HEADLINES
MORE SPORTS HEADLINES
MOST SENT STORIES ON ESPN.COM
Soccer on ESPN.com

Follow Soccer on ESPN: Twitter
Coverage on ESPN FC
Euro 2012 in Review