Commentary
MLS 2012 preview: Vancouver
2011 record and finish: 6-18-10 (9th place in Western Conference)
Additions: M Barry Robson (in June), M/F Sebastien Le Toux, D Lee Young-Pyo, D Martin Bonjour, M Jun Marques Davidson, M/F Darren Mattocks, G Brad Knighton, M Bryce Alderson, M Matt Watson, D/M Greg Klazura, F Etienne Barbara
Losses: F Mustapha Jarju, D Greg Janicki, M Pete Vagenas, D Jonathan Leathers, M Shea Salinas, D Jeb Brovsky, M Nizar Khalfan, M Alexandre Morfaw, G Jay Nolly, M Philippe Davies
Key questions facing this team
1. Can the Whitecaps find some stability?
The Whitecaps began their expansion season insisting they wouldn't commit the same mistakes that plagued fellow Canadian side Toronto in 2007, then proceeded to repeat almost every one of them. The team burned through coaches and players at an alarming rate, and an overall direction was lacking. Now Martin Rennie, highly regarded for his work in the U.S. lower divisions, is on board as head coach and looks to have the backing of the front office. That should allow the team to perform the foundation-building that should have taken place last year.
2. What will Vancouver do with its surplus of forwards?
Even before the Whitecaps acquired Sebastien Le Toux from Philadelphia, there was plenty of depth at forward, with Eric Hassli, Camilo, Darren Mattocks, Long Tan, and Omar Salgado all vying for time. Now that the Frenchman is aboard (as is last year's NASL leading scorer Etienne Barbara), and given his reluctance to play out wide in midfield, it would make perfect sense to package one of those players for some help elsewhere. If Vancouver doesn't, Rennie will have plenty of disgruntled players on his hands.
3. Will Rennie's reinforcements, plus a return to health, pay off in midfield?
For all the talk about Vancouver's problems in the back last season, the midfield did little to help the team in terms of providing a defensive shield or keeping the ball. Both Atiba Harris and John Thorrington missed huge chunks of time because of injuries, and their returns should help considerably. Better yet, the additions of designated player Barry Robson and Jun Marques Davidson should provide considerable competition for holdovers Gershon Koffie and Davide Chuimiento, with the latter looking more and more like a luxury player.
Biggest X-factor: John Thorrington
Injuries have plagued the former Chicago midfielder throughout his career, and he has been hampered by a left quad ailment in preseason that could cause him to miss the opener. But if he can stay healthy for most of the campaign, his insertion into the center of midfield should solve a litany of problems. While his range isn't what it once was, his experience, composure on the ball and defensive grit are all traits that the Whitecaps' midfield lacked last season. That could help bridge the gap between the start of the season and Robson's arrival in late June.
Breakout player to watch: Darren Mattocks
Yes, the team's glut of forwards includes Mattocks, but Rennie is on record as saying that last year the team lacked a speedy forward to stretch defenses, and Mattocks fits that description. While a spot in the starting lineup still seems a stretch at this point, a role as a late-game substitute could still mean he will make a considerable impact.
Outlook: Given the wretched season the Whitecaps endured last year, improvement shouldn't be too difficult. The defense, which conceded the third-most goals in MLS last year, should be much better thanks to the arrivals of Argentine central defender Martin Bonjour and Korean World Cup veteran Lee Young-Pyo. Rennie has more attacking options to pick from as well, the better to improve upon last year's league-worst mark of 35 goals scored.
But this team will go as far as its midfield allows. Vancouver's depth has improved in this area and Robson's midseason arrival will amount to a significant upgrade in quality. But it still doesn't look to be enough to catapult the team over four other Western Conference teams, which is the minimum needed to qualify for the playoffs. That said, simply fielding a more competitive side and establishing a basis for future success will qualify as significant progress.
Jeff Carlisle covers MLS and the U.S. national team for ESPN.com. He is also the author of "Soccer's Most Wanted II: The Top 10 Book of More Glorious Goals, Superb Saves and Fantastic Free-Kicks." He can be reached at eljefe1@yahoo.com.
SPONSORED HEADLINES
MORE SPORTS HEADLINES
MOST SENT STORIES ON ESPN.COM
Major League Soccer 2012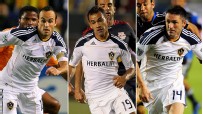 Follow Soccer on ESPN: Twitter
TEAM BY TEAM PREVIEWS
Each day as we head into First Kick, we'll be previewing another MLS team. So check back daily for the latest.