Commentary
These five are on the hotseat in MLS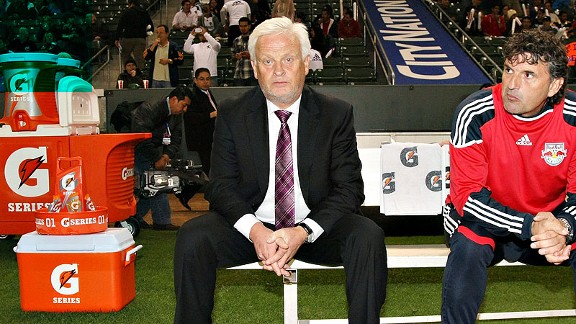 Victor Decolongon/Getty ImagesRed Bulls manager Hans Backe must find a way to get his underachieving, highly paid players to turn things around in New York.
Preseason is supposed to be a time of optimism. New players -- and in some cases new coaches -- have arrived. Everything seems possible, especially as the exhibition wins begin to pile up. But for a select few, training camp is also the time to recall past failings, and the lingering doubts can darken even the sunniest outlook. Expectations borne of past success and money spent can also weigh heavy. With that in mind, here are some players and coaches who find themselves on the proverbial hot seat, even as First Kick still lies ahead.
1. Hans Backe, manager, New York Red Bulls
Rarely has an MLS team spent so much and gotten so little in return. Last season the Red Bulls had designated players in the form of Thierry Henry, Rafa Marquez and Frank Rost, up-and-coming internationals in Juan Agudelo and Tim Ream, as well as solid veterans like Jan Gunnar Solli and Teemu Tainio. And what did that get them? A 10th-place finish in an 18-team league, and a spot in the playoffs that owed itself largely to an overly generous postseason format.
Much of the blame for such underachievement falls on Backe, who gutted his staff of most of its MLS knowhow and proceeded to put together a roster that was overly susceptible to international call-ups. The Dwayne De Rosario debacle (or is that de-Backe-le?), one that saw New York acquire the forward in April and then ship him to D.C. United in June where he put up MVP numbers, spoke to a club without a plan. Oh yeah, and the team chemistry was downright caustic. Backe did have a successful 2010 campaign with New York, so there is a glimmer of hope that things will turn around. But it seems inconceivable that he'll survive another season filled with so many missteps.
[+] Enlarge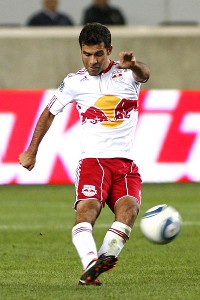 Andy Marlin/Getty ImagesRafa Marquez needs to shape up after a drama-filled season in New York.
2. Rafa Marquez, defender, New York Red Bulls
It must be said, Backe had plenty of help in turning New York into an episode of "All My Children," with Marquez doing all he could to create a toxic locker room. The performance level of the Mexico international was way below what was expected, and at his nadir, he had the cheek to blame his teammates -- Ream in particular -- for his own shortcomings. Then there was the disgraceful episode following the first-leg playoff match against Los Angeles, when he sparked a post-match melee by chucking the ball at, and hitting, Galaxy midfielder Landon Donovan. Cynics noted that it was one of the few times he found his intended target all day.
So what is in store for Marquez in 2012? So far, he's said all the right things, mostly, although his blaming of the media for misinterpreting some comments is misdirected. Ream is gone as well, having secured a transfer to EPL side Bolton Wanderers, creating more of a clean slate for Marquez. But without question, the league's third-highest-paid player will need to significantly improve his performances this year. Otherwise, the Red Bulls will feel compelled to cut their losses.
3. Frank Yallop, manager, San Jose Earthquakes
Will Yallop be this year's Steve Nicol, a highly respected manager whose recent struggles can no longer be ignored? Yallop's two MLS Cup triumphs during his first go-round with the Quakes are easily the most glittering entries on his résumé. But since returning to MLS in 2006 -- first with Los Angeles and then San Jose -- the results haven't been nearly as impressive. His second tenure with San Jose is set to enter its fifth season, and he has just a solitary playoff appearance to show for it. With a new stadium now on the way, will ownership really stand pat?
That has certainly been the Quakes' tendency under Lew Wolff. And to his credit, Yallop has assembled the most talented Earthquakes team since returning as an expansion side in 2008. But outside of forward Chris Wondolowski's heroics, a Murphy's Law-type of atmosphere has tended to plague the club, with injuries, absences and bad decisions often scuttling the team's plans. That will need to change if Yallop is to get the Quakes back to the postseason.
4. Eddie Johnson, forward, Seattle Sounders
Johnson is a player who for the past four years appeared weighed down by past accomplishments, whether it was his meteoric rise with the U.S. national team in the mid-2000s, when he scored eight goals in his first nine appearances, or his stellar, 15-goal campaign in 2007 with the then Kansas City Wizards. Since then, Johnson has failed to settle at four different clubs and seen his national team prospects dwindle.
That didn't stop Seattle head coach Sigi Schmid from trading for the forward when he became available, sending rising prospects Michael Fucito and Lamar Neagle to Montreal. And with Johnson now on board, the pressure on the striker will be considerable. He'll be expected to rack up the goals for the Sounders, who just so happened to lead MLS last year with 56 goals scored. Johnson is also expected to help Seattle wrest the MLS Cup and Supporters' Shield from conference rival Los Angeles. No pressure then, none at all.
5. Philadelphia Union's young guns
In the third year of a 10-year contract, manager Peter Nowak's status is secure. Perhaps that best explains his willingness to trade leading scorer Sebastien Le Toux to Vancouver and to allow goalkeeper Faryd Mondragon to head back to his native Colombia, thus throwing his lot in with young players like Freddy Adu, Roger Torres, Zac MacMath and Jack McInerney.
It's an approach that backfired a bit in Nowak's first year with the club, so fans are understandably skittish. But the Philadelphia manager is convinced that relying on these players is the way forward and the experience that the aforementioned quartet soaked in last year will be sufficient for them to become major contributors. Without question, they'll need to do just that if the Union is to continue its progression into becoming one of the elite teams in MLS.
Jeff Carlisle covers MLS and the U.S. national team for ESPN.com. He is also the author of "Soccer's Most Wanted II: The Top 10 Book of More Glorious Goals, Superb Saves and Fantastic Free-Kicks." He can be reached at eljefe1@yahoo.com.
Soccer
Jeff Carlisle covers MLS and the U.S. national team for ESPNsoccernet.
Major League Soccer 2012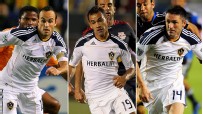 Follow Soccer on ESPN: Twitter
TEAM BY TEAM PREVIEWS
Each day as we head into First Kick, we'll be previewing another MLS team. So check back daily for the latest.
MOST SENT STORIES ON ESPN.COM