Commentary
The CCL quarters so far
Lessons from an entertaining night in the CONCACAF Champions League
All three MLS teams still in the competition appeared in their respective CONCACAF Champions League quarterfinal first legs Wednesday night. In the games -- doubling as season openers -- the Los Angeles Galaxy overcame an early 2-0 deficit to Toronto FC in front of 47,658 rabid fans at the Rogers Centre to squeeze out a 2-2 result; and the Seattle Sounders pulled off a somewhat unexpected but well-deserved 2-1 win over Santos Laguna.
Here are five observations from each game:
Toronto FC 2, Los Angeles Galaxy 2
1. Toronto is already vastly improved from last season
Is Aron Winter's "Ajaxification" of TFC starting to bear fruit? His hapless charges stumbled through a fifth straight playoff-less season in 2011, but against the Galaxy on Wednesday, they actually resembled a professional soccer outfit. In the 12th minute, a sharp Ryan Johnson stabbed the ball into the roof of the goal from nearby after it fell to him off a Torsten Frings corner. In the 17th, rookie Luis Silva -- completely abandoned by Andrew Boyens -- got his peach-fuzzed noggin on the end of another Frings long ball and deftly nodded it against the grain and past Josh Saunders.
Toronto receded after that, clearly lacking the experience to close out games, but showed enough to suggest that playoffs in 2012 might not be a total pipe dream. Especially if puny forward Joao Plata can be as consistently electric as he was in the early going.
2. Galaxy dominance isn't a given
When the Galaxy re-signed David Beckham, brought Edson Buddle back from a failed overseas adventure and managed to keep the rest of its core intact, observers pulled the crank on their prognosticating devices and divined a second consecutive Galaxy MLS Cup title for 2012. The Galaxy came back strongly after the second goal, imposing their will on the game by settling down the pace and controlling the ball. Yet it took a gutsy performance in an increasingly testy game to force a result, proving that this Galaxy team is far from invincible.
3. The DPs on display offered up a mixed bag
There was considerable designated player capital on the field, with both teams employing three players who made over $1 million in 2011. Yet the return on those dollars was very mixed. On TFC's side, Frings was immense, dropping between the center backs from midfield, allowing the wing backs to push up and shift the 4-3-3 into a 3-4-3 as he anchored the defense and also orchestrated most attacks. However, the biggest mention for striker Danny Koevermans came when he got into a shoving match with Saunders over a scrape he incurred from one of the goalie's cleats.
For the Galaxy, Beckham was strong, even as streamers rained down on him every time he readied himself to take a corner -- much to his considerable frustration. Landon Donovan was fairly anonymous, other than to pounce on a poorly cleared ball in the box after a corner for the 88th-minute equalizer. And Robbie Keane's game was visibly dampened by the "plastic" his dainty feet were forced to run on; he was fairly ineffectual as a result.
4. The Galaxy goals were huge in context
Had the Galaxy failed to complete their comeback, getting the lone away goal was huge all the same. By making it 2-1 in the 29th minute, when Mike Magee found himself all alone at the second post on a Sean Franklin cross, LA lowered the number of goals it would need to win on aggregate from three to one. (Away goals count double if the total score over two games is tied.) By equalizing, the Galaxy is now in fact ahead on aggregate, given that it has scored its goals on the road.
5. Overall, mistakes galore
There was a disturbing parallel between all four of the goals scored in this game: terrible defense. On each of the teams' goals off corners, the defending team demurred on clearing. And on Silva and Magee's goals, they couldn't have been given a wider berth by their markers if they'd had the plague. Clearly, both teams might still be in preseason mode.
Seattle Sounders 2, Santos Laguna 1
1. Who exactly was in midseason form here?
This was the Sounders' season opener -- a big concern given that Santos is in midseason form -- but they didn't show it. The MLS side was sharp, held its shape, managed the game well, was sound defensively and took its chances when they came -- Fredy Montero picked out David Estrada's forehead near the far post in the 12th minute with a sumptuous cross; Brad Evans awkwardly converted in a sharp free kick from Mauro Rosales with the back of his neck and a deflection in the 63rd.
Over 90 minutes, the Sounders were the better team on the field, in fact. Seattle, in short, showed none of the early-season jitters one could expect at this time of year, and that the Galaxy-versus-TFC game was littered with earlier in the evening. The magnitude of that accomplishment by Sigi Schmid and his staff cannot be underestimated.
2. Transfer cleverness
Seattle might well be developing the paradigm for constructing an MLS roster. Rather than throwing thick stacks of Benjamins at pricey European veterans, they mostly source younger players from nearer regions, who now see MLS as a step up in the beginning or peak of their careers, rather than a step down at the end. The Sounders' Latin flair was plain to see against Santos, as their best players on the night were Montero and Jhon Kennedy Hurtado (both from Colombia), Ossie Alonso (Cuban), Alvaro Fernandez (Uruguayan), Estrada (a Mexican-American college player), Rosales (Argentinean), and Leo Gonzalez (Costa Rican).
3. MLSers undaunted by Mexican opponents
The Sounders picked up on what Real Salt Lake had already demonstrated in last season's CONCACAF Champions League when they made it all the way to the final: There's no longer any reason for MLS teams to fear their Mexican league opponents. Yes, the FMF teams are technically astute and have greater resources. But the Sounders showed they could hang with a solid Mexican team like Santos without needing to play an exceptional game or hoping that their opponents had an off day.
4. Herculez Gomez needed just one moment
Fringe U.S. striker Gomez found himself stranded in barren land for most of his 84 minutes of action. He was isolated and starved of service as Seattle closed Santos down well in its own half, but in the 61st minute, Gomez made a clever run in behind the defense and it was all the forward needed, turning his only significant touch of the game into the equalizer with a clean left-footed finish. In doing so, maybe he showed that poacher's touch he hopes will endear him to national team coach Jurgen Klinsmann.
5. Fredy Montero is only getting better
The 24-year-old striker's considerable talent isn't exactly a secret. In three full seasons with the Sounders, he has already bagged 34 goals and 26 assists. But if Wednesday night's game is anything to go by, Montero could be primed for a true monster year. His link-up play, passing, running, scoring chances created -- even the dangerous header he snapped off in the 18th minute on an Adam Johansson cross -- all augur very good things for the little dynamo. Could he be an early favorite for the MVP award?
Leander Schaerlaeckens is a soccer writer for ESPN.com. He can be reached at leander.espn@gmail.com. Follow him on Twitter @LeanderESPN.
SPONSORED HEADLINES
MORE SPORTS HEADLINES
MOST SENT STORIES ON ESPN.COM
Major League Soccer 2012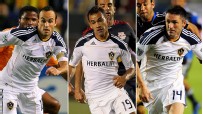 Follow Soccer on ESPN: Twitter
TEAM BY TEAM PREVIEWS
Each day as we head into First Kick, we'll be previewing another MLS team. So check back daily for the latest.