Commentary
Five things learned from First Kick
This past weekend regaled us with the long-awaited return of Major League Soccer. First Kick 2012 offered up seven games involving 14 of the 19 teams the league now counts. And they taught us plenty about the upcoming season.
1. The New York Red Bulls are still broken
The Red Bulls claim they have put their disastrous 2011 season behind them, but they picked up right where they left off in a 2-1 loss to FC Dallas on Sunday. Tim Ream is gone, but his huge, gaffe-prone boots have been filled by Markus Holgersson, who whiffed on a clearance in the 11th minute. The ball, after an equally weak cleanup effort by Dax McCarty, rolled to Zach Loyd, whose shot from close range took a deflection off a lunging -- you guessed it -- Holgersson, wrong-footing goalkeeper Ryan Meara for the first goal. In the 61st, a not overly impressive Dallas doubled the score after Roy Miller gave the ball away to Ricardo Villar, who had only to run upfield and chip the ball over Meara. Thierry Henry sent a lovely long ball in the 78th, allowing Kenny Cooper to claw back a goal. But it was about the only Red Bulls attack that came off all day, aside from a very quickly taken Henry free kick that skipped off the post. New York hasn't shed the destructive habit of sleepwalking through the first 75 minutes of games. Nor has it acquired any of the chemistry or cohesion it was starved of last year. The team looked lethargic, unimaginative, uninspired and unimpressive. Henry, meanwhile, has returned from his lap of honor at Arsenal to resume his role in MLS as the league's resident grumpy old man.
2. The status quo is safe, for now
All four of last season's conference finalists played well on opening day, suggesting that maybe this is the year that MLS's infamous parity -- responsible for many worst-to-first-to-worst roller coasters -- begins to erode. At the shabby home of D.C. United, Sporting KC snuck out of town with a 93rd-minute winner after CJ Sapong ran away from Daniel Woolard on a Graham Zusi corner and headed it home. It was a win well-deserved, as KC looked clean on the ball, dynamic going forward and composed at the back.
In Los Angeles, the champion Galaxy were comfortably better than Real Salt Lake, which they had beaten 3-1 in the 2011 Western Conference finals. Yet Landon Donovan and Marcelo Sarvas's crossbar-rattling rockets and a wasteful Robbie Keane kept RSL in the game. The prodigal-son-returned Edson Buddle put L.A. ahead on a great David Beckham cross in the 71st minute. But two minutes later, Sean Franklin deflected Sebastian Velasquez's cross into his own goal to equalize. Javier Morales scored RSL's game winner in the 80th minute (much more on that below), and Fabian Espindola trotted to L.A.'s goal all by his lonesome, ramming in the 3-1 in the 85th minute, after the Galaxy had taken out a defender to close out a razzle-dazzle second half.
The Houston Dynamo, losers of the 2011 MLS Cup, got away with a Juan Pablo Angel volley off the post in the 41st and escaped a penalty when Chivas USA's Angel flopped in the box not long after. But the traffic cone-colored Texans were wasteful with chances, even if they gave away few of their own to a weak Chivas USA, which had drawn a pathetically small home attendance, forcing it to cover an entire quadrant of the stadium's lower bowl with a tarp. For that alone, Adrian Hainault's 92nd-minute winner for Houston in the aftermath of a corner was just.
3. Karma's a Becks
This wasn't the first time David Beckham could be seen leveraging his iconic status to intimidate an MLS referee. In the 80th minute, against RSL, he was at it again, berating Mike Stott -- who was far too lenient with the insubordinate Englishman -- in the center of the pitch as play went on. But in Beckham's absence in his usual position at right flank, Ned Grabavoy was able to slip past Sean Franklin, who had pushed up to cover the space vacated by Beckham. Grabavoy strode deep into the box before cutting back for Morales, who stuck in the game winner. Beckham went on to miss several sitters in addition to arguably losing his team the game -- suitable outcomes all for his obnoxious behavior.
4. Some men looked good
Sporting's budding cult hero and granite-carved French defender Aurelien Collin was immense against United. So good, in fact, that he even knocked himself out when he over-rotated on an overzealous bicycle kick and landed on his neck.
In goal, RLS's Nick Rimando confirmed that he's the league's best and most poised goalie, while United's Bill Hamid suggested again he's the most promising.
On the attack, Sporting's Roger Espinoza was lively and dangerous and covered at least three dozen acres of field, while the Colorado Rapids' Quincy Amarikwa demonstrated his silky dribbling and the weapons-grade shot hidden in his right boot several times against the Columbus Crew, highlighted by an 89th-minute screamer that sealed the 2-0 victory.
RSL's highly touted Luis Gil, entering his third season as a professional despite having only turned 18 last November, demonstrated what all the fuss has been about. The baby-faced playmaker showed off his savvy, vision and skill against no less than the Galaxy, suggesting that when Morales is fully fit the two could form a tandem that will strike fear into any holding midfielder.
5. And some men did not
Much was expected of D.C. United's new attacking triangle. In front of the finally fit Branko Boskovic, MVP Dwayne De Rosario and Albanian import Hamdi Salihi -- all reportedly making designated player money -- were to wreak havoc. They did little of the sort against Sporting: Salihi was invisible, Boskovic ineffectual and De Rosario uncharacteristically sluggish. Now that De-Ro finally has that contract extension he so coveted, United will have to hope he doesn't contract a nefarious case of new-contractitis.
As for Landon Donovan, he earned himself little air time of note for the second game in a week. As he had against Toronto FC in the CONCACAF Champions League on Wednesday, he had a dangerous moment or two but was largely anonymous. Could his Premier League winter holiday have him feeling fatigued?
Leander Schaerlaeckens is a soccer writer for ESPN.com. He can be reached at leander.espn@gmail.com. Follow him on Twitter @LeanderESPN.
Major League Soccer 2012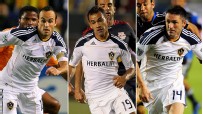 Follow Soccer on ESPN: Twitter
TEAM BY TEAM PREVIEWS
Each day as we head into First Kick, we'll be previewing another MLS team. So check back daily for the latest.