Commentary
A Parisian in Kansas City
Stylish defender Aurelien Collin has finally found a home deep in the MLS heartland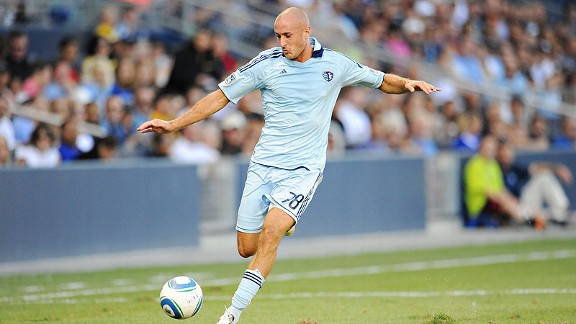 Peter Aiken/Getty ImagesAurelien Collin's emergence as one of the best defenders in MLS is a major reason for SKC's rise.
Where does one begin a profile on French central defender Aurelien Collin, the most colorful man on the innately bright Sporting Kansas City team?
Shall we begin with his insistence on embracing the cutting edge of fashion as he wraps his 6-foot-2 frame in tank tops, plunging V-necks with suit jackets, intricate jewelry, sequined sweat pants and spiked tennis shoes, with a fedora resting on his bald head?
Or with the SKC rule against sunbathing 72 hours prior to a game? Head coach Peter Vermes instituted the rule with Collin squarely in mind because, as the coach put it, "his god is the sun" and otherwise "he might be out by the pool until we had to leave for a game" working on his tan (and draining his energy).
Maybe I'll start with the Eric Cantona-esque conveyor belt of one-liners -- "Coach, I might be crazy but I'm not stupid"; "Why? Because I'm Collin"; "I'm confident but not elegant" -- emanating from Collin's mouth, fomented from losses in translation, a sharp sense of humor and an unconventional worldview.
Or I could open with his hilarious video advice column, "Collin's Corner," in which he mentors his teammates on life, tanning, women and fashion. (See here, here and here for recent installments.)
I could mention Collin's fixation with reading the newspapers every day so he can discuss the markets with his stockbroker friend. Or his habit of staying an extra day in every town of a road trip to see the sights, scope out good restaurants or go on a wine tour.
How about his go-to expression, "cold blood" (used to describe his team's cool under pressure) or his propensity to address people with "y'all" or "my man" on Twitter or in his French accent, thick as Hollandaise sauce?
[+] Enlarge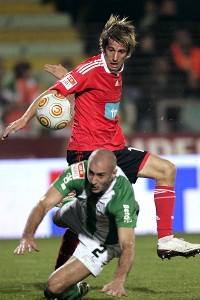 Paulo Cordeiro/AFP/Getty ImagesCollin worked his way through most of Europe -- including a stint with Portugal's Vitoria Setubal, where he faced the likes of Fabio Coentrao and Benfica -- before making his move to Kansas City.
Since there is perhaps no one path to accurately capture Collin's eccentricity in words, let's instead start with the essence of his play. Because through all the above, it's easy to overlook that Collin has emerged as one of the best central defenders in MLS. His aerial dominance, razor-sharp tackles and precise man-marking have been bedrock for Sporting KC's perfect 5-0-0 start to the season, with just one goal conceded over that stretch.
"He's a ball-winner and frustrates the hell out of forwards because they can't get into a rhythm around him," said Sporting striker CJ Sapong. "He's intimidating. He's the type of defender that you know forwards are going to be thinking about the night before the game."
"He's as important as anybody on this team, if not more," added forward Kei Kamara. "He's a defender that I would definitely not like to go against because he's not going to come out of any headers in the air or tackles on the ground."
After a meandering career with stops in France, Spain, Scotland, Greece, England and Portugal by age 24 without any real breakout, Collin signed with Sporting on April 15, 2011, after a long courtship, spurning offers from clubs in France and Switzerland as well as Romanian club CFR Cluj.
"I was playing in Portugal and I had [a] very serious problem [getting paid] and Peter Vermes got in touch with me, and since I was young I always wanted to live and play someday in America," explained Collin. "When you grow up in the neighborhood in Paris everybody has big dreams and the American dream. I was listening to American hip-hop when I was young and watching American movies."
ESPN FC on Twitter
Don't miss a moment of the latest soccer coverage from around the world. Follow us on Twitter and stay informed. Join »
Collin, now 26, was swayed by the relative peace and quiet MLS could offer him, having grown weary of his nomadic, uncertain existence. "I was tired of being in clubs where you always have to fight to get your salary and always have to worry," he said. "I wanted stability, to worry about football and nothing else."
Vermes had hoped that Collin would come into his own as he hit his mid-20s and was given the leeway to develop. It turned out Vermes was right; MLS was a more or less perfect fit.
"In Europe, the game is less physical," said journeyman holding midfielder Julio Cesar. "You have to play more with the ball, to keep more possession. Here, the game is more physical, and for him it's better because he's a strong guy."
Echoed Vermes: "I think he has the right combination between being aggressive enough because the league is physical, the understanding of the position tactically and being good enough on the ball to build out of the back, and I think he is very good in the air defensively."
An even better fit for the cultured Parisian: Kansas City.
"Honestly, when I came here I was expecting something very different," said Collin. "But I'm very happy with the people; they're very nice and there's a lot of things to do -- fashionwise, musicwise. I go to the orchestra."
Now settled in a hip, urban neighborhood, Collin goes to fashion shows, does charity work, helps support a friend who has opened an orphanage in Congo and has started studying for an online degree in fashion design. "Since I was young I was into fashion and following the best designers and going to fashion shows," he explained. "I read the magazines about fashion every day. I love it. It's one of my passions. I have a lot of projects in my mind. A lot of things I began here. But I need to study first to be the best so I can really begin my projects."
[+] Enlarge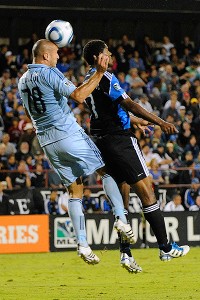 Thearon W. Henderson/Getty ImagesSaid Kei Kamara of Collin's power: "He's a defender that I would definitely not like to go against ... he's not going to come out of any headers in the air or tackles on the ground."
And at LiveStrong Sporting Park, he gives away jerseys. Lots of them. "Every time we win I'm happy and always want to give to the people to thank them for the way they scream and the way they supported, so I give them my jersey," said Collin. "Mike, who takes care of our clothes, is always very mad at the end of the game because I always give away my jersey.
"We have a certain number we can give out but I always give a lot more," Collin added with a chuckle.
A hit with fans, Collin has been just as popular with teammates. "He has so many stories because he's been in different countries," said Kamara. "He has a lot of things he does. He speaks Portuguese, Spanish, English and French. It's never boring with him. He can tell you a lot of different stuff. We go at him every day. That's how it actually is, the questions on the fashion and everything."
"He just loves life," said Sapong. "He's not once just sat in his locker and gone about his business. He's got a smile on his face and will do what he can to make sure everybody's happy. He's the guy you go to if you're having a bad day and just want to be cheered up."
As for the outfits, his teammates appreciate them. "The man's got style, man," said Kamara. "He brings out the flavor, I give him credit for that. He's coming out really GQ wherever he goes, and he makes you want to go into your closet and bring out something good."
It's easy to find a teammate's quirks endearing when he backs it up on the field. A big character who leads from the front, Collin relishes every challenge. "When we talk about an opponent and say this or that guy is really dangerous in the air on a set piece, he always says, 'I want to mark him,'" said Vermes. "He's not afraid to put himself out there. And that's part of his personality. And you need those sorts of guys on your team."
Guys like Collin, whose color has a substance, separate Sporting from mere oddity. If their goal celebrations call to mind a circus act, they nevertheless score the goals that enable them. And then they nurse their leads with an austere efficiency.
As Aurelien himself might say: cold blood.
Leander Schaerlaeckens is a freelance soccer writer for ESPN.com. He can be reached at leander.espn@gmail.com. Follow him on Twitter @LeanderESPN.

Contributing writer, ESPN.com
Leander Schaerlaeckens is a contributing writer for ESPN.com. He has previously written for The Guardian, The Washington Times and UPI.
Soccer on ESPN.com

Follow Soccer on ESPN: Twitter
Coverage on ESPN FC
Euro 2012 in Review
MOST SENT STORIES ON ESPN.COM