Commentary
Why MLS takes a backseat to Mexico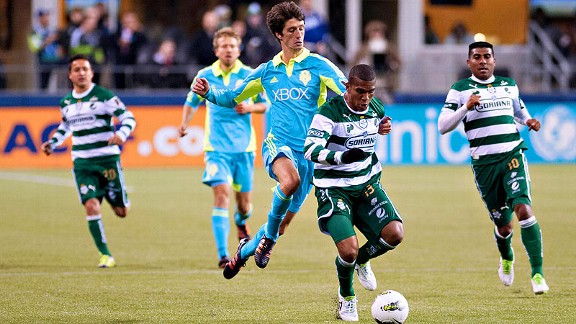 Steven Bisig/US PresswireMLS sides, including the Seattle Sounders, suffered major beatdowns in this year's CONCACAF Champions League. Was it a step back for the league, or an aberration?
The knockout stages of this year's CONCACAF Champions League made for some grim viewing. In the quarterfinals, the Seattle Sounders were well-beaten by Mexican powerhouse Santos Laguna, falling 7-3 on aggregate. After disposing of the Los Angeles Galaxy in the same round, it was Toronto's turn to take on Santos in the semis, only to suffer the same fate, right down to the scoreline.
It amounts to a major disappointment for MLS. It was just a year ago that Real Salt Lake reached the final round of the CCL, only to lose 1-0 at home to Monterrey after drawing the away leg 2-2. This season MLS failed to reproduce the feat, and suffered some embarrassing scorelines that were thought to be a thing of the past. Seattle was beaten 6-1 in the second leg, while TFC fell 6-2.
"It was an ass-whipping, any way you slice it," said ESPN television analyst Alexi Lalas. "It was difficult to watch."
So was RSL's feat merely a mirage for MLS? Was this year's tournament a step backward for the league? Is MLS destined to forever be left in the wake of teams from Mexico?
The answers to these questions aren't as obvious as they might seem. Clearly, RSL's run was impressive. Since 2002, when the tournament began requiring MLS teams to beat opponents over two legs, no team has come closer to claiming continental supremacy. But as is the case with most deep tournament runs, some stellar play was accompanied by good fortune. RSL garnered a favorable quarterfinal draw against a Columbus Crew side that was undergoing a considerable overhaul. Real then managed to avoid Mexican opposition until the final, prevailing in a tense semi against Costa Rican side Saprissa.
This year's entrants weren't so lucky, though there is no excusing L.A.'s inability to navigate its way past a clearly less talented Toronto side in the quarterfinals. Santos is currently atop Mexico's Primera Division and hasn't lost a league game since February. Santos forward and U.S. international Herculez Gomez has been in epic form of late, tallying 11 goals in his past eight games across all competitions. He insists there's no shame in losing to the Albiverdes.
"We've been doing that to a lot of teams, not just MLS teams," said Gomez via telephone about the two blowouts. "We're in first place, and for very good reason. We've got a good squad; this team has been together for a while. This team has had success over the years, so I don't think people should put that much importance into [the results]. We did very well against these MLS teams, but it wasn't just because they were MLS teams."
And it should be noted that when viewed through the broader context of the entire tournament, MLS teams did achieve some notable successes. FC Dallas became the first MLS team to triumph on Mexican soil, defeating Pumas 1-0 on Aug. 17, a feat that was duplicated by Seattle six days later when it beat Monterrey by the same score.
MLS teams also put three teams into the quarterfinals and compiled a record of 21-16-7 in the competition, making it the best performance since the tournament was expanded to include a group stage during the 2008-09 edition. Such data is the reason Lalas doesn't believe that the sky is falling when dissecting the most recent CCL performances.
"I don't think everyone should all of a sudden feel that the quality of MLS is suddenly so much lower than the quality of Mexican teams," he said. "It was a bad run. It doesn't mean that MLS can't compete with Mexican teams."
Perhaps not, but it does raise additional questions about what can be done to level the playing field for MLS teams, which enter the tournament shouldering some significant disadvantages, especially when going up against Mexican clubs. The financial disparity in terms of the relative salary budgets is clear. Seattle manager Sigi Schmid estimates that his team's payroll is "25 to 30 percent" of that of Santos.
"I think on an MLS team, player one through 14 can compete with any team [in Mexico]," said Gomez, who spent parts of eight seasons playing in MLS. "That's not a joke; that's a fact. Not too much separates these players. From 15 on, that's where your depth gets tested. When you get injuries, when you get fatigue, when certain guys aren't on their game, it gets very tough for these teams.
"I've lived both leagues," Gomez added. "You see Toronto in the last leg -- you can just see the look on these guys' faces. With all due respect, it's a deer-in-the-headlights look. They've never been in this environment. They've never had a game of that caliber. Some are two years out of college, just two years as professionals. I had a teammate at Pachuca who made his first-division debut at age 15. [In Mexico], it's just different."
The travel MLS teams must endure during the regular season, which often involves long flights across multiple time zones, also saps energy and cuts into preparation time. And perhaps most damaging of all is the time of year when the knockout stages take place. It is no accident that the two aforementioned triumphs in Mexico by Dallas and Seattle took place when MLS was well into its season and Mexican teams were starting theirs. When the knockout stages begin, the roles are reversed.
[+] Enlarge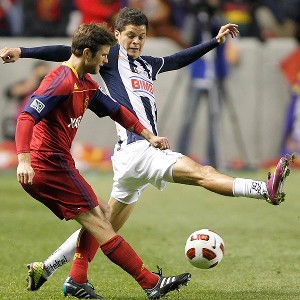 George Frey/Getty ImagesIt was only a year ago that Real Salt Lake reached the CONCACAF Champions League final.
"Trying to get the team ready is difficult because you're trying to get them fit, but you don't want to get guys injured by pushing them too quickly, too early," Schmid said. "Then you're trying to find competition. The problem is that no matter how many exhibition games you play, they're exhibition games, and they're not the same as regular competition. You're finding out how this new group of players is going to react, because every year it's a new group of players. Even though it's only one or two changes, how they are going to react now to the pressure of the moment. It's difficult to accomplish that in six weeks."
These are issues that the league is well aware of, and to its credit, MLS has done what it could to help its CCL entrants overcome these obstacles. Additional allocation money -- although MLS declines to specify how much -- has been granted to CCL participants in recent years, allowing them to shore up rosters and keep their core together longer. Schedules have been tweaked when possible to avoid playing league matches during the knockout stages.
MLS executive vice president Nelson Rodriguez said MLS is considering granting more allocation money to teams that reach the quarterfinals, although the league is cognizant of creating an uneven playing field as it relates to the regular season. A proposal to subsidize charter flights for teams that reach that stage, as opposed to just the semis and final, is also under discussion.
Rodriguez said MLS also intends to approach CONCACAF about tweaking the tournament's format once newly installed president Jeffrey Webb has had time to settle into his role.
"We think that one thing that should be considered is playing the entire tournament in one calendar year, and not crossing over the winter recess if you will," Rodriguez said. "Those will be discussions that we'll take up with CONCACAF at a point in time when they're sufficiently able to focus on it."
So can an MLS team triumph in the CCL? Everyone interviewed for this story believes it can happen. Certainly the teams that have qualified for the 2012-13 edition -- Los Angeles, Houston, Seattle, Real Salt Lake and a Canadian entrant to be determined -- are capable. But Schmid surmised that as things currently stand, the last few steps will be the most difficult.
"I don't think we're that far away," he said. "But I also think we're far enough away that without a fortunate occurrence or two, we're not going to be successful. I don't think we can grind it out into winning the competition, whereas I think a Mexican team can. They can win it even if they're not fortunate because they're in form, they're in rhythm and they have bigger budgets. We don't need a ton of luck, but we need a little bit."
Fans won't have to wait long to see whether that's all that's needed. The start of the next version of the CCL is four months away.
[+] Enlarge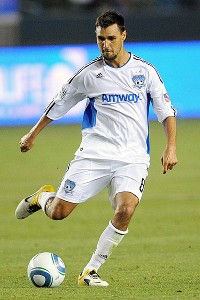 Kelvin Kuo/US Presswire"When I see [the defender] take a peek at the ball, I try to move into a different area," explains Chris Wondolowski when asked about his instinct to score.
And just like that, he's gone: It's been one of the more enduring mysteries in MLS over the past two-plus seasons. How does San Jose Earthquakes striker Chris Wondolowski find himself open so often? He certainly isn't fast, or especially strong. And after scoring 18 times in 2010 and adding 16 more in 2011, he's no longer an unknown. In fact, every defender in the league is well aware of Wondolowski's nose for goal.
Yet there he was Saturday against Vancouver, twice finding himself wide open -- one of them off a throw-in, no less -- and scoring when he clearly should have been marked. Yes, you can chalk it up to poor defense by the Whitecaps, except that seems to be the lament almost every time Wondolowski scores.
So how does he do it? Clearly, there's more than one factor involved in getting open, and it's up to Wondolowski's teammates to get him the ball,. But the San Jose forward revealed one simple trick that helps him find space. Wondolowski said, "You can't watch the man and the ball at the same time, so when I see [the defender] take a peek at the ball, I try to move into a different area."
Wise words from one of the league's premier forwards.
Houston's restless vacation: Vacations are supposed to be relaxing. And when it came to the Houston Dynamo's three-week break from league play, the first two weeks were peaceful enough, so much so that Houston manager Dominic Kinnear described the layoff as "kind of boring."
But events this week have conspired to jolt him back to reality. Midfielders Adam Moffat and Colin Clark are both suspended for this weekend's tilt at Chicago, and when it emerged that attacker Brad Davis had strained a calf and could miss the match, Kinnear was forced into scramble mode. He contemplated moving Geoff Cameron into midfield, but rather than breaking up what has been a cohesive partnership with Bobby Boswell, Kinnear indicated he'll look at other options. The most likely approach will be partnering offseason acquisition Nathan Sturgis with Luiz Camargo in the middle with two of Je-Vaughn Watson, Mac Kandji, Alex Dixon, Corey Ashe or Calen Carr out wide. The availability of Camargo, who was a starter after arriving in midseason last year, is especially welcome news for the Dynamo.
ESPN FC on Twitter
Don't miss a moment of the latest soccer coverage from around the world. Follow us on Twitter and stay informed. Join »
"The good thing with this break was that it gave us a chance to get Camargo fitter," Kinnear said. "That said, you know absences are going to happen. With the suspensions and Brad being questionable it's all happening at one time. You have to deal with it. You can't ask Chicago to reschedule the game. You have to get on with it."
Friedrich in line for debut: Chicago was another team that had this past weekend off, yet was still bitten by the injury bug. Defender Cory Gibbs tore the meniscus in his right knee and will miss four to six months. That means new signing Arne Friedrich, who has had health problems of his own in the past year because of a slipped disk in his back, will almost certainly make his debut against Houston.
Manager Frank Klopas has been careful to ease Friedrich into training since he signed for the club a month ago, even consulting with a fitness specialist from the German national team in a bid to fine-tune the defender's workouts. Now Klopas feels that Friedrich is good to go.
"I think [Friedrich] has been coming along, every day, better and better," Klopas said. "It was all from a fitness standpoint, just getting in a rhythm and playing as much as he can with the players. It's been great, just his leadership on and off the field. And his qualities as a player, it's been fantastic. It's what we expected."
What remains to be seen is who will partner the former German international. A toe injury to Dan Gargan has forced Jalil Anibaba to fill in at right back, meaning that rookie Austin Berry could be drafted in alongside Friedrich if Gargan doesn't recover in time. Either way, Klopas is confident that Friedrich's experience will help carry the team forward.
"With Friedrich in the back, I think he communicates really well," Klopas said. "We've been working a lot in practice with Jalil and Austin, what that would look like. So there's a good understanding from a tactical standpoint, when to press, when to step up, and different kind of scenarios so everyone is on the same page."
Jeff Carlisle covers MLS and the U.S. national team for ESPN.com. He is also the author of "Soccer's Most Wanted II: The Top 10 Book of More Glorious Goals, Superb Saves and Fantastic Free-Kicks." He can be reached at eljefe1@yahoo.com.
Soccer
Jeff Carlisle covers MLS and the U.S. national team for ESPNsoccernet.
Soccer on ESPN.com

Follow Soccer on ESPN: Twitter
Coverage on ESPN FC
Euro 2012 in Review
MOST SENT STORIES ON ESPN.COM