Commentary
What's next for Rafa Marquez?
As another suspension looms, Red Bulls might want to consider other options
San Jose Earthquakes midfielder Shea Salinas said Tuesday that he forgave New York counterpart Rafael Marquez for breaking his collarbone. It seems highly unlikely that the MLS disciplinary committee will be as understanding. As for the New York Red Bulls? Who knows, but it seems that they'll stick with an investment that continues to hemorrhage money, good will and points in the standings.
Marquez added to his rather extensive rap sheet on Saturday by tackling Salinas to the ground on a corner kick, then kicking him for good measure. Salinas confirmed that being the meat of the sandwich between the ground and the Red Bulls' designated player -- not the subsequent kick -- is what broke his left clavicle into four pieces. Salinas is slated to have surgery Wednesday to repair the damage and will miss six to eight weeks. It's a bitter blow for a player who was without question enjoying the best form of his professional career and had been a big contributor to the Quakes' 4-1-1 start with his play on the left side of midfield.
"We were winning, and I was a part of the winning. That was great," Salinas said on a conference call with reporters. "Selfishly, that's the part that I'm going to miss the most in these six to eight weeks and the most frustrating part of it."
It was by no means the only exasperating aspect of the incident. Marquez had done much the same thing on two previous corner kicks, which Salinas said went well above the kind of close marking that usually happens on set pieces. Salinas and the Quakes' bench had complained to referee Ricardo Salazar, but according to Salinas, the referee said nothing to Marquez.
"I feel like if someone had just said to Marquez, 'Hey, we're watching you,' maybe this could have been prevented," Salinas said. "Nothing was said, and on the third corner kick, I have a broken collarbone."
In the end, that is all speculation. What matters is that Salinas will miss a significant chunk of time, although he stopped short of calling for Marquez to be suspended.
"The last thing I want is for this [injury] to happen to someone else or to keep going on in the league," he said. "But it's not my place to judge what should happen to Marquez or what goes on. I honestly don't really care too much what happens to him. I forgive him for what happened. I don't really know or care too much what the punishment is."
If recent history is anything to go by, the disciplinary committee will care plenty, and Marquez's past behavior works against him. He received a three-game ban from MLS in last year's playoffs for sparking a postgame melee against Los Angeles. In that instance, no physical injuries were inflicted, but that isn't the case this time, and a five-game forced vacation for Marquez feels about right.
If that is indeed the path the disciplinary committee chooses -- the decision is expected any day now -- Marquez won't return to the field until May 19 at Montreal. Given that his previous suspension bled into the first two games of this season, it would mean that he would have been available for just four of New York's first 11 games. That's a ratio reminiscent of David Beckham's first few years in MLS.
Beckham has of course made amends since that time, but the same can't be said of Marquez. His performances this season in the Red Bulls' midfield have been uneven, although it should be noted that the team is 3-0-1 with him in the lineup. But New York is undergoing something of an injury crisis at the moment, with defenders Wilman Conde and Roy Miller as well as midfielder Teemu Tainio all out for the next several games. Miller's injury was due to a reckless tackle from Marvin Chavez, and the San Jose midfielder can expect a call from the disciplinary committee as well. But Marquez's inability to control his emotions is threatening to scuttle New York's recent revival, one that has seen it go unbeaten in its past four games.
So what does New York's management make of this? With head coach Hans Backe tending to a personal matter, it was left to general manager Erik Soler to address the issue of Marquez after Tuesday's practice.
"Any player that puts the team at risk during a game because of cards or suspension is worrying," Soler told the New York Post. "Rafa is a special player for us. We'd rather have no incidents than any incidents, so I think with him or anybody else it's something we're going to speak to him about and see if there's anything that needs adjusting."
Marquez's attitude would be a good starting point, but it's a conversation that should have taken place in the preseason. Instead, it was left to Marquez to insist that his performance this year would be different from the sketchy form he displayed throughout 2011. And it raises a bigger question. At what point do the Red Bulls cut their losses and decide that paying $4.6 million a year to a player with such a poor disciplinary record is no longer worth the hassle? It's not as if New York isn't a preferred destination for prospective designated players, with big names constantly being linked to the club.
With the primary transfer window now closed, there is little the Red Bulls can do in the near term. But the second transfer window is set to open on June 27. That might be the optimal time for them to call the Marquez experiment a complete and utter failure and try their luck with someone else.
I hear Michael Ballack is available.
[+] Enlarge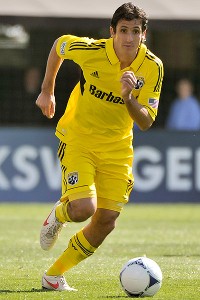 Jamie Sabau/Getty ImagesMilovan Mirosevic has played well in Columbus' midfield, but his help on D limits his ability to get forward.
Chivas tries to shed Jekyll and Hyde tag: It's been one of the more head-scratching developments of the MLS season so far. Chivas USA has yet to record a point in three home games but is a perfect 3-0-0 on the road. Yet, rather than having a split personality, manager Robin Fraser thinks it's a case of his team needing to jell after a few early hiccups.
"A lot has been made of our form on the road, but really I think it's just our form period," he said via telephone. "We're starting to grow and mature, and I think the mentality -- when you're on the road it's you against the world -- has probably helped galvanize the team."
The irony is that the surge began with a 1-0 win at Real Salt Lake in which Chivas was almost completely outplayed. That was followed by a 1-0 home loss to Sporting Kansas City in which the Goats probably deserved better. But then Chivas recorded two more wins on the road against Portland and Toronto in which the performances were much improved, even as it was forced to weather some rough periods.
"To win in this league, you have to battle, you have to fight, you have to keep yourself in games," Fraser said. "Over the last few weeks we've displayed the ability to battle. As a result, we've been able to wrestle away a few wins."
That ability to grind out results is always easier when a few individual performances rise over everyone else. Against Portland, winger Ryan Smith helped turn the tables with some stellar flank play. In Toronto, it was down to goalkeeper Dan Kennedy to make some incredible saves.
The trick now is to translate that form into some points at home, starting with this weekend's match against Philadelphia. The crowds at the Home Depot Center have been sparse, to say the least -- Chivas averages just 11,853 fans a game so far, well below the league average of 19,490 -- but for Fraser, that's just another obstacle.
"Certainly we feel like it's important that we play well, and that we win and hope people will come and watch and appreciate," he said. "But the fact of the matter is we have to show up and play wherever we are, whatever the situation is, whatever the atmosphere is, and we have to show up and put our best foot forward."
On the personnel front, the situation is improving. Striker Juan Pablo Angel is almost fully recovered from the concussion he sustained in a preseason match against Portland, and Fraser indicated the Colombian could see time against the Union this weekend.
Questions abound in Columbus' midfield: Finding the right balance in attack can be elusive, and so it has proved for the Columbus Crew. The team has just four goals in six games and has rarely looked dangerous.
"I'm not too pleased with the offensive performance," Columbus manager Robert Warzycha said in a phone interview. "I need more in the final third. I don't see shots from distance; I don't see us taking defenders on and getting crosses, getting the final pass from the midfielders. I think whatever combination we have on the field, it can be better."
ESPN FC on Twitter
Don't miss a moment of the latest soccer coverage from around the world. Follow us on Twitter and stay informed. Join »
The midfield in particular has struggled. Chilean Milovan Mirosevic was brought in to be the attacking hub, but his admirable attention to defensive duties -- partly in a bid to help out rookie holding midfielder Kirk Urso and protect a back line hit by injury -- has made it difficult for him to get into the attacking third. Eddie Gaven, long one of the team's most consistent attacking threats, has been borderline invisible. He has just four shots in five games -- one fewer than left back Shaun Francis.
Warzycha insists that there looks to be nothing wrong with Gaven's effort and that it's more a case of him being out of sync with his teammates.
"He's working hard to get things going," Warzycha said of Gaven. "But sometimes he's too close, sometimes he's too far, sometimes he's in the wrong spot. He's throwing his body around, but it's more his decision-making."
One possible solution to the Crew's offensive woes is to deploy Mirosevic as a second striker. It's a position he filled in the past with Chilean side Universidad Catolica and could provide the kind of link play the team needs in the attacking third. But Warzycha indicated he was wary of putting Mirosevic in a spot where he'd end up starved of service.
"More than anything, I'd like Mirosevic to have the ball, and sometimes as a second striker you depend on a lot of different players," he said. "Some of them are rookies and young players. I can't just put the game on their shoulders and then try to find Mirosevic. I need to put the game on Mirosevic's shoulders and just break through whatever we have right now."
Wrong kind of history looming for TFC: For a franchise that has had more than its share of depressing moments, Toronto FC is on the cusp of another dubious achievement. The team's five-game losing streak to start the season is already the third-longest in MLS history. In 1999, the then-Kansas City Wizards dropped their first seven contests, but the fourth loss in that run came via the shootout. So if we're talking losses in regulation, TFC holds the second spot behind the six-game losing streak crafted by the 2001 New England Revolution.
If Toronto is to avoid matching Kansas City's mark, it almost has to win this weekend at home against Chicago. Otherwise, it'll be forced to stop its streak the next week at MLS Cup contender Real Salt Lake.
Jeff Carlisle covers MLS and the U.S. national team for ESPN.com. He is also the author of "Soccer's Most Wanted II: The Top 10 Book of More Glorious Goals, Superb Saves and Fantastic Free-Kicks." He can be reached at eljefe1@yahoo.com.
Soccer
Jeff Carlisle covers MLS and the U.S. national team for ESPNsoccernet.
SPONSORED HEADLINES
MORE SPORTS HEADLINES
MOST SENT STORIES ON ESPN.COM
Soccer on ESPN.com

Follow Soccer on ESPN: Twitter
Coverage on ESPN FC
Euro 2012 in Review