Commentary
Another weird season for New York
HARRISON, N.J. -- At the sound of the final whistle, rookie New York Red Bulls goalkeeper Ryan Meara roared, pumped a fist and pounded his chest. He bounded over and exchanged hugs with some friends in the first row of the stands behind his goal, which wasn't breached in the entire game for the first time in his professional career.
[+] Enlarge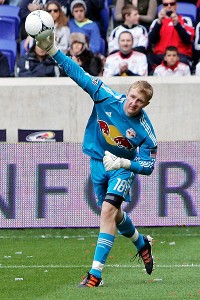 Mike Lawrie/Getty ImagesRyan Meara has emerged out of nowhere to become New York's main shot-stopper.
Five months ago, Ryan Meara was a senior shot-stopper at a college where soccer isn't a very big deal. A cascade of surprises soon followed: Meara was drafted out of Fordham University by the Red Bulls in the second round of the 2012 MLS SuperDraft; Meara made the team; the Red Bulls never got around to signing a veteran goalkeeper; Meara was named the starter; Meara held down the job; Meara earned his first man-of-the-match plaudits in a 1-0 shutout win over the New England Revolution last Saturday; Meara was allegedly called up to Ireland's U-21 national team for an upcoming qualifier, only to be denied by the Red Bulls.
Nobody had seen all this coming, Meara included. "Honestly, probably not," he said. "Coming in I didn't really know what to expect."
Yet his out-of-nowhere emergence fits within the parameters and context of the bizarre picture of the Red Bulls' season thus far. Amid all the noise and all the strangeness, Meara's incredible story has been barely audible.
Even the unlikelihood of the shutout was overlooked. In the Red Bulls' first shutout of the season, Meara had as much MLS experience as any of the four defenders in front of him. Markus Holgersson, like him, had made seven starts. The other three defenders -- Connor Lade, Brandon Barklage and Tyler Ruthven -- were drafted into service because of injuries to three starting defenders, and their primary backups -- Wilman Conde, Jan Gunnar Solli and Roy Miller and Stephen Keel respectively -- had just four professional starts among them.
Meara recognizes the absurdity of his sudden status as the back-line veteran. "If you would have told me that a couple of weeks ago I probably would have thought you were crazy," he said slowly, making no effort to look and sound any less like a dead ringer for Larry Bird.
It was fitting that Meara should earn his biggest achievement in his professional life in the weirdest game yet of a distinctly weird season. After the Red Bulls' form swung wildly last year -- hot at first, then slumping for four long months before rebounding -- they started their 2012 campaign in similar fashion. After decisively losing its first two games to FC Dallas and Real Salt Lake, Meara's team went on to hammer the Colorado Rapids, Montreal Impact and Columbus Crew 4-1, 5-2, 4-1 before tying the San Jose Earthquakes 2-2 and then getting battered by D.C. United 4-1. Eight games into the season, the Red Bulls lead the league in both goals scored (18) and goals conceded (14).
Against the Revs, the Red Bulls dominated for 20 minutes, emphasized by a splendid dink over a helpless Matt Reis by Thierry Henry, who had wrestled past the last defender in the seventh minute, the only goal of the game. But after Henry hobbled off with a hamstring injury in the 23rd minute, the Red Bulls imploded into a team that could muster no more than a backs-to-the-wall defense, struggling to hold off a very mundane team but succeeding thanks to some decisive Meara saves. In a single game, the Red Bulls had been both of their contradictory 2012 incarnations: imperious and frail. Still, the nail-biting 1-0 win caused head coach Hans Backe to deem it "a sensational result."
"With the conditions we had before the game you feel that a clean sheet is almost impossible," admitted Backe. "Tactically, it's absolutely our best game so far."
ESPN FC on Twitter
Don't miss a moment of the latest soccer coverage from around the world. Follow us on Twitter and stay informed. Join »
Such is the reality of the 2012 Red Bulls.
"It's a very strange season," Backe said, but not just in reference to the topsy-turvy results. It's the injuries too, a biblical plague of them. In addition to the aforementioned defenders, Henry will be out several weeks, fellow striker Juan Agudelo is out, as is midfielder Teemu Tainio, while Rafa Marquez is suspended yet again. "I've never been involved for 30 years probably with a team picking up five, six, seven injuries to starters," said Backe. "We will probably have three, four more very rough games until some players are coming back."
As the Red Bulls prepare to face the Los Angeles Galaxy on Saturday in a rematch of their conference semifinals showdown from a year ago (won by the eventual champion Galaxy), more twists are likely to follow.
Because, as Red Bulls midfielder Dax McCarty puts it, "It wouldn't be the Red Bulls if it wasn't strange, right?"
Leander Schaerlaeckens is a freelance soccer writer for ESPN.com. He can be reached at leander.espn@gmail.com.

Contributing writer, ESPN.com
Leander Schaerlaeckens is a contributing writer for ESPN.com. He has previously written for The Guardian, The Washington Times and UPI.
Soccer on ESPN.com

Follow Soccer on ESPN: Twitter
Coverage on ESPN FC
Euro 2012 in Review
MOST SENT STORIES ON ESPN.COM