Commentary
Magic Mattocks
Darren Mattocks took a well-worn path to MLS and is now starring in Vancouver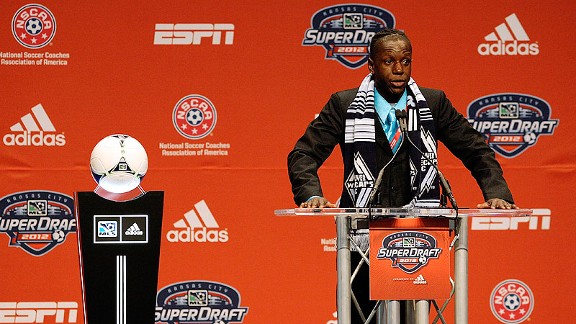 Jamie Squire/Getty ImagesSelected second overall in the 2012 MLS SuperDraft, Darren Mattocks has electrified Vancouver.
It was January 2010 when University of Akron head coach Caleb Porter found himself in the bleachers at a soccer game in a dangerous part of Kingston, Jamaica.
He'd heard about a speedy local striker who could replace the MLS SuperDraft-bound Teal Bunbury. Soon after the game began, Darren Mattocks, a star forward for the U-21s of local professional club Waterhouse FC and one of the highest-scoring youth players in the Caribbean, received the ball in the middle of the field and peeled off a 50-yard run that, while not resulting in a goal, told Porter all he needed to know.
"It took me about five minutes to realize he was special," recalled Porter. "He was electric, ran like a deer and when he got on the ball he was very technical as well. I knew he would take off."
After the game, Porter approached the 5-foot-10, 155-pound striker, who already had several American colleges interested in his services, and told him he should come to Akron. Mattocks had scarcely heard of Akron. Porter told him he reminded him of 2009 No. 1 pick and Akron alumnus Steve Zakuani. Mattocks had never even heard of Zakuani.
In Mattocks, Porter was recruiting a teenager who'd grown up far from the well-funded college game.
"My family wasn't the most wealthy," Mattocks said last week. "It was pretty tough, it wasn't easy growing up. My mom was a single parent. My two bigger brothers helped me growing up in Jamaica. It was a dangerous place. But they were two pretty good role models for me. They didn't get into any trouble or anything like that."
[+] Enlarge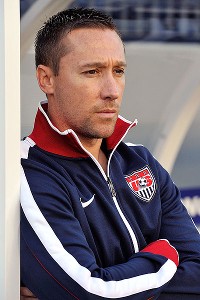 Frederick Breedon/Getty ImagesAkron coach Caleb Porter was the first to spot Mattocks on a field in Kingston. The Vancouver striker has handled the rest.
Yet if he'd always favored the quickest road to the pros and was arguably the brightest prospect on the island (Jamaica has its own professional league), Mattocks was nevertheless swayed by Porter's offer to come to Ohio and play for free.
"I didn't have the perspective of going to college growing up and then going pro," said Mattocks. "I always wanted to go straight pro, but when I heard that college would be a better base, I decided to take that route. It's a win-win situation because if you don't go pro, you at least get a college degree."
The state of the professional game in Jamaica had given him pause. "The pros in Jamaica, it's not where you want to be," said Mattocks. "It's not good financially, not stable. It's not good. I told myself I wanted to play pro outside of Jamaica."
"The league in Jamaica, it's not like they make so much money that even if they got an offer it's not an offer that's better than a chance to come to the U.S. and get a degree," echoed Porter.
In picking the college game with the eventual goal of being drafted into MLS, Mattocks unwittingly took a path carved by many of his countrymen. Though unaware of it until he came to the U.S., Jamaicans have had the same plan for years. Much has been made recently of the influx of Colombians and other South and Central Americans into the North American game, though Jamaicans have quietly become a staple of the league, too.
There are currently 10 Jamaicans active in Major League Soccer, all of whom get regular call-ups up for their national team. Five emerged from the college game; three of those stars -- Dane Richards, Ryan Johnson and Omar Cummings -- are some of the Reggae Boyz's best attacking talent, while the fourth, defender Shavar Thomas, is the team's captain.
ESPN FC on Twitter
Don't miss a moment of the latest soccer coverage from around the world. Follow us on Twitter and stay informed. Join »
College provides a suitable intermediary step between the physical, all-out attacking Jamaican game -- which Porter describes as a "track meet" -- and the more balanced, tactically polished MLS. "The other Jamaicans that made it," Porter said, "they needed those years in college to develop, mature, learn to be a pro."
Yet Mattocks still stood out, lighting up college soccer by scoring 18 goals in 25 games as a freshman. Then, 21 in 22 as a sophomore in spite of losing seven starting teammates to the draft -- with five of them going among the first eight picks. All told, his 39 goals at Akron easily eclipsed the production of Zakuani (26), Bunbury (23) and the 2011 No. 2 pick, Darlington Nagbe (19).
But his gaudy stats masked the amount of polish his game required.
"He was definitely raw tactically, he needed to be a more complete player to play within a higher-level team," said Porter. "He needed to learn movement and how to combine with his teammates and defend. I don't think he knew what the word defending was. But Darren had everything. He just needed to learn how to play."
Mattocks hadn't started playing organized soccer until his second year of high school. With little else to do, he'd play on the streets, for four or five hours a day, sometimes barefoot, sometimes in old boots.
By the time those deficiencies had been addressed, he was viewed as the most explosive college player in the 2012 SuperDraft -- and the one with the most potential, too. Mattocks also received an offer from Danish powerhouse Brondby but signed a Generation adidas contract with MLS instead, once again coming to the very conclusion as many Jamaican players before him.
"I always wanted to go to Europe right away, but I thought the MLS would be a good starting point for my career," he said. "It was a better offer and it was closer to home. Denmark is so far away from Jamaica."
[+] Enlarge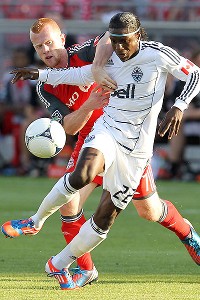 Abelimages/Getty ImagesIt took Mattocks some time to find his stride, but with six goals in his past seven games for Vancouver, it's safe to say he's now a key member of the Whitecaps squad.
The Vancouver Whitecaps, for their part, were delighted Mattocks fell to No. 2 after the expansion Montreal Impact picked Duke's Andrew Wenger first overall. "You always want speed if you can get it," said Whitecaps head coach Martin Rennie, who had watched several of Mattocks' games at Akron. "Our other forwards have other qualities; some are good at holding the ball up, others are good one-on-one. But you want one who can scare defenders with his speed, and with Darren Mattocks, we definitely get that."
Mattocks made his professional debut for the Caps during their 2-0 First Kick win over Montreal on March 10, coming on for Eric Hassli in the 89th minute.
Initially upset by a dearth of playing time for the striker-stacked Whitecaps and further frustrated by a self-inflicted burn injury that kept him sidelined for two months, Mattocks has since carved out a vital role. Through seven starts, the striker has six goals, several of them spectacular (like this towering header versus Toronto FC) for the much-improved Caps.
It's that speed, agility and spark that first inspired Porter that night in Kingston and is propelling the Caps in the lush Northwest. With Mattocks in fine form, the second-year expansion team is pacing nicely -- fourth in the West, four points ahead of the L.A. Galaxy -- in the race for the playoffs.
Leander Schaerlaeckens is a freelance soccer writer for ESPN.com. He can be reached at leander.espn@gmail.com.

Contributing writer, ESPN.com
Leander Schaerlaeckens is a contributing writer for ESPN.com. He has previously written for The Guardian, The Washington Times and UPI.
SPONSORED HEADLINES
MORE SPORTS HEADLINES
MOST SENT STORIES ON ESPN.COM
Soccer on ESPN.com

Follow Soccer on ESPN: Twitter
Coverage on ESPN FC
Euro 2012 in Review