Commentary
MLS shines against Chelsea
Updated:
July 26, 2012, 2:48 PM ET
By
James Tyler
| ESPN.com
CHESTER, Pa. -- How could Chelsea manager Roberto Di Matteo have seen this coming?
Eddie Johnson's late deflected goal (thanks to David Luiz defending with his back turned) gave the MLS All-Stars a 3-2 win, just reward for a lively, coherent effort. It was to be expected that the de-facto home side had a little less rust in its boots given that it's midway through its season. But no-one expected the Blues to struggle as they did.
[+] Enlarge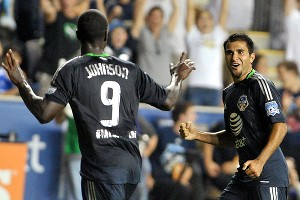 Drew Hallowell/Getty ImagesEddie Johnson scored the game-winner to give MLS a 3-2 victory over Chelsea in the All-Star Game.
Make no mistake that the league will take full advantage of the bragging rights and self-confidence boost that come in victory. After all, it's not very often you can stand tall against the European champions and beat them, a neat reprise of MLS' All-Star 1-0 win over an albeit very different Chelsea team in 2006.
Yet Di Matteo and his squad still got what they needed from the festivities -- and not just the jolt of humility as they inch closer to their Premier League opener on Aug. 19.
In defeat, there were clear lessons and clues as to how Chelsea should adjust. All the shiny new toys -- imagine what the newly signed Oscar, away on Olympic duty for Brazil, could have done had he been available -- and all the disparate pieces have yet to make a coherent whole. Yes, it's still preseason and, yes, the players are not yet ready to lurch atfull-stretch for every ball. But Di Matteo still has work to do, whether you take such exhibition games seriously or not. Though Wednesday night's game was mostly for logging minutes, noting movement and tracking progress, you imagine the players are in for some heat before moving on to Miami for the weekend's friendly against Milan.
All told, the MLS win gave a PPL Park record crowd of 19,236 everything it could have asked for: neat goals scored and plenty of class from the MLS elect. San Jose's Chris Wondolowski continues to find ways to score, with his 21st-minute tally getting the better of John Terry. Chris Pontius connected with his D.C. United teammate Dwayne De Rosario in the 73rd minute, before Johnson delivered the coup de grace in the 91st minute as the match was about to head to penalty kicks. Not bad for a team that had been together for only a couple of days, especially given the drubbings the MLS All-Stars had suffered at the hands of Manchester United in the two previous All-Star Games.
Now, this effervescent MLS squad -- said Landon Donovan of these All-Stars, "I would think this has to be the best squad we've ever assembled" -- must disperse and refocus on the second half of the season and the playoff races. As for Chelsea, it's only the beginning. What can Di Matteo glean from defeat?
For starters, there is little erosion in Frank Lampard's legs. Many may expect a drop off from the 34-year-old, but the Blues veteran was full of creativity and verve, no matter how many young stars deputized for him in the second half. His off-the-ball movement and thoughtful play was often too much for Romelu Lukaku, Chelsea's lone striker.
Time and again, it was Lampard breaking the MLS offside trap to chase or meet angled passes from Marko Marin (who also impressed), Ramires and Yossi Benayoun. And it was Lampard who scored in the 58th minute to (temporarily) give the Blues the lead. Lukaku, for his part, lacked the telepathy to match him. His goal and assist performance will give him a boost, though, knowing that no matter how quickly Marin, Eden Hazard and Kevin De Bruyne settle into their new team, he still holds the keys to the attacking third.
Yet defense will still concern the Chelsea braintrust. Terry's slip in handling a Thierry Henry cross midway through the first half gave the All-Stars the lead as Wondolowski sidefooted home. Yet in typical JT form, he atoned with the equalizer. Moments after defender Aurelien Collin returned to the fray following a brief check-up on the sidelines, -- it later emerged that the Sporting KC anchor had broken his cheek in a first-half collision with Michael Essien -- Terry nudged himself free to head home Lampard's right-footed corner.
Then, in the second half, Gary Cahill's lack of speed in closing down sub Pontius gave the D.C. United striker enough time to coolly dispatch De-Ro's cutback. It was David Beckham's typically rakish cross-field pass that sprung the All-Stars' captain, who was largely well worth his late-night transatlantic flight to play the game.
Finally, dazed defending from Luiz gave Johnson a chance to punctuate the night with a deflected game-winner.
The good? Lampard. Marin also upped his reputation with a more nuanced performance in support.
On the flip side, Benayoun seems an ill fit for Di Matteo's grand plans. Never sure in possession, his lack of pace was a concern. Ramires was forced to the right flank where he was unable to contribute. Again, this was a training exercise, but he didn't adapt. Lukaku was uncomfortable, unwilling to hold up possession with his back to goal and forcing his midfield to float passes for him to chase, largely without luck.
"We are disappointed," said Di Matteo of his side. "Of course we're always looking to win, but we were a little stretched in the second half, a little unsettled." It's also clear what pleased him despite the loss: "We haven't had any injuries yet. It's slowly coming together."
ESPN FC on Twitter
Don't miss a moment of the latest soccer coverage from around the world. Follow us on Twitter and stay informed. Join »
And so the mantra remains: It's only preseason. But full credit to the MLS elite in defeating Chelsea, it's sixth win against overseas competition since the All-Star Game's format switch in 2003.
MLS view: A win in front of the entire nation is never a bad thing. Though the squad had just 48 hours to gel, there was little rancor, ego, or bad timing. Just slick interplay and neat communication from every player that made the field.
Chelsea view: Work to be done, but Di Matteo knew that. To the Blues, the result is a footnote. Instead, the data his staff collected will tell him plenty heading into the Milan game this weekend. Lampard looked spry for his age, clearly happy with the talent being piled high around him. "I enjoy seeing the young boys coming through, it makes me feel a bit young again," he joked after the game in reference to Marin, De Bruyne. "But as you get that little bit older it's all about you. You've got to have that self-motivation and you can't worry about what's going on around you." Wise words from a man very much in command of the Blues' midfield.
Man of the match: I picked Frank Lampard in the ballot, but upon reflection, it could have gone in many directions. Henry directed traffic in a withdrawn attacking role, relishing the chance to set teammates loose and bear down with speed at Terry and Cahill in the first half. De Rosario and Osvaldo Alonso were perfect partners in the middle of the field, forever swapping and supporting no matter who was on the ball. Jay DeMerit rose to the occasion also. A good night for the league.
James Tyler is an editor for ESPN Soccer. He can be found on Twitter at @JamesTylerESPN.

Soccer
James Tyler is an ESPN editor for soccer.
Soccer on ESPN.com

Follow Soccer on ESPN: Twitter
Coverage on ESPN FC
Euro 2012 in Review
MOST SENT STORIES ON ESPN.COM