Commentary
U.S. leaving nothing to chance
Updated:
December 1, 2010, 12:51 PM ET
By
Jeff Carlisle
| ESPN.com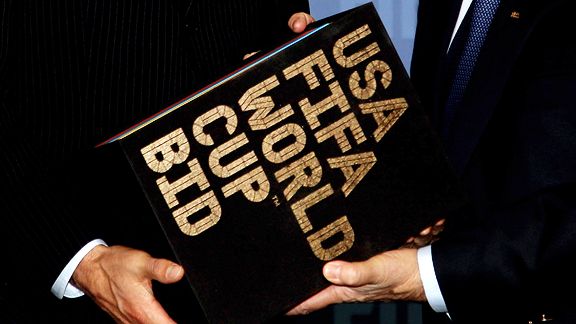 Ross Kinnaird/Getty ImagesThe U.S. will find out if it hosts the 2022 World Cup on Thursday.
Ask anyone connected with the U.S. bid to host the 2022 World Cup, and the word that keeps emerging is "confident." That doesn't mean there is an absence of doubt, however, and with the vote of FIFA's Executive Committee set to take place Thursday (watch it on ESPN3 at 10 a.m. ET), the U.S. effort is leaving nothing to chance.
Chuck Blazer, the lone U.S. representative on the FIFA Executive Committee (ExCo), said via e-mail that going into Thursday's vote, he felt "positive, like going to a football match; prepared and hopeful of a good outcome."
He certainly has his reasons. The U.S. possesses the strongest bid on paper of those vying for the 2022 edition of the tournament, a group that includes Qatar, Australia, South Korea and Japan. A FIFA-sponsored report by the consulting firm McKinsey & Co. gave the U.S. bid a 100 percent rating in terms of meeting FIFA's economic targets. This is on top of FIFA's technical report that gave the U.S. bid a rating of "low-risk" in 13 of 15 categories, a collection that was better than any of its competitors.
The bid does have its weaknesses, including the country's vast size as well as a lack of government guarantees surrounding such things as sponsorships and intellectual property. But the potential of expanding the game's reach within the U.S. should dwarf such concerns.
"If we can get millions more people tuned into the sport -- not just the 31 days of the World Cup, but to Major League Soccer, to playing soccer, to our women's teams … all of those things -- all of this would be immensely helpful as we try to develop the game," said USA Bid Committee chairman Sunil Gulati on Tuesday in a round-table discussion with reporters. "And the 12-year run-up prior to the World Cup is a central part of our story."
Yet like most elections, the best candidate doesn't always win, and that could very well occur in this instance. FIFA's decision to vote on hosts for both the 2018 and 2022 tournaments simultaneously has created an environment that practically invites corruption. ExCo members Reynald Temarii of Tahiti and Amos Adamu of Nigeria were caught selling their votes in a sting by The Sunday Times, and have already been suspended by FIFA. There were also unproven allegations that Qatar had colluded with the joint Spain/Portugal bid to swap votes.
The Oceania Football Confederation has since been trying to replace Temarii, and thus have its vote restored, but that would mean giving up his right to appeal, something he has refused to do.
Corruption concerns aside, the U.S. faces some stiff competition as well. Australia can tell much the same story as the U.S. in terms of infrastructure and stadiums, and has the added benefit of having never hosted a FIFA World Cup. Qatar has emerged as a formidable threat, despite the fact that it would host the tournament amid stifling summer heat, and reportedly has upward of seven votes already in the bag.
"Qatar has a lot of money that we don't have," said former U.S. Soccer Federation president Alan Rothenberg, who helped bring the 1994 World Cup to the U.S. "I'm not talking illegitimately, but if they say they will build X number of stadiums and Y numbers of hotels, you can take it to the bank. It would not be viewed as an idle promise that you couldn't count on."
[+] Enlarge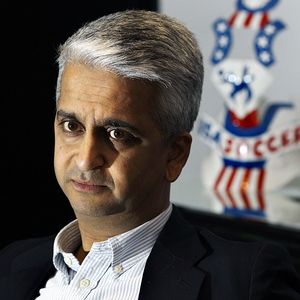 AP Photo/Elise Amendola"We felt now was the right time for us to make a change," announced U.S. Soccer president Sunil Gulati.
Complicating matters is a voting process with more potential moves than a chess board. Voting for both tournaments will take place by secret ballot on the same day, with the winners being announced at the end of the session. This means that the ExCo members will vote on the 2022 host without knowing who prevailed for the 2018 race. The winner in each contest must claim a majority of votes. If no majority is achieved in a given round, the entrant with the lowest vote total will be eliminated, while the survivors will move on to the next round. This has led to an ungodly number of scenarios, depending on which country is eliminated when.
"If this is going to multiple votes, if you do it right, you can promise three different countries you are going to vote for them and deliver on all three," Rothenberg said. "I think it's still ours to lose, but it wouldn't be the biggest upset ever if Qatar prevails."
Another factor is China's desire to host the 2026 edition of the tournament. If any one of the four Asian entrants wins Thursday, any Chinese attempt to host a World Cup would be delayed at least until 2030, as the same confederation cannot host two tournaments in a row.
But opinions vary regarding how relevant China's aspirations are. Blazer said China's potential impact on Thursday's vote is "not significant," while Rothenberg insists it "is probably one of the biggest things the U.S. has going for it."
It's a situation that is migraine-inducing for Gulati. "I'm not sure how many people in their own mind have worked through all the permutations on both World Cups if A, B, C, D, and E happen," Gulati said. "Until that happens, everything is in play."
That's why Gulati pulled out the heavy artillery for the USA Bid Committee's final presentation early on Wednesday. Actor Morgan Freeman, U.S. national team midfielder Landon Donovan, current U.S. Attorney General Eric Holder and former President Bill Clinton all were on hand, either to help make the presentation or, in the case of Holder, help to assuage any lingering concerns about governmental guarantees.
"In the end, it's impossible to know what one fact will convince someone," Gulati said. "Because of that we're trying to make sure we're on top of all the facts."
Will it be enough? It's impossible to say. The progress that the U.S. has made since hosting the World Cup in 1994 speaks to this.
"Our biggest handicap now is that we've had so much success," Rothenberg said. "[FIFA] look at it and say, 'We don't need to go back there. They're in great shape.' Probably the biggest challenge Sunil has had is convincing them why this would make a big difference, given as much progress as we've made."
Come Thursday, the world will find out just how successful Gulati has been.
Jeff Carlisle covers MLS and the U.S. national team for ESPN.com. He is also the author of "Soccer's Most Wanted II: The Top 10 Book of More Glorious Goals, Superb Saves and Fantastic Free-Kicks." He can be reached at eljefe1@yahoo.com.
Soccer
Jeff Carlisle covers MLS and the U.S. national team for ESPN FC.