Commentary
For Bravo, there's no place like Kansas
Updated:
February 3, 2011, 10:38 AM ET
By
Jeff Carlisle
| ESPN.com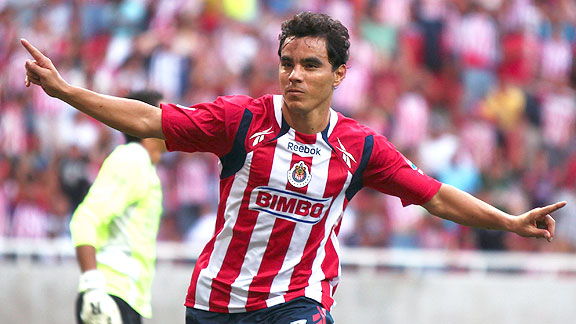 AP Photo/Bernardo De NizKansas City is putting a lot of faith in Omar Bravo, the 30-year-old Mexican international who arrives from Guadalajara.
Recent years haven't exactly been kind to Major League Soccer's designated players. A few, such as LA Galaxy star Landon Donovan and new teammate Juan Pablo Angel, performed well. But others, such as Toronto FC midfielder Julian de Guzman and Chicago's Nery Castillo, played well below expectations.
It is into this combination of sky-high expectations and middling results that Sporting Kansas City forward and designated player Omar Bravo now dares to tread. This after a season of struggle with Mexican side CD Guadalajara that, depending on whom you believe, was either because of poor form or a feud with Chivas owner Jorge Vergara, who reportedly held a grudge over Bravo's departure on a free transfer to Spanish side Deportivo La Coruna in 2008. But to hear Bravo tell it, he not only is ready to put last season firmly behind him, but is prepared to handle being Kansas City's marquee player.
"I take my responsibilities not as pressure, but as motivation," said Bravo with the help of an interpreter via telephone. "For me to succeed in this team, I come here to add myself to the rest of the group. Obviously, I can't forecast what is going to happen, but as long as I keep that project in mind, and the fact that it's not a pressure thing but a motivation thing, then I'm here to just enjoy being the designated player."
There are other challenges, as well. A league that is fast and physical has proved too much for a slew of foreign players, be they DPs or not. Bravo will also have to adapt to a new language and a new culture, not to mention travel.
Yet Bravo arrives in Kansas City with some advantages. His experience in the 2007 CONCACAF Champions Cup against D.C. United while playing for Chivas gave him a taste of what he can expect from MLS defenses. Kansas City coach Peter Vermes feels that Bravo's high soccer IQ will help him avoid most of the physical entanglements that will get thrown his way.
"[Bravo] can smell the game, he can smell situations," said Vermes. "Just having his smarts around the goal is going to make us a better team."
But perhaps the biggest plus for Bravo is that he'll be with the team for the entirety of preseason, which is a luxury that other designated players (such as Castillo and Toronto FC striker Mista) didn't have this past season as they attempted to come to grips with the league's frenetic pace. Laying that fitness foundation should help Bravo deal with the physical play and adjust to the team's style.
"I've already started preparing myself," said Bravo. "I'm happy to have [fitness coach] Mateus Manoel in charge of that, and I'm more than confident that it's just a change in the style of training -- and those things, as a player, you have to adapt to. From the few days I've had with the guys here, I've already gotten a sense of it, and it's just a matter of adapting to the scenario here.
"I feel like I have an advantage here right now because I'm at the beginning of everything," Bravo added. "I'm getting to know how things go, I'm getting used to the system."
Just what that system will be is an open question. Vermes indicated that he still hasn't decided if he will depart from last season's 4-3-3. As for Bravo, he indicated that he has played most of his career with a strike partner, although he has some experienced with a three-forward alignment.
"If he's playing underneath [Teal] Bunbury, I think Bravo has a shot to do well," said former New England striker and ESPN analyst Taylor Twellman. "But if they go 4-3-3, where do they play him? Do they play him out wide, in midfield? In a 4-4-2, he's dynamic in that way that he can run off a target forward.
"What also will help him tremendously is playing in that new stadium," Twellman added. "If he was playing on that minor league baseball field they were playing on for two years, he would not be effective because the spaces are too tight."
Systems aside, Bravo is intent on proving to people back in Mexico that his decision to head north of the border was the right one. And if that includes Mexico national team manager Jose "Chepo" de la Torre, who coached Bravo when the two were at Chivas, so much the better.
"It might do me well that [de la Torre] is there and that he knows me," said Bravo. "But obviously I have to be in good shape, and it doesn't hide the fact that I still have to work hard to be successful and show that I do deserve to be in the national team."
That will mean living up to the designated player label, as well.
Davies on trial:
D.C. United found itself in an enviable position late Tuesday. The club announced that U.S. international forward Charlie Davies -- who is just 16 months removed from a horrific car crash that resulted in a lacerated bladder as well as fractures to his tibia, femur, elbow and face -- will join the club in Fort Lauderdale, Fla., for a one-week trial. If all goes well and Davies shows he is sufficiently recovered, he will join the club on a yearlong loan from French club Sochaux, with United using the top spot in the league's allocation order to obtain him.
Although the club's brass declined to comment beyond a press release on its Web site, it's clear that for United the move is about as low-risk as it can get. One week ought to be sufficient time for manager Ben Olsen to see firsthand how far Davies has come in his rehabilitation. If there are any doubts, United can call the deal off.
The stakes are considerably higher for Davies. Up until now, he has toiled largely in anonymity, taking part in reserve games while making Sochaux's game-day roster just once. On the one hand, taking the next step in his home country makes plenty of sense for Davies, although his choice of locale, which just so happens to be where the accident took place, raises an eyebrow. On the other hand, if United decides that the forward's fitness isn't good enough, the doubts that he will make a complete recovery will be ruthlessly driven home.
The fact that Davies has made it this far is nothing short of extraordinary. But a failure to latch on with United would send a sobering signal to any other potential suitors.
Alexander's next step:
After making a total of 19 regular-season and playoff appearances for FC Dallas as a rookie in 2010, you might expect midfielder Eric Alexander to be a bit more relaxed heading into training camp this season. But while things are a bit different this time around, especially since erstwhile starting midfielder Dax McCarty has moved on to D.C. United, Alexander is taking nothing for granted.
"I think the pressure is still pretty high, but it's a different kind of pressure," he said via telephone. "Last year I had more pressure on myself to make the team and just get a roster spot. This year, we have some holes to fill in our midfield, and now there's pressure on myself to fill in that starting role and hopefully earn it, and do well there. I had a pretty decent year last year, and now I have room to grow. This is a big opportunity for me."
Alexander should bring a bit more of a physical presence to Dallas' lineup alongside Daniel Hernandez, although FCD will miss McCarty's ability to link defense to attack. But one advantage Alexander has heading into camp is his participation in last month's camp with the U.S. national team. The Indiana University product spent three weeks training under manager Bob Bradley. He even managed to earn a late cameo in the Americans' 1-1 draw with Chile.
Now Alexander is eager to apply what he's learned to his performances at club level.
"You need to stay focused the majority of the time, and then upping my level of play as far my defending and attacking, just being aware and just being quick on the ball," he said. "Those are the things that maybe you can get away with in an MLS game but not at the next level."
If Alexander is successful on those fronts, Dallas should find itself among the league's elite once again.
Jeff Carlisle covers MLS and the U.S. national team for ESPN.com. He is also the author of "Soccer's Most Wanted II: The Top 10 Book of More Glorious Goals, Superb Saves and Fantastic Free-Kicks." He can be reached at eljefe1@yahoo.com.
Soccer
Jeff Carlisle covers MLS and the U.S. national team for ESPN FC.