Commentary
MLS 2011 team preview: FC Dallas
2010 record and finish: 12-4-14 (3rd place in Western Conference)
Additions: M Ricardo Villar, M Andrew Jacobson, G Chris Seitz, D/M Bobby Warshaw, D Scott Gordon, F Jonathan Top, G Richard Sanchez, F Fabian Castillo
Losses: M Dax McCarty, M Atiba Harris, F Jeff Cunningham, G Dario Sala, D Heath Pearce, F Jason Yeisley
Key questions facing this team:
1. Can the new arrivals make up for the departures?
When Dax McCarty and Atiba Harris were chosen in the expansion draft, it forced manager Schellas Hyndman to go shopping during the offseason. Although Eric Alexander and Marvin Chavez appear to be ready-made replacements, it's important that FCD re-establish its depth, and after months of searching Hyndman has signed some new players.
ESPN FC on Twitter
Don't miss a moment of the latest soccer coverage from around the world. Follow us on Twitter and stay informed. Join »
Ricardo Villar, a veteran of German side Unterhaching, has been signed to shore up the flank positions. MLS veteran Andrew Jacobson was acquired through a trade to provide cover in the center of midfield if Daniel Hernandez's troublesome knee flares up again.
Although the moves look decent enough on paper, players new to MLS typically take awhile to acclimatize themselves, and Jacobson has been a bit-part player in previous stops with D.C. United and Philly. With another trialist, Bruno Martins, already gone, you get the sense that Hyndman is still looking.
2. Will the forwards produce?
Given Dallas' 4-1-4-1 scheme, this is less of an issue than it otherwise might be, especially with midfielder and reigning league MVP David Ferreira often occupying advanced positions. But with last season's leading scorer, Jeff Cunningham, now playing in Columbus, FCD has some questions up top. Milton Rodriguez put in some hardworking shifts after arriving in midseason, scoring five goals in 13 appearances, but was also a bit injury prone. The signing of Colombian U-20 international Fabian Castillo gives Hyndman an intriguing option, but at just 18 years of age, it seems to be asking a lot for him to assume the goalscoring burden. The same is true of highly toutedacademy product Ruben Luna.
3. Will this team ever get healthy?
It was a testament to FCD's depth last year that its record-tying 19-game unbeaten streak was accomplished amid a slew of injuries. That is a scenario that Hyndman & Co. would just as soon not face again, but the early weeks of preseason have not been promising. Ugo Ihemelu underwent hernia surgery in early February, and may miss the start of the season. George John has been slow to recover from ankle surgery, although he's logged some minutes during preseason. And while Hernandez is back on the field after offseason knee surgery, Hyndman has indicated his minutes will have to be monitored carefully. While Dallas' depth remains impressive, it is clearly a much better team with this trio on the field.
[+] Enlarge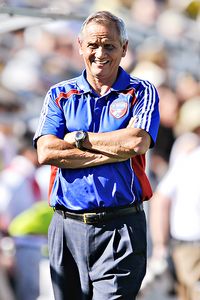 Jamie Sabau/Getty ImagesWhen Dax McCarty and Atiba Harris were chosen in the expansion draft, manager Schellas Hyndman went shopping during the offseason. But can he get his new players to jell in time?
Biggest X factor: Jackson
After playing three different positions after his midseason arrival, the Brazilian remains Hyndman's best antidote to any injury glut. While Jackson isn't as skillful on the ball as Hernandez, his athleticism allows him to be a terror on defense. If pressed, he can also fill in at center back or outside back. Given the injuries sustained by John and Ihemelu, Jackson should be ready for anything.
Breakout player to watch: Eric Alexander
The single biggest reason Hyndman was comfortable with losing McCarty was the development of Alexander. When McCarty went down with a thigh injury last July, Alexander ably stepped in. Granted, he's not as clean on the ball as his teammate, but he provided a solid two-way presence. Now it is up to the second-year midfielder to take the next step. His impressive play during the U.S. national team's January training camp gives every indication that he'll do just that.
Outlook: The vast array of talent assembled by Hyndman has been impressive, and it paid off in 2010 with the team's first-ever MLS Cup final appearance. While losing players like McCarty and Harris is difficult, FCD still possesses enough weapons to maintain its spot in the league's upper echelons.
Ferreira remains the attacking engine that makes the team go, and with players such as Brek Shea and Marvin Chavez at his side, Dallas' offense still looks potent, despite the lack of depth up top. The team's ability to transition into attack at warp speed remains one of its biggest strengths.
Defensively, there are more questions, although Dallas still has adequate cover in most areas. Like Jackson, Zach Loyd is another highly versatile performer who can fill in anywhere along the back line. This, combined with the continued brilliance of goalkeeper Kevin Hartman, should allow FCD to ride out any difficult periods.
That said, FCD will keep its fingers crossed that Hernandez, John and Ihemelu avoid the injury bug. Not only do they fill important positions on the field, but they are also counted on heavily by Hyndman to provide leadership. Their ability to stay healthy will likely be the difference between making the playoffs and repeating the team's run to the MLS Cup final.
Jeff Carlisle covers MLS and the U.S. national team for ESPN.com. He is also the author of "Soccer's Most Wanted II: The Top 10 Book of More Glorious Goals, Superb Saves and Fantastic Free-Kicks." He can be reached at eljefe1@yahoo.com.
Soccer
Jeff Carlisle covers MLS and the U.S. national team for ESPN FC.
MOST SENT STORIES ON ESPN.COM