Commentary
U.S. soccer's kids are indeed all right
Oftentimes in the case of friendlies, it's best to ignore the score line. Benefiting from a result that you didn't deserve can bring about a terminal case of irrational exuberance. Conversely, an undeserved loss can raise unnecessary alarm bells. Focusing more on how the team played, as well as the individual performances, is the best defense against the team's progress -- or lack of it -- being obscured by the result.
Case in point: the U.S. men's national team's two most recent matches. The U.S. secured a 1-1 tie against Argentina and followed that up with a 1-0 loss to Paraguay. The irony here is that the Americans looked much more composed in losing than they did in drawing. And although there were some positives to take away, both games revealed some flaws on the U.S. side that will require some sorting out come June if it is to reprise its Gold Cup run of four years ago.
So here are five things we learned from the Americans' most recent spate of games.
[+] Enlarge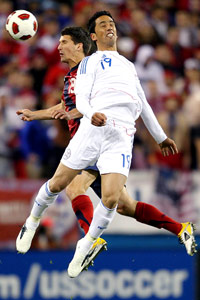 Andy Lyons/Getty ImagesThe play of Eric Lichaj and his fellow U.S. national team greenhorns was one positive takeaway from the Americans' recent friendlies.
1. Encouraging signs from the young guns
If there was one positive to be gleaned from getting hammered in the first half against Argentina, it was that it allowed coach Bob Bradley to take a "What the heck" approach to playing some of his youngsters. Both Juan Agudelo and Timothy Chandler acquitted themselves well, and that willingness to experiment carried over to Tuesday's match against Paraguay, in which Agudelo, Chandler, Tim Ream and Eric Lichaj all saw the field. And it can safely be said that each of them took the necessary steps forward in their respective international careers.
Not that they were perfect, mind you. The sight of Ream getting rag-dolled by Marcos Caceres prior to Oscar Cardozo's game winner showed that he still has work to do. But as has been the case in Ream's previous outings, his distribution out of the back was for the most part accurate and composed. Agudelo also looked lively, nearly earning a second-half penalty -- although there were moments when his inexperience showed. Lichaj, in a 30-minute substitute appearance, also showed he is capable of competing at this level with his energetic runs down the flank.
But the player most ready to start is Chandler. Though his defending still needs some work, his sheer athleticism -- plus his willingness to get into the attack, not to mention his crossing ability -- gives the U.S. a badly needed option in the offensive third. Steve Cherundolo should still see plenty of minutes this summer at the Gold Cup, but the baton is ready to be passed to Chandler. A start against Spain in early June should provide the ultimate test.
2. Don't completely ditch the 4-2-3-1 just yet
Granted, the U.S. looked much more secure in the second half against Argentina after Bradley junked the 4-2-3-1 in favor of a more conventional 4-4-2. And that comfort level was on display for most of the game against Paraguay as well. But there are some -- albeit limited -- circumstances under which the five-man midfield could be trotted out again. First, when it comes to occupying the central role behind the lone striker, there needs to be a player with more creative chops than Maurice Edu or Jermaine Jones, who each took turns playing that position against Argentina. Stuart Holden, once he returns from injury, could be that player; and Clint Dempsey certainly seemed to be operating more as a central midfielder against Paraguay. Chandler moved to right midfield late in Tuesday's match, and that may be the ticket to move Dempsey into a freer role.
But perhaps a bigger impediment is the lack of a player with the skill set to operate as a lone forward. The U.S. needs someone capable of holding the ball up and bringing other players into the attack. Whether this is accomplished by strength or the threat of speed, it doesn't matter. Asking Agudelo to fill that role seems a big demand for a player fewer than 10 games into his club career. As for Jozy Altidore, well, that leads us to ...
ESPN FC on Twitter
Don't miss a moment of the latest soccer coverage from around the world. Follow us on Twitter and stay informed. Join »
3. Altidore is in danger of sliding down the depth chart.
Whether you chalk it up to rust from riding the pine at Villareal for most of the season or the fact that Altidore has been playing some outside mid while on loan at Turkish side Bursaspor, the U.S. striker was ineffective in both games. His decision-making on the ball was especially suspect, as he was guilty of holding on to the ball too long rather than laying it off. In fact, Agudelo, at 18 years old, already appears to be a more complete forward than the 21-year-old Altidore, who still struggles mightily with his back to goal.
And Altidore is clearly feeling the pressure, given that after Tuesday's game he tweeted how he needed to "get my mojo back." He has roughly two months to accomplish that goal before the Gold Cup starts. In the meantime, Bradley will need to look at other options, although there aren't many. A guy like Edson Buddle might end up getting more looks.
4. Regardless of formation, the revolving door beside Michael Bradley keeps moving
The question is often asked: Is there a central midfield tandem for the U.S. that doesn't involve Michael Bradley? And the answer is: Not until someone starts outperforming him. Though he had his share of struggles during the friendlies, Bradley played better than both Edu and Jones -- especially when he took up a deeper-lying role against Paraguay. His distribution was much better and he broke up his usual assortment of opposition attacks.
As for who will partner him in the future, it seems Jones has edged back in front after a woeful performance against Argentina. Of course, Bradley's club situation will have a bearing on this discussion given that his playing time at Aston Villa, where he's on loan, has not been what was hoped for. The status of Holden, who is out until September because of a serious knee injury, will also bear watching. A potential partnership of Holden and Bradley would make for an interesting duo, but Bradley's habit has been to play with two destroyers -- meaning Holden's role upon his return will likely result in a position closer to goal.
5. Carlos Bocanegra and Jay DeMerit aren't going anywhere
This qualifies as one of those good news/bad news type of deals. To their credit, both Bocanegra and DeMerit remain effective players and solid contributors to the national team program. But with both players in their 30s, Bradley will need to find replacements eventually. And with Oguchi Onyewu still looking nothing like the player who performed so well at the 2009 Confederations Cup, this search has taken on added sense of urgency. It's a shame that Clarence Goodson and Omar Gonzalez have been injured, as it would have been beneficial to their development to garner some minutes. It looks like the Gold Cup will probably be their next opportunity, though both Bocanegra and DeMerit will remain very much in Bradley's plans.
Jeff Carlisle covers MLS and the U.S. national team for ESPN.com. He is also the author of "Soccer's Most Wanted II: The Top 10 Book of More Glorious Goals, Superb Saves and Fantastic Free-Kicks." He can be reached at eljefe1@yahoo.com.
Soccer
Jeff Carlisle covers MLS and the U.S. national team for ESPN FC.
MOST SENT STORIES ON ESPN.COM