Commentary
RSL's final hurdle to CONCACAF glory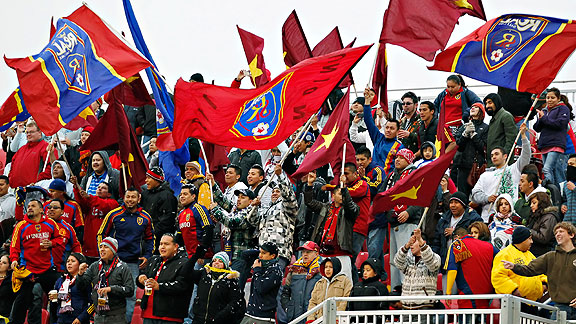 George Frey/Getty ImagesReal Salt Lake is poised to do what no MLS side has done in over a decade -- win a CONCACAF club title -- but Mexico's Monterrey stands in its way.
Real Salt Lake reached the final of the CONCACAF Champions League by employing an attacking style regardless of the venue or the conditions. So don't expect RSL manager Jason Kreis to change his team's approach now that mere continental supremacy is at stake, starting with Wednesday's first leg at Mexican side Monterrey.
Given the obstacles in RSL's path, Kreis certainly could be forgiven for tweaking his team's approach. Daytime highs have been threatening to break 100 degrees in Monterrey, with the temperature at kickoff expected to mercifully drop into the low 90s. And in Los Rayados, RSL will be facing a side with a potent, varied attack that can quickly go into overdrive on the break. And as it showed in the first leg of its semifinal clash against Cruz Azul, Monterrey is more than capable of pressing high up the field in a bid to force mistakes in its opponent's half. All of this puts an even greater premium on RSL's maintaining possession as much as possible.
"We know from prior occasions when we play in the heat, that we won't be able to withstand pressure, and we won't be able to expend the amount of energy needed to defend for 90 minutes," Kreis said on a conference call with reporters. "So when we have the ball, we're going to need to be very mindful of that. We're going to need to be very good with the ball. And when things turn over, of course, we're going to need guys to be focused and sharp and make the proper reactions to get back and defend quickly, because if we don't, this is the type of opponent that can kill you in a heartbeat."
That killer instinct is best exemplified by forwards Aldo de Nigris and Humberto Suazo. In de Nigris, Monterrey has a target forward with the kind of touch and mobility usually associated with much smaller players, and his link play is often the key to allowing Monterrey to exit out of its own half. Suazo is, in the words of Kreis, "a bulldog" who is more than happy to drop into midfield and play-make from the pocket between an opponent's back line and midfield.
Throw in the skillful wide play of performers such as Neri Cardozo and Sergio Santana, as well as a capable midfield general in Luis Ernesto Perez, and you've got a daunting matchup indeed.
[+] Enlarge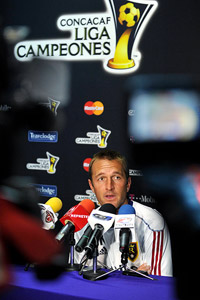 Yuri CortezRSL manager Jason Kreis must prepare his side to face the potent, varied attack of Monterrey in what is expected to be 90-plus-degree heat.
But RSL has some dynamic players of its own. While Javier Morales remains the team's attacking engine, the speedy Fabian Espindola, as well as a wild card off the bench such as Arturo Alvarez, could be the key to stretching a Monterrey defense that looked shaky at times in the semifinals.
RSL has also been battle tested, not only domestically but also internationally.
"I think going to Mexico before [against Cruz Azul in the group stage], going to Panama, going to Costa Rica, these are really tough environments," said RSL defender Nat Borchers via telephone. "A lot of these stadiums aren't exactly brand new; they're not the best of environments, so you have to deal with that. Then you have smaller, cramped locker rooms; fans who are just rabid, trying to intimidate you. The whole tournament has been great for us to get a feel for international competition, and I think we've responded well."
Of course, there are additional pressures. RSL is poised to do what no MLS side has done in over a decade, which is win a CONCACAF club title. As a consequence, MLS has greased the skids for RSL on an unprecedented level. The original league schedule was massaged to lighten RSL's domestic load heading into the CCL's latter stages. Then Philadelphia agreed to reschedule this weekend's fixture in a bid to make sure Real will be operating at its peak. No less an authority than RSL owner Dave Checketts said, "We are flying a banner that not only says Real Salt Lake but also Major League Soccer."
Yet Kreis tried to distance himself from such expectations, despite the well-wishes of nearly everyone around the league.
"I look at this game, and I don't want to be overburdened with the responsibility of trying to fly the flag for MLS, although I do certainly take it seriously," he said. "But I look at it as strictly a tremendous, tremendous opportunity for our players to win another meaningful championship and go to the World Club Cup, which would easily be a once-in-a-lifetime experience. For me, it's all about opportunity, and nothing about burden."
It's a chance that RSL looks poised to take, so long as it stays true to its aggressive ways.
Spencer's not afraid to keep tinkering: Last week couldn't have gone much better for the Portland Timbers and manager John Spencer. The Timbers' fans more than surpassed the considerable expectations that had been built up for them, providing a raucous atmosphere in the team's first two home games of the season against Chicago and Dallas. Portland then went out and repaid the crowd's faith with two well-deserved -- albeit unnecessarily nerve-wracking -- wins.
Yet Spencer now has a selection problem on his hands. The central midfield duo of Jack Jewsbury and James Marcelin delivered at both ends of the field, even as the signing of Designated Player and holding midfielder Diego Chara was announced. But Spencer insisted that the Colombian's arrival can only mean good things for his squad, and he isn't averse to changing a winning side.
"I don't see [bringing in a DP] as being a massive problem," said Spencer via telephone. "When I look back at my own career, when I played at Chelsea, and they started bringing in Ruud Gullit, Dan Petrescu and Mark Hughes, it gave me the impetus to try and raise my game to a level where I was good enough to play alongside these guys. Then you have the added incentive that if you play as good or better than the Designated Player, you have the opportunity to come to the coach at the end of the year and say, 'Hey, listen, I want more money.' If you prove you're a good player on the field, success follows, and the thing that follows success is money, so I don't see it being a problem at all."
Portland's two wins did reveal some issues with game management, as the team let both the Fire and FCD creep back into their respective matches after the home side built up three-goal leads. The sight of Kenny Cooper trying to slow things down late in the match, only for the likes of Marcelin to plow forward, leads you to think that Chara might be able to help in this area. But Spencer -- who compares Chara's game to that of Seattle midfielder Osvaldo Alonso -- insisted that the entire side needs to help in managing tempo.
ESPN FC on Twitter
Don't miss a moment of the latest soccer coverage from around the world. Follow us on Twitter and stay informed. Join »
"I think everybody has to help themselves," said Spencer. "Rather than try to score the fifth and sixth goal, can you put your foot on the ball and let us get up as a back four, run the clock down and just manage the ball? I think we have such a ferocious crowd behind us that when we do break, the noise level just multiplies and gives us that false sense of, 'Hey, we've got to go and score a goal here.' You can't score with every attack."
That's true, even with a Designated Player now in the mix in Portland.
The capital of comebacks: The play of Charlie Davies, bolstered by his league-leading five goals, has deservedly gotten most of the ink in the nation's capital this season. But this past weekend witnessed another revival for the Black-and-Red in the form of midfielder Chris Pontius, who bagged two goals in United's 3-0 pasting of Toronto FC.
Granted, Pontius' return to form isn't nearly as dramatic as Davies', whose career nearly ended when he was badly injured in a 2009 car accident that took the life of another passenger. But in terms of what it means to United, the performances of Pontius have had a significant impact in their own right.
The two strikes were Pontius' first in 10 months, and went a long way toward banishing what was a nightmarish 2010. A hamstring injury caused his season to be shut down in September, and before that, the United attacker was operating well below his best. At issue was a 60 percent tear of the right hamstring tendon, as well as a buildup of scar tissue that rubbed against his sciatic nerve, causing shooting pain down his leg. Subsequent surgery corrected the physical problem. Pontius said he now can gear up into a full sprint without worrying if the pain is going to come back. But the mental aspects of his game were slower to come around.
[+] Enlarge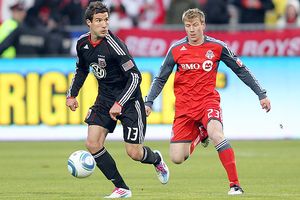 Claus Andersen/Getty ImagesD.C. United's Chris Pontius is making his case to be considered the comeback player of the year in MLS.
"You're away from the game for so long, that you don't play with the natural confidence that you had when you were playing well," said Pontius. "That took a while to get back for me, especially as an attacking player, that confidence is everything; to take players on, to take shots that no one else would even think of trying, it's all because of that confidence. For me, once I got that confidence back, I knew everything was going to be good."
That belief started to manifest itself in preseason and increased as Pontius became more effective with his movement off the ball and finding space on the field.
"I've been talking to [the coaches] about my movement and how I could get into better spaces, finding myself one-on-one more," said Pontius. "It's all about what I'm doing off the ball, making it hard for that defender. I think I found good spots in this last game, spots that I haven't been able to find throughout the season, and that's the main thing in the last game that I did well."
If that continues, Pontius may yet challenge Davies in the goal-scoring department.
Jeff Carlisle covers MLS and the U.S. national team for ESPN.com. He is also the author of "Soccer's Most Wanted II: The Top 10 Book of More Glorious Goals, Superb Saves and Fantastic Free-Kicks." He can be reached at eljefe1@yahoo.com.
Soccer
Jeff Carlisle covers MLS and the U.S. national team for ESPN FC.
MOST SENT STORIES ON ESPN.COM