Commentary
Revs win Feilhaber sweepstakes
[+] Enlarge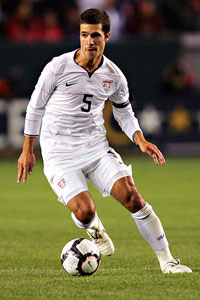 Victor Decolongon/Getty ImagesU.S. international Benny Feilhaber could be a big boost to the Revolutions' midfield.
The best gifts are usually those that are unexpected. And certainly, the sight of midfielder Benny Feilhaber landing in the laps of the New England Revolution qualifies as such.
When MLS announced this past Friday that it had signed the U.S. international, who had been playing for Aarhus Gymnastikforening in the Danish Superliga, it seemed a foregone conclusion that Chivas USA would use the top spot that it held in the allocation order -- which is used to distribute U.S. internationals entering the league after overseas stints -- to claim him. But almost from the beginning, the interest of manager Robin Fraser was tepid at best, with the Chivas coach apparently put off by Feilhaber's salary, believed to be in the neighborhood of $400,000 a year.
That prompted at least one offer from the Houston Dynamo, and perhaps other teams as well. According to a source with knowledge of the negotiations, Houston manager Dominic Kinnear attempted to use a package of players to pry Feilhaber away from the Goats. But what Chivas really wanted was allocation money instead of players, the better for Fraser to restock his roster when the summer transfer window opens July 15. With no funds available, Houston was unable to meet Chivas' criteria.
Incredibly, rather than go ahead and claim Feilhaber, the Goats -- a team with zero wins and just a solitary goal in its last 456 minutes of competitive play -- opted to pass.
"This was a really difficult decision because we had to look at a number of factors, first and foremost being if we take him and accommodate his salary within our salary cap, how much is that going to limit us going forward," said Fraser in a statement. "Certainly, we're looking to address some needs on the team, and having Benny would've been great in our midfield because he's a very, very good player. But the fact of the matter is his salary would've been so high that we wouldn't have been able to make any adjustments going forward."
Philadelphia, which had cap concerns of its own, followed suit. That left the Revs next in line. A source confirmed that Kinnear was soon back on the phone, this time with Revs counterpart Steve Nicol. But Nicol decided to claim Feilhaber for himself and the decision could have huge ramifications for New England.
ESPN FC on Twitter
Don't miss a moment of the latest soccer coverage from around the world. Follow us on Twitter and stay informed. Join »
At minimum, the acquisition of Feilhaber figures to transform New England's midfield. Instead of taking on a sizable chunk of the attacking burden, Shalrie Joseph can return to what he does best, being the most dominant holding midfielder in the league. How Nicol fills in the remaining pieces remains to be seen, but a coach who has long bemoaned his team's inability to maintain possession now has a player in Feilhaber who is adept at keeping the ball. Feilhaber should also be able to feed the likes of Marko Perovic and recent acquisition Rajko Lekic in more dangerous spots.
As for Chivas, its decision to stand pat is borderline mystifying. Even if Fraser didn't rate Feilhaber -- and he has insisted on multiple occasions that he does -- you'd think that the club has missed out on a massive opportunity to upgrade the roster by trading him for multiple players. The onus is on Fraser to make a big splash in the summer transfer window. If he doesn't, that will be a sign that the organization's long-held reluctance to spend remains firmly intact, jeopardizing Fraser's chances of turning around a franchise that is close to hitting rock bottom.
Jeff Carlisle covers MLS and the U.S. national team for ESPN.com. He is also the author of "Soccer's Most Wanted II: The Top 10 Book of More Glorious Goals, Superb Saves and Fantastic Free-Kicks." He can be reached at eljefe1@yahoo.com.
Soccer
Jeff Carlisle covers MLS and the U.S. national team for ESPN FC.
MOST SENT STORIES ON ESPN.COM