Commentary
Seattle and FCD try to fill key voids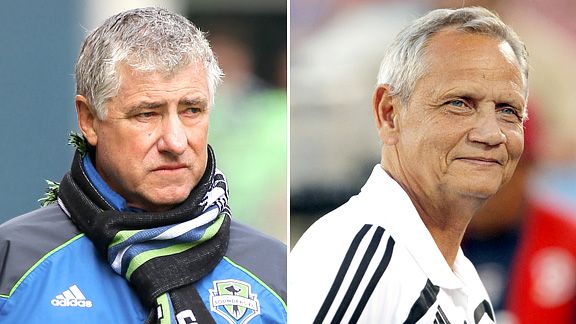 Getty ImagesManagers of Seattle and FC Dallas, Sigi Schmid and Schellas Hyndman, are trying to cope with the loss of key players to their squads.
When a key player is struck down by injury, an almost predictable response seems to occur. The replacement rides an initial surge of adrenaline to match or even exceed the performance level of the previous starter. Then reality sets in, and the challenge for the manager is to coax the best out of the replacement and the players around him.
That is precisely the obstacle facing Seattle Sounders manager Sigi Schmid. Of course, in Schmid's case, he'll have to do more than compensate for the loss of injured midfielder Steve Zakuani, whose leg broke after Brian Mullan's horrific challenge on April 22. The Sounders also lost forward O'Brian White indefinitely to a blood clot in his left leg. Throw in Mauro Rosales' ailing hamstring, and Schmid has faced a triple dose of bad news.
Not that anybody would have noticed during this past Saturday's match against Toronto FC. The Sounders hammered TFC 3-0, with the home side riding a wave of emotion as tributes to Zakuani echoed around Qwest Field. Zakuani's stand-in, Alvaro Fernandez, opened the scoring, while Nate Jaqua put in a typically hardworking shift up top in place of White. Brad Evans scored two goals of his own, and Erik Friberg helped Osvaldo Alonso hold down the middle.
[+] Enlarge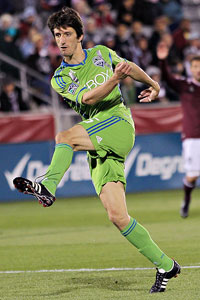 Doug Pensinger/Getty ImagesSeattle's Alvaro Fernandez has been Steve Zakuani's stand-in.
"Sometimes you just go through [injuries], everyone lifts their heads a little bit and puts in a little more effort," Schmid said during a conference call with reporters. "So I'm pleased that we have players that we can rely on, that can step up and play."
It's a testament to the squad depth assembled by the Sounders that, at least initially, the team has been able to absorb the losses of Zakuani and White. And Schmid sees no reason that his team can't achieve success in spite of those absences. On Tuesday he recalled that while he coached Columbus in 2008, it was Evans who filled in for Adam Moffat after he went down with a torn ACL. Evans went on to help the Crew hoist the MLS Cup later that season.
"Obviously, you never want to lose the players we've lost at this stage," Schmid said. "You want to hold on to all your players. But it's why you have a team, it's why you have a deep squad, and the depth of a team is very important because you never know who you're going to lose."
Schmid also knows that the emotional rush that spurred the team on Saturday had to end sometime, and end it did on Wednesday in a 2-1 loss to D.C. United. That's why he's relying on routine to get the Sounders through the long haul. He'll also aim to coax consistency out of players such as Fernandez.
Since arriving after the 2010 World Cup, the Uruguayan had largely failed to live up to his billing as a designated player. But a crucial late equalizer in a road match against Philadelphia on April 16 seemed to give Fernandez a boost of confidence, and Saturday's goal seems set to accelerate the process.
"It's a tribute to him as a professional and as a player," Schmid said of Fernandez. "The ultimate motivation for any player is sitting next to me. I don't know, maybe I have body odor or something, [but] they don't want to sit next to me; they want to get out on the field, and that's good. [Fernandez] has definitely responded to that and he's done well, and now the next challenge for 'Flaco' at this stage, as it is for every player, is to consistently put out those performances."
If players such as Fernandez and Jaqua are successful in that regard, perhaps Schmid can make history repeat itself.
Meanwhile, down in Big D: Schmid isn't the only manager trying to figure out how to compensate for the loss of a key player. Down in Dallas, Schellas Hyndman is attempting to do much the same now that reigning MVP David Ferreira has been sidelined by a broken ankle.
Hyndman would appear to have all kinds of tactical choices, with a move to a 4-4-2 perhaps the most enticing. But for the moment, the FCD manager seems content to persist with the 4-1-4-1 that helped unleash Ferreira on the rest of the league. That means inserting Eric Avila into Ferreira's position while not expecting him to deliver Ferreira-like numbers.
[+] Enlarge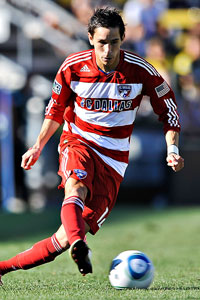 Jamie Sabau/Getty ImagesIt's one thing to get called off the bench; it's another to fill in for the league's reigning MVP, as FCD's Eric Avila is finding out.
"I don't think anybody can find success trying to be someone else, especially when you're trying to be the MVP of the league," Hyndman said via telephone. "Our expectations wouldn't be met if we asked that of Avila. What we're asking of him is to do his best and keep us in contention for a playoff bid."
In terms of results, Hyndman can have no complaints. When Ferreira was stretchered off against Vancouver, FCD rallied from a goal down to claim a 2-1 victory, with Avila netting the winner. The next week against Los Angeles saw Dallas overcome a difficult opponent as well as an hourlong weather delay before Brek Shea's lottery-winning strike with just minutes remaining secured all three points.
Avila's performance was a bit more uneven, yet Hyndman sounded like a man willing to be patient.
"I think as the game progressed, a little bit of fatigue set in because he was working so hard on both sides of the ball," Hyndman said of Avila. "We spent a lot of time on our tactical play with him throughout the week. But I told him, 'Avi, you don't have to go 90 minutes. The important thing is for you to give us a good 45 minutes or a good 60 minutes. It's got to be quality.'
"I thought he was working his way into the game. But then he started holding on to the ball a little bit longer than we wanted to. And the thing that we missed the most was David's ability to unbalance the opposition and make the killer pass. I'm thinking that with time, Avi will start to feel more and more comfortable with that."
Smith stays the course: While Schmid and Hyndman were busy trying to figure out ways to replace key players, Colorado manager Gary Smith was dealing with a different set of challenges. One was monitoring the mental state of Mullan, who after returning to training with the side was having difficulty coming to grips with the fallout over the Zakuani incident, including his record-setting 10-game suspension. The other was the impact that the challenge had on the team itself. According to Smith, it's an ongoing process.
ESPN FC on Twitter
Don't miss a moment of the latest soccer coverage from around the world. Follow us on Twitter and stay informed. Join »
"Sometimes it's difficult to really judge the impact of the incident," Smith said in a phone interview. "There's an awful lot of spirit within the [team], and I think at times like these they pull together really well. But you can never tell. It was a nasty injury [for Zakuani], and players can be affected by seeing that."
Adding to Smith's difficulties were injuries to forward Conor Casey, Caleb Folan and Quincy Amarikwa. That's why this past weekend's 1-1 home draw with Chicago didn't grate as much as you'd expect.
"Some of the injuries that we had along with Brian's suspension, as well as some illnesses, meant the group had to show a lot of resolve in the last two or three weeks," Smith said. "I'm pretty pleased with the way they've conducted themselves. The form has been pretty decent. If I look at how we performed last year at a similar stage, there's not an awful lot in it. I think the signs are there that as we get one or two of these guys back, which we should for [Wednesday] night against Houston, that we should be pushing forward and quite excited about what there is to achieve again this year."
Smith's words from earlier in the week proved prophetic, as the Rapids snapped a four-game winless skid with a 2-1 road victory against Houston on Wednesday.
Pearce's breath of fresh air: With five goals in its past two games, Chivas USA's attack is finally earning some accolades. But it's worth remembering that the foundation for the Goats' five-game unbeaten streak has been a defense that has conceded just three goals during that span. And one of the keys has been the move of Heath Pearce from outside back to center back.
Pearce admits he had played "very little" center back before the move, but his solid defending as well as his ability to initiate the attack with his passing have helped solidify a back line that has missed Jimmy Conrad because of a concussion for most of the season.
"It's a breath of fresh air," Pearce said of the switch. "When I played right back [with Dallas] all last year, and then when I left for the national team and played left back, it's a fresh, new feeling. It's new, it's something you recognize, it's a nice change. And it increases my knowledge of the game, not only as a center back, but thinking as a left back how a center back moves and what a center back wants. … I think it gives me an advantage overall."
Pearce's adaptability has been impressive, but he's also quick to point out that he has had no shortage of tutors. Head coach Robin Fraser, as well as assistants Greg Vanney and Carlos Llamosa, all played center back for the U.S. national team.
"There's nobody better to learn from than guys who have all played at the international level and been successful in their careers," he said. "Between them and the guys with experience on the team, I've been able to take in a lot of information in a short amount of time."
Jeff Carlisle covers MLS and the U.S. national team for ESPN.com. He is also the author of "Soccer's Most Wanted II: The Top 10 Book of More Glorious Goals, Superb Saves and Fantastic Free-Kicks." He can be reached at eljefe1@yahoo.com.
Soccer
Jeff Carlisle covers MLS and the U.S. national team for ESPN FC.
MOST SENT STORIES ON ESPN.COM