Commentary
Horror fouls continue in MLS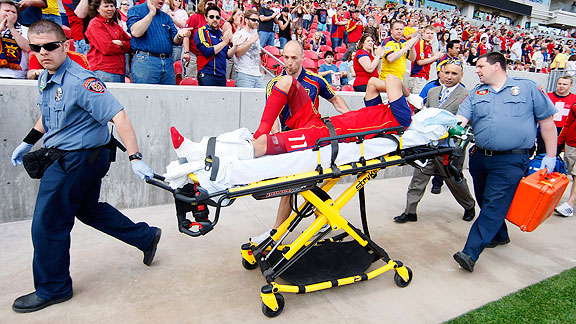 George Frey/Getty ImagesAnother week, another gruesome injury in MLS. Will the league find a way to clean up the game?
In the wake of another serious injury to an attacking player, the MLS disciplinary committee is in a no-win situation. And it's one entirely of its own making.
After slapping Colorado Rapids midfielder Brian Mullan with a league record 10-game suspension for his leg-breaking tackle on Seattle's Steve Zakuani, the disciplinary committee must have hoped its work would be done for a while. Surely, the rest of the league's players would be scared straight and avoid engaging in dangerous tackles.
Alas, no. During Saturday's contest between Chivas USA and Real Salt Lake, Chivas forward Marcos Mondaini broke the leg and ankle of Real Salt Lake midfielder Javier Morales on what can only be characterized as a reckless and stupid tackle from behind. So once again, the league's disciplinary committee will be back at work.
The impulse is to think that the committee will now follow precedent. But which one? Will it hit Mondaini with the same kind of penalty it applied to Mullan, or will it follow a course similar to the one involving Vancouver defender Jonathan Leathers, who escaped any discipline after breaking the ankle of reigning league MVP David Ferreira of FC Dallas?
For those who think it impossible that the committee will go the Leathers route, consider the postgame comments from Real Salt Lake manager Jason Kreis and Chivas USA counterpart Robin Fraser. They each bore some similarity to those who defended Leathers.
[+] Enlarge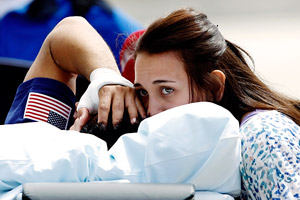 George Frey/Getty ImagesJavier Morales is kissed by his wife as he is taken off the field with a broken left ankle.
"It was a clumsy challenge," Fraser told MLSSoccer.com. "It certainly wasn't malicious."
"From what I saw, I didn't think it was the most flagrant of fouls," added Kreis, who was also speaking to the league's website. "I really don't think it was that egregious."
Fortunately for the disciplinary committee, the actions of referee Paul Ward spared it the agony of trying to decide whether Mondaini should be punished at all. Ward initially showed Mondaini only a yellow card. But no doubt influenced by the gruesome nature of Morales' injuries, as well as concern about potential retribution being directed Mondaini's way, Ward wisely changed his mind and ejected the Chivas forward.
This stands in stark contrast to the Leathers incident. The Vancouver defender was not sanctioned by the referee for his actions, and the disciplinary committee couldn't agree on whether the tackle merited a red card, and by virtue of its own rules was prevented from administering any penalties.
Mondaini's red card means the disciplinary committee is now free to suspend him for as long as it deems necessary, but it seems no matter what the committee decides, it has created a credibility problem for itself due to the lengthy ban handed out to Mullan. If the committee strays toward the Mullan end of the spectrum, Chivas will no doubt point toward the Leathers example as evidence for why Mondaini should be treated more leniently. If the committee opts to go in the other direction, the Rapids will feel as though they are being singled out.
What's more worrisome is that we haven't seen any perceptible drop in the frequency of dangerous tackles or any uniformity in the way they are punished on the field, especially in those cases in which there is no serious injury. Anyone who saw the tackle by D.C. United defender Dejan Jakovic on Houston midfielder Geoff Cameron on April 29 could not have helped but to notice some similarities between that tackle and Mullan's challenge on Zakuani. The tackle came from the side, with Jakovic's trailing leg making contact with Cameron's lower shin. Fortunately for Cameron, his leg was not planted on the ground when Jakovic plowed into him, and while he was injured badly enough to miss Houston's game this past Wednesday against Colorado, he was back on the field for Saturday's tilt against Toronto. Jakovic, meanwhile, escaped with a yellow card and nothing more. Not a peep was heard from the disciplinary committee.
ESPN FC on Twitter
Don't miss a moment of the latest soccer coverage from around the world. Follow us on Twitter and stay informed. Join »
Granted, it's unrealistic to expect players to change their ways overnight. Where, then, should the impetus for change come from? The initial decision by Ward to just caution Mondaini shows just how reluctant referees are to administer stronger discipline on the field, despite the league's well-documented directives to stamp out rough play. Will it come from the disciplinary committee? Not likely. In a phone interview with ESPN.com, MLS executive vice president Nelson Rodriguez, who oversees the committee, said that, "The intent of the committee is not to officiate the games on Monday from videotape."
That's a laudable stance, but if things don't change, it's one that MLS might want to reconsider.
Jeff Carlisle covers MLS and the U.S. national team for ESPN.com. He is also the author of "Soccer's Most Wanted II: The Top 10 Book of More Glorious Goals, Superb Saves and Fantastic Free-Kicks." He can be reached at eljefe1@yahoo.com.
Soccer
Jeff Carlisle covers MLS and the U.S. national team for ESPN FC.
MOST SENT STORIES ON ESPN.COM