Commentary
Is Bradley the answer in midfield?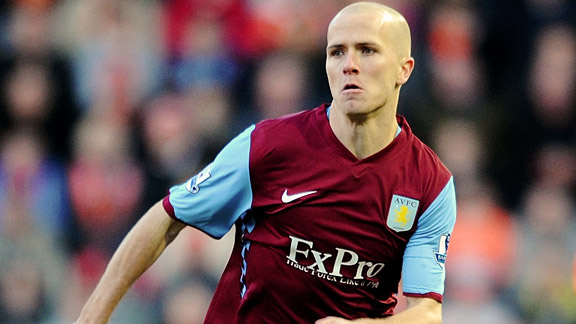 Chris Brunskill/Getty ImagesMichael Bradley has been excellent for the U.S., but his lack of minutes at the club level raises the question: Should he still start for the national team?
For four years, one question that has plagued the U.S. men's national team is: Who will partner with Michael Bradley in the center of midfield? But after Bradley's winter of discontent while on loan at Aston Villa, the question has morphed into something quite different: Should Bradley start at all?
The numbers over the past five months have been sobering to say the least. Before 2011, Bradley had been a mainstay at every club for which he had played. But that all changed when he went on loan to Villa from German club Borussia Moenchengladbach. Bradley logged just 101 minutes total with the EPL side following his arrival in late January. Put another way, he's played more minutes for the U.S. this calendar year -- all of two matches -- than he has at the club level.
By comparison, Jermaine Jones and Maurice Edu, Bradley's two biggest competitors for playing time outside of the injured Stuart Holden, have been key components of their respective club sides. Edu has made 30 league and cup appearances since the start of the year, 25 of them starts, in helping Scottish side Rangers to a domestic double, including its third consecutive league title. And while he hasn't looked entirely comfortable in a more attack-minded midfield role, he'll no doubt assume a more defensive posture with the U.S. side that better suits his hard-tackling skill set.
[+] Enlarge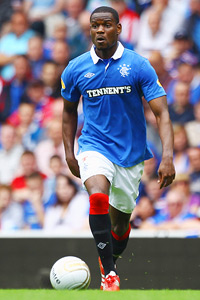 Jeff J Mitchell/Getty ImagesMaurice Edu has made 30 league and cup appearances since the start of the year.
As for Jones, he made the most of his midseason loan to Blackburn Rovers, making 15 starts in helping the team avoid relegation. In the process, he put his tumultuous first half of the season with German side Schalke, one in which he was demoted from the first team by then-manager Felix Magath, firmly in his past. Blackburn manager Steve Kean also has made no secret of his desire to bring Jones in on a permanent basis.
All of these developments have made Bradley's position in the U.S. lineup more tenuous -- or at least they should -- as the team prepares for the Gold Cup, which starts Sunday. U.S. manager Bob Bradley has repeatedly gone on record as saying how important getting playing time at the club level is to a player's status with the national team. And when the U.S. manager was asked whether son Michael's barren spell with Villa might lead him to experiment with different combinations in the center of midfield, Bradley would say only, "That's always a consideration, but then you look at how players do when they come into camp."
For others, the choice is obvious.
"There are guys who have just spent their whole seasons working toward this tournament," said former U.S. international and current Fox television analyst Eric Wynalda. "The reward is to play for your country, and it should be earned. I've been extremely impressed with Jones and Edu. At club level, everyone is open to selection, and the manager picks the guys who are in the best form and give them the best chance to win, and the U.S. team should be no different."
Yet even as the evidence points to more experimentation, there are some factors in the Villa midfielder's favor. Of the three players in question, Bradley performed the best during two friendlies this past March against Argentina and Paraguay. Granted, none of the three distinguished themselves against Argentina, particularly in the first half when the visitors were rampant, and the three-man central midfield that the U.S. deployed looked completely out of sync. Jones in particular struggled to make an impact in that match. Bradley went on to play much better against Paraguay when paired alongside Edu and later Jones.
The length of time that the U.S. team will be together during the Gold Cup also could provide Bradley with the opportunity to shake off the accumulated rust, allowing him to keep his spot in the lineup.
"I think [Bob Bradley] has got three quality players there, but the history of the team is that it has played well and Michael has been a huge part of the successes that this team has had over the last few years," said former U.S. international and current ESPN television analyst Alexi Lalas. "And I just don't see [the lack of playing time] being that huge a deal. They're going to be in camp a long time. This is kind of a ramp up. I just don't see it being that important to the staff."
ESPN FC on Twitter
Don't miss a moment of the latest soccer coverage from around the world. Follow us on Twitter and stay informed. Join »
And what of the U.S. manager's insistence on players' getting minutes with their clubs?
"It's better for the coach certainly if the player is playing and doing well," Lalas said. "But they have to say it because you don't want players to think that automatically they're going to get called in and that they're going to play. We don't have the incredible depth that some other teams in the world do. It's going to be the usual suspects. That's just the way that it is."
That certainly has been Bob Bradley's history, and you need only look back to this past November's friendly against Poland to see how he'll likely react. With Holden in inspired form for club side Bolton, the U.S. manager opted to play him out wide and Michael Bradley in the middle alongside Jones, while Edu was forced to play center back.
On the one hand, this could be held up as an example of Bob Bradley trying to get all of his best players on the field at the same time. But the fact remains that it behooves him to try out different midfield combinations over the next month that don't include Michael Bradley, especially since the past two months have seen no improvement in his club situation. These need to be quality minutes as well, not just mop-up duty.
To this end, the case of Oguchi Onyewu is instructive. Early on in the last World Cup cycle, Bob Bradley decided Onyewu and Carlos Bocanegra would be his first-choice pairing in the center of defense. While Bradley did look at players such as Danny Califf, Jay DeMerit, Clarence Goodson and Jimmy Conrad in search of cover, it was Onyewu and Bocanegra who garnered the vast majority of the minutes. Ultimately, only DeMerit was deemed to be good enough to see the field in a World Cup. The end result was that even after Onyewu suffered a serious knee injury eight months before the tournament, Bradley felt compelled to start him in two World Cup matches despite his not being fully fit. Goodson, meanwhile, sat on the bench. Of course, the revolving door at left back influenced Bradley's decision, since Bocanegra's ability was needed elsewhere, but it points out that the search for cover and options should be never-ending.
Is the Gold Cup the right venue for doing so? Given the scarcity of meaningful matches the U.S. will have before World Cup qualifying begins, it is. And it's not like Jones and Edu are young players lacking experience. While Jones, 29, is relatively new to the international game, his time playing in the Bundesliga has certainly provided him with the know-how that comes from competing in high-pressure games. Edu is four years younger, yet has garnered much of the same with his experience in the World Cup and in the Champions League late last year.
That doesn't mean Michael Bradley should be condemned to the bench for the entirety of the Gold Cup. His performances over the past four years, including the World Cup, demand that he be part of the conversation. But other players -- and player combinations -- should be as well.
Jeff Carlisle covers MLS and the U.S. national team for ESPN.com. He is also the author of "Soccer's Most Wanted II: The Top 10 Book of More Glorious Goals, Superb Saves and Fantastic Free-Kicks." He can be reached at eljefe1@yahoo.com.
Soccer
Jeff Carlisle covers MLS and the U.S. national team for ESPN FC.
MOST SENT STORIES ON ESPN.COM