Commentary
Little downside to replacing Bradley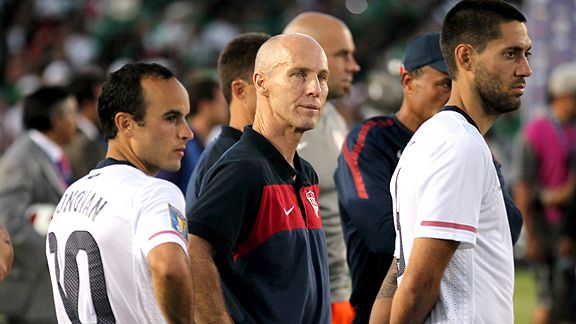 Stephen Dunn/Getty ImagesBob Bradley was dismissed as U.S. coach Thursday. Why now? And what does it mean for the future of the team?
Fans of the U.S. men's national team -- a very vocal segment of them, anyway -- got their wish Thursday with the announcement that head coach Bob Bradley has been relieved of his duties. Yet no matter what side you picked in the Bradley debate, the news still came as a shock.
The fact of the matter is that this is not the way the U.S. Soccer Federation -- and, by extension, president Sunil Gulati -- typically operates. The men's national team coach can almost always be counted on to finish out a World Cup cycle. In fact, you have to go back to Lothar Osiander in 1988 to find the last full-time head coach who did not last through the entire World Cup run.
Reached through his agent, Bradley said via email: "It has been an incredible honor to serve as head coach of the U.S. national team. I am proud of everything that we have accomplished during the last five years, and I appreciate all of the hard work of the players, coaches and staff."
So why did Gulati act now? This current run to the World Cup has just begun. It's also a time of immense transition for the squad, especially in terms of a back line whose best players are on the proverbial wrong side of 30. And has that much really changed since Gulati rehired Bradley 11 months ago to lead the U.S. to Brazil in 2014?
[+] Enlarge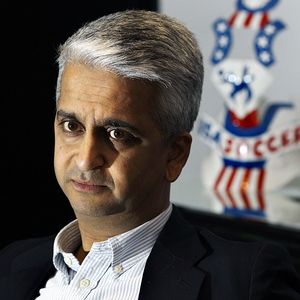 AP Photo/Elise Amendola"We felt now was the right time for us to make a change," announced U.S. Soccer president Sunil Gulati.
Without question, the results since Bradley signed on for another four years have been tepid at best. Even the 1-1 tie with Argentina on March 26, perhaps Bradley's most impressive result this cycle, was something of a mirage. The U.S. was badly outplayed that night and could thank the goalkeeping of Tim Howard for the fact that it was still in the game by halftime.
The Gold Cup did little to inspire further confidence. The loss to Panama was the first time in the U.S. team's history that it had lost a group-stage match at the tournament. And the 4-2 loss in the final to bitter rival Mexico -- a match in which the U.S. had jumped out to a 2-0 lead -- gave the impression that the team has fallen way behind its neighbor to the south.
Yet in this instance, results only told part of the story. Tactically, the U.S. looked to be flummoxed by the numbers Panama threw into attack during that group-stage encounter, and the final was an even bigger disaster. With a 2-0 lead, one would expect the long-held American trait of a tight defense would have come to the fore.
Instead, the team didn't seem to be on the same page defensively, with some players opting to press Mexico in its own half while others retreated, creating massive gaps in midfield that El Tri gleefully exploited.
But amid all this there was an even bigger issue, namely Gulati's long-held desire to hire a big name and put his personal stamp on the national team program. It explains his long flirtation with Juergen Klinsmann, who was Gulati's first choice in both 2006 and 2010 before he finally settled for Bradley. And, more than anything, it explains Gulati's timing. There is relatively little downside to making a change now. World Cup qualifying doesn't start until next year. There is no Confederations Cup to plan for. And given the USSF's ability to schedule quality friendlies, there would seem to be ample opportunity for a new coach to get up to speed.
That said, there are risks. The fact of the matter is that a new coach can't all of a sudden pick a new squad of players. The ebb in talent that seems to be afflicting the U.S. player pool at the moment isn't going to disappear. And if Gulati does opt for a foreign coach, which seems likely, some cultural assimilation will need to take place, which can be tricky.
[+] Enlarge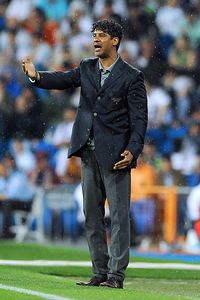 Javier Soriano/AFP/Getty ImagesIs Frank Rijkaard one of the possible successors to Bob Bradley?
So who are the leading candidates? As incredible as it may seem, Klinsmann has to be considered, given his familiarity with the soccer culture in this country. Italian World Cup-winning coach Marcello Lippi is another whose name has been bandied about, as has Frank Rijkaard's, although given the fact that he just signed on as Saudi Arabia's coach, he would have to be considered a dark-horse candidate.
In any event, this is an immense decision for Gulati. Given his slipshod handling of the past two coaching searches, there isn't much confidence that he'll get it right, especially since it wasn't so long ago that he thought Bradley was the man for the job. Yet the chance to make a decision that could carry the program forward is there to be made, and if he succeeds, that would be the kind of surprise most observers would be happy to see.
Jeff Carlisle covers MLS and the U.S. national team for ESPN.com. He is also the author of "Soccer's Most Wanted II: The Top 10 Book of More Glorious Goals, Superb Saves and Fantastic Free-Kicks." He can be reached at eljefe1@yahoo.com.
Soccer
Jeff Carlisle covers MLS and the U.S. national team for ESPN FC.
MOST SENT STORIES ON ESPN.COM