Commentary
Klinsmann faces high expectations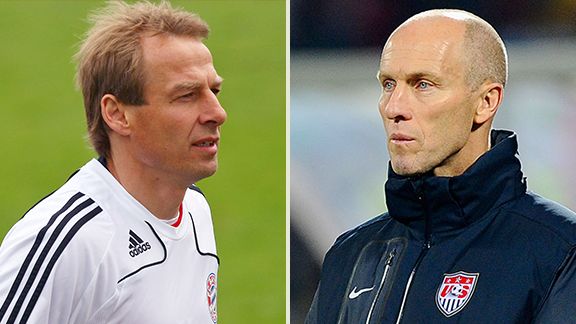 Getty ImagesIn Juergen Klinsmann, the U.S. has a manager who will try to shake up the status quo of the Bob Bradley regime.
Will fantasy match reality for Sunil Gulati? After chasing Juergen Klinsmann for five years to be U.S. men's national team manager -- and finally getting him -- the U.S. Soccer Federation president is about to find out.
It's the kind of big-name hire Gulati has longed to make, and his quest did plenty to undermine the position of Klinsmann's predecessor, Bob Bradley, while he was U.S. manager. But that is the last thing Gulati is thinking about at the moment. He will now be remembered most for how Klinsmann performs, for better or for worse.
"While Juergen Klinsmann is not a miracle worker, I think it's fair to expect big and bold things, and to have much higher expectations than in the past," said former U.S. international and ESPN television analyst Alexi Lalas. "They are paying him a lot of money, and he will need to quickly show positive results and clear progress. But it's good to have that pressure."
There are other questions that Gulati will need to answer (U.S. Soccer has a press conference scheduled for Monday). After failing on two previous occasions to get his man, reportedly over how much power Klinsmann would have, how much has really changed? Did Gulati finally give into Klinsmann's demands, or did the German, who has been out of coaching for over two years, back down?
Either way, Klinsmann will be expected to revive a U.S. program that is very much in the doldrums at the moment. While the Americans did reach the final of this summer's Gold Cup, they lost a group-stage game in the tournament for the first time, and the 4-2 loss to Mexico in the final revealed the gulf in quality between the sides.
Part of this is down to the difficult transition phase the team is going through. Several holdovers from the 2010 World Cup, such as captain Carlos Bocanegra and Steve Cherundolo, will almost certainly be too old to contribute when the World Cup begins in Brazil in 2014. The search for their replacements -- a process started under Bradley -- will need to continue apace.
ESPN FC on Twitter
Don't miss a moment of the latest soccer coverage from around the world. Follow us on Twitter and stay informed. Join »
But there are also huge concerns that the talent cupboard is becoming increasingly bare. Attacking linchpins Landon Donovan and Clint Dempsey will also be over the age of 30 in 2014, and with injuries striking down the likes of Stuart Holden, there seems to be little in the way of cover in the offensive third of the field.
Of course, the bigger question revolves around whether Klinsmann is the right man for the job. He was credited with reigniting a German national team that was going through a moribund period of its own heading into the 2006 World Cup. By relying on a new and dynamic generation of players, Klinsmann delivered a third-place finish in the tournament. But he was widely ridiculed for his tenure at German powerhouse Bayern Munich in 2008-09. The high-priced roster underachieved, his relationship with the club's senior management eroded, and he was heavily criticized by senior players. In the end, not only was Klinsmann fired late in the season with the league title still hanging in the balance, but he was also perceived as being essentially persona non grata within German soccer circles.
Klinsmann later took on a consultancy position with MLS side Toronto FC, and while the long-term results of his efforts are yet to be determined, the fact that TFC is tied for last place in the Eastern Conference provides his detractors more ammunition.
That said, Klinsmann's pedigree as a World Cup-winning player and a national team coach gives him considerable credibility. And his familiarity with the U.S. soccer culture after having lived on and off in California for over a decade means he has a head start on settling into the job, which should quell any criticism over Gulati hiring a foreign manager. That said, there will be an adjustment period.
"It's going to be crucial to see who Klinsmann surrounds himself," said Lalas. "He needs strong and clear voices on his staff who can challenge him."
Alas, there is no magic wand that Klinsmann can wave over the national team to solve its problems. But at the least, the German can provide a fresh perspective for a program that looked to be getting stale. "We went through the same thing when Bora Milutinovic was hired," said former U.S. international Eric Wynalda, referring to the last time a foreign coach was brought on, in 1991. "We didn't know what he was about at first, but our team changed on a dime. There was a different attitude about us."
Klinsmann could also be the beneficiary of some player development initiatives recently undertaken by the USSF. Although the U.S. system has plenty of weaknesses -- the overemphasis on winning at a very early age, for example -- it's beginning to incorporate some aspects of the European system. At last, the professional game is beginning to drive player development in this country. Youth teams are now a staple of every MLS club, and those programs are starting to have an impact. Not only is there a clear path for those players to sign pro contracts with the parent clubs, but the insistence of MLS sides that there be zero cost to the players has forced more traditional American clubs to find creative ways to reduce costs. The USSF's Development Academy has also mandated that the practice-to-game ratio be a minimum of 3:1, while also providing more of a year-round environment for elite players. This program was still in the planning stages when Klinsmann walked away from taking the head coaching job the first time, in 2006. Now he could benefit as the program begins to bear fruit.
In the meantime, Klinsmann will still be counted on to get results, and the expectation is that he'll do so with a style that is more dynamic than his predecessor. Of course, it's always easy to dream about how a different coach will do things. But if Gulati is to be remembered for having taken the national team program forward, Klinsmann will need to deliver on all counts.
Jeff Carlisle covers MLS and the U.S. national team for ESPN.com. He is also the author of "Soccer's Most Wanted II: The Top 10 Book of More Glorious Goals, Superb Saves and Fantastic Free-Kicks." He can be reached at eljefe1@yahoo.com.
Soccer
Jeff Carlisle covers MLS and the U.S. national team for ESPN FC.
MOST SENT STORIES ON ESPN.COM