Commentary
Wambach once again leads U.S. to win
Updated:
September 23, 2011, 1:35 PM ET
By
Jeff Carlisle
| ESPN.com
With its 3-0 win over Canada, the curtain fell on the Celebration Series for the U.S. women's national team. In many ways, this match was a fair reflection of the just-concluded World Cup cycle. There was plenty of possession, some nervy defending and a slew of missed opportunities before the brilliance of Abby Wambach allowed the U.S. women to break through and achieve a largely satisfying result.
Wambach broke a scoreless tie in the 63rd minute when she pounced on a loose ball near the top of the box and rifled a shot into the far upper corner. Wambach doubled the U.S. lead seven minutes later when she nodded home Kelley O'Hara's cross after good approach work from substitute Lauren Cheney. Alex Morgan capped off the evening in second-half stoppage time by sweeping home Cheney's knockdown from Tobin Heath's cross.
Yet even after a comfortable victory, one in which the U.S. dominated for much of the match, there were plenty of questions. The first relates to whether the new 4-2-3-1 formation is an improvement over the 4-4-2 that took the U.S. to the World Cup final. Granted, it's early, and the U.S. was on the front foot for much of the night, even if it was playing an understrength Canada side. But the same could be said for many matches during the year under the old system. And while the U.S. succeeded in creating chances by attacking through the middle as well as out wide, it will be interesting to see if the team has the same kind of diversity in its attack when more is on the line.
[+] Enlarge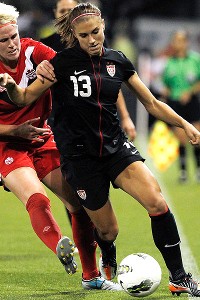 Jonathan Ferrey/Getty ImagesAlex Morgan capped off the evening with a goal in stoppage time.
There's also the matter of personnel within the new alignment. Megan Rapinoe had her moments as the central attacking hub and was unlucky to not cap off her homecoming -- she played for the University of Portland -- with a goal or two. But Lauren Cheney also seems to have a skill set that would thrive in such a role, and on this evening, her vision and passing did plenty to help break down Canada's stubborn resistance after entering the match in the 60th minute.
The new formation, which employs a lone striker, would also seem to eliminate the possibility of Morgan's finding a spot in the starting lineup. She only entered the match in the 77th minute, at which point the U.S. reverted to a two-forward system. It seems inconceivable that coach Pia Sundhage would devise a tactical approach that would preclude an up-and-coming talent like Morgan from being a starter, yet with Rapinoe, Cheney, Heath and Heather O'Reilly all contending for spots in the midfield trio that will support Wambach, that appears to be where Sundhage is headed.
Along similar lines is whether there is a place in the lineup for defender Becky Sauerbrunn, who delivered another calm and effective performance, mostly as a right back. Will her greater technical ability be able to supplant the more physical approach of a Rachel Buehler, or is Buehler's tenaciousness what's needed?
The fact that the Olympic roster will accommodate three fewer players than the World Cup only adds to the complexity of these questions, which Sundhage will begin to address toward the end of this year. A friendly against Sweden on Nov. 19 will mark the start of the team's preparations for Olympic qualifying, which will take place in January. Until then, the U.S. players will get a six-week break. Given the inspirational displays the team delivered this summer, it's one that has been well-earned.
Player ratings: (1-10; 10=best)
G Hope Solo, 5 -- Was largely untroubled on the night, but had some shaky passes out of the back and seemed reluctant to come off her line at times. That said, given the long road back after shoulder surgery, 2011 will still be a year to remember for the U.S. keeper.
D Becky Sauerbrunn, 6 -- Switched positions often with Rampone, and looked effective no matter where she played. Still, Sauerbrunn is best as a center back and is making a strong case to be a starter.
ESPN FC on Twitter
Don't miss a moment of the latest soccer coverage from around the world. Follow us on Twitter and stay informed. Join »
D Christie Rampone, 5 -- Lost a few more duels than she normally does, but didn't make any killer mistakes. She was pretty comfortable bombing forward when she switched to right back, but was also cleanly beaten by Christina Julien on a shot that hit the post.
D Rachel Buehler, 4 -- Got her pocket picked by Melissa Tancredi early on and had a few mistimed challenges. Also had some giveaways that put the U.S. under pressure. She rebounded a bit in the second half, using her physicality to snuff out some Canadian attacks.
D Stephanie Cox, 6.5 -- Unsettled the Canadian defense with some deft cross-field passes. She was steady in defense and was always looking to jump into the attack.
M Amy Rodriguez, 3.5 -- Was denied by a superb save from Karina LeBlanc in the 16th minute, at which point what little confidence Rodriguez has left seemed to evaporate. She struggled mightily in possession and failed to convert when presented with additional chances.
M Shannon Boxx, 6 -- As committed as ever in the tackle, and for the most part her passing was sharp as well. Nearly put the U.S. up late in the first half, but blazed her shot over the bar.
M Lori Lindsey, 6.5 -- Was the instigator for many of the best U.S. attacks in the first half with some incisive passes. If Sundhage persists with the new formation, it will be interesting to see if Lindsey ends up partnering with Carli Lloyd.
M Heather O'Reilly, 5 -- Didn't have much of an impact regardless of the wing she occupied. Even when she took up good positions, her crosses were a touch off.
M Megan Rapinoe, 5.5 -- "Snakebit" is the term that best describes her evening. Struggled to link up with her teammates in the first 20 minutes, but settled into the match only to be twice denied by the woodwork. The second half saw her miss on as many passes as she connected on.
F Abby Wambach, 8 -- Had more success as a provider rather than a scorer in the first half, setting the table for one of Rapinoe's crossbar-rattling efforts. Gave the U.S. a much-deserved breakthrough with a bullet from distance and settled the match with a trademark header.
Subs:
D Heather Mitts, 6.5 -- Looked composed in her defending and delivered some telling crosses. Nearly scored late in the match on a sizzling volley.
M Tobin Heath, 6.5 -- Added a spark of creativity after her halftime entrance, although her decision-making could have been quicker. Created problems with her crosses and was robbed of a goal in the 53rd minute on a sparkling save from Stephanie Labbe. Also helped set up Morgan's late tally.
M Kelley O'Hara, 7 -- Was the catalyst on both of Wambach's goals, using her defense to spark the first tally and a pinpoint cross to set up the second.
M Lauren Cheney, 7.5 -- The U.S. attack seemed to get more firmly into gear when she entered the match in the 60th minute; she was clean with her passes while taking up advanced positions alongside Rapinoe. Was also involved in the last two goals.
F Alex Morgan, 7 -- Finished off a sensational 2011 with a stoppage-time tap-in of Cheney's knockdown. Her nose for goal makes her a lock for the Olympic team. Time will tell if that's as a starter or a supersub.
G Jill Loyden, 5.5 -- Wasn't always secure in her handling, but her sharp decision-making allowed her to make the plays required.
Jeff Carlisle covers MLS and the U.S. national team for ESPN.com. He is also the author of "Soccer's Most Wanted II: The Top 10 Book of More Glorious Goals, Superb Saves and Fantastic Free-Kicks." He can be reached at eljefe1@yahoo.com.
Soccer
Jeff Carlisle covers MLS and the U.S. national team for ESPN FC.
MOST SENT STORIES ON ESPN.COM