Commentary
Stuart Holden's long road back
Updated:
September 23, 2011, 6:19 PM ET
By
Jeff Carlisle
| ESPN.com
[+] Enlarge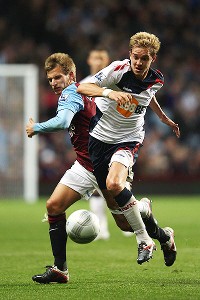 Michael Steele/Getty ImagesHolden helped Bolton Wanderers to a 2-0 win over Aston Villa in the Carling Cup this week.
The day after his first competitive fixture in almost six months, Stuart Holden could have been forgiven for celebrating his comeback from knee surgery by taking some time off. Instead, he went back to the gym.
Twice.
Granted, the work he put in the day after helping Bolton Wanderers to a 2-0 win over Aston Villa in the Carling Cup was more of the regenerative variety. But it speaks to the effort Holden has put forth in a bid to recover from the injury that he sustained last March thanks to a brutal tackle from Manchester United defender Jonny Evans. The challenge left Holden with a fractured bone in back of the knee that required surgery to repair, as well as a gash that took 26 stitches to close, although there was no ligament damage. And even though the most difficult portion of his rehab work is done, there are plenty of little things to help him build up strength, hence the double sessions.
"I was just doing a loosen-up in the pool and pedaling the bike," he said via telephone. "I was in this morning doing the same, but you can't do enough."
Holden indicated that the knee felt stiff just 24 hours removed from his performance against Villa, one that followed two outings with Bolton's reserve team. It's a condition that he expects to continue as he gains strength in the joint, but overall he expressed satisfaction with his play, especially when compared to his two previous matches.
"The thing I was frustrated with in the first couple of reserve games was my passing wasn't as sharp, and I didn't feel like I could move around the pitch as well because my legs, they didn't have the miles in them," he said. "With every game, with every week, I've gotten better, I've gotten sharper. And [Tuesday], to be honest, I didn't feel too far away from where I know I can be."
Holden puts his overall fitness level at around 95 percent, which is incredible given his physical state last March. The first three weeks following the operation marked the low point. He was on crutches, and for most of the day his only companions were the television, ice and a passive motion machine to keep the knee moving. But once he got off crutches, his rehabilitation kicked into high gear, almost too high in fact. There were times when the Bolton medical staff had to pull Holden out of the gym because he was doing too much.
Holden indicated he endured his share of minor setbacks. There are ebbs and flows to any recovery, and while these are normal, they did plenty to test his mental resolve. "As you go along, you have to listen to your knee, whether it's swelling or little bits of pain," he said. "Some days you're feeling great, you come in and do your exercises with no problem, you make good progress. The next week you come in and it's sore and you can't even do what you did the week before.
ESPN FC on Twitter
Don't miss a moment of the latest soccer coverage from around the world. Follow us on Twitter and stay informed. Join »
"That's when you kind of get down," Holden continued. "When you're watching your teammates play and you're not able to get out there; when you go to the gym every day watching them train; all of that stuff combined just kind of leads to the ups and downs mentally. That's a big part of rehab, keeping yourself going, keeping yourself focused, and maintaining that belief that you're going to get out there, and you have to keep driving yourself on to do the little things that are going to play big dividends in the end."
Holden's return is coming not a moment too soon for Bolton. In the wake of his injury, the club faded badly down the stretch last season, and the dip in form has continued into the current campaign, with the team garnering three points from its first five league encounters. Manager Owen Coyle went so far as to tell The Daily Mail that getting Holden back was "probably like going into the transfer market and signing a 10 million [pound] player."
But Holden also credited Coyle with not pushing him to come back before he was ready, an approach that appears to have paid off in the Carling Cup match. Bolton came out in a 4-5-1 formation with Holden in a holding role just in front of the back four, and while this differed from the two-way role that he played last season, the U.S. international indicated the position suited him given where he was at physically. The feedback from Coyle was positive as well.
"[Coyle] was happy with the way I went about [the game] and the intensity level," said Holden. "I wasn't pulling out of any tackles and I was getting on the ball. At the end of the day it was a great performance, and a performance that the team needed after the last couple of weeks when we've been kind of struggling a little bit."
Coyle isn't the only manager showing patience while eagerly awaiting Holden's return to full fitness. U.S. manager Jurgen Klinsmann took in one of Holden's reserve team appearances and indicated that Holden is very much in his plans to play a more attack-minded style. There have been questions about whether the U.S. personnel is really suited to such an approach, but no doubt, the odds of Klinsmann succeeding are enhanced with Holden on the field.
"I think we've got the players to play in that system, and [Klinsmann] is encouraging some free-flowing , attacking play," Holden said. "Hopefully it will be nice to see once everyone is together and everyone doesn't have different things going on."
And will Holden be donning the red, white and blue when the U.S. takes the field Oct. 8 against Honduras in Miami?
"I don't think so, I think it's maybe a little bit too soon," he said. "If I'm called in I'd love to be a part of it. But if not, I'm just going to keep working hard and do some little things here and take advantage of a week off and keep strengthening my knee."
And if that means doing two sessions a day, so much the better.
Jeff Carlisle covers MLS and the U.S. national team for ESPN.com. He is also the author of "Soccer's Most Wanted II: The Top 10 Book of More Glorious Goals, Superb Saves and Fantastic Free-Kicks." He can be reached at eljefe1@yahoo.com.
Soccer
Jeff Carlisle covers MLS and the U.S. national team for ESPN FC.
MOST SENT STORIES ON ESPN.COM