Commentary
Steve Nicol's legacy at New England
Updated:
October 25, 2011, 8:10 PM ET
By
Jeff Carlisle
| ESPN.com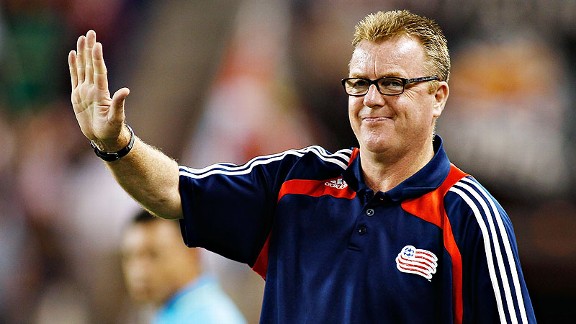 Mike Stobe/Getty Images New England has parted ways with Steve Nicol after 10 years, the longest run for a manager in MLS history. He leaves behind a record of great success followed by steady decline.
Professional soccer is a pursuit that would have made Charles Darwin proud. The global nature of the game means that teams, players and coaches must evolve with the times, or face being left behind.
It's a race that the New England Revolution have been losing for some time now. The four MLS Cup final appearances during the past decade have given way to two consecutive seasons in which the club missed the playoffs, and on Monday manager Steve Nicol took the fall, with the club announcing that the Scot's contract would not be renewed.
That's a tough outcome for Nicol, a legend as a player on the great Liverpool teams of the 1980s, and a successful coach who helped lift New England out of the doldrums it existed in during the early years of MLS. His 10-year coaching tenure with the club is the longest in MLS history, and despite his MLS Cup final disappointments, New England's trophy case won't be completely bare. He'll leave behind a 2007 U.S. Open Cup title, as well as the 2008 SuperLiga crown.
"Nicol's numbers speak volumes," said former New England striker Taylor Twellman via telephone. "Ten years with one organization. It was a hell of a run."
And it was one that went beyond mere numbers. Nicol had the ability to take his vast experience as a player and impart that wisdom on players of different abilities.
"We succeeded more because Nicol was a great coach," said former Revs defender Jay Heaps, who currently works as the team's broadcast analyst. "He sees the game so well. He expressed what he wanted from us and we were able to take that onto the field. He was so tough mentally, and he brought that out in the players."
So what has changed exactly? Plenty as it relates to MLS. When Nicol took the reins in 2002, the blueprint for crafting a championship side was relatively straightforward. With astute use of the college draft, some sharp trades, and maybe even an inspired signing from abroad or the lower U.S. divisions, the path to MLS Cup glory was there to be had.
And boy did Nicol draft well. Not only did he obtain the likes of midfielder Pat Noonan, defender Michael Parkhurst and current U.S. international Clint Dempsey in the first round, but he also found plenty of gems in the latter rounds as well. Current Crystal Palace midfielder Andy Dorman was plucked out of Boston University in the sixth round of the 2004 MLS SuperDraft and current Colorado Rapids midfielder Jeff Larentowicz was selected in the fourth round of the 2005 supplemental draft.
"Steve had a Golden Rule, he wanted footballers, and he wanted the right characters," said former New England assistant Paul Mariner, who is now the Director of Player Personnel at Toronto FC. "He seemed to be able to smell out those types of guys. That's a special talent, especially with those guys further down the draft list. He also had a strong network of people who were good judges."
Good thing, too, because owner Kraft Sports Group was not about to splash the cash around on expensive signings. But in the end, Nicol ended up being a victim of his own success. With the advent of the Designated Player rule in 2007, the purse strings at other clubs began to loosen, and expansion began to dilute the talent pool. The draft edge that Nicol and Mariner, now the director of player development at Toronto FC, had built up began to count for less and less. Teams were allowed only three foreign signings when Nicol started out. That number has since ballooned to eight. And it's no accident that the top teams in MLS all have made intelligent use of the international market.
There were other factors at play for sure. The likes of Dorman, Parkhurst and Dempsey all left for Europe and the higher wages that came with such moves. Players such as Noonan and Larentowicz moved to other MLS clubs when their salary demands could no longer be met.
Then there were veteran stalwarts such as Heaps, Steve Ralston and Twellman who all retired because of age or injury. Replacing that level of talent is difficult to say the least, but the Revs' steady decline can mostly be traced to an unwillingness to spend over the years. This isn't just about throwing money at potential designated players. Dempsey was leaving no matter what, but others like Dorman and Larentowicz were forced to play out their four-year contracts at absurdly low wages instead of paying them a salary more commensurate with their abilities. It's also about spending money to do the necessary scouting and research ahead of time to make sure that the foreign players who are brought in have the desired impact.
ESPN FC on Twitter
Don't miss a moment of the latest soccer coverage from around the world. Follow us on Twitter and stay informed. Join »
This is not to say that Nicol was a mere bystander in all this. His draft touch hadn't been as prolific in recent years as it was in the middle of the past decade. His modest forays into the foreign market rarely bore fruit. And the sense is that a team with Matt Reis, Benny Feilhaber and Shalrie Joseph produced a point total this season that was less than the sum of its parts. An argument can certainly be made that things were getting stale.
There is blame to go around, however. According to sources both inside and outside the organization, it was Nicol, and not vice president of player personnel Mike Burns, who made the personnel decisions. But his discretion had limits, and while Kraft Sports Group COO and president Jonathan Kraft was doing the rounds on radio yesterday, one voice that was eerily silent was that of Sunil Gulati, who in addition to being president of the U.S. Soccer Federation just so happens to be the president of Kraft Soccer. It's only logical that Gulati had considerable input into the way the team was being run, and that at least some of what has transpired falls at his feet.
"The fact is the coach always takes the blame, but I don't think that's totally fair," said Twellman, who is currently a studio analyst for ESPN and does color commentary for the Philadelphia Union. "It should be the collective responsibility of players, coaches and administrators who have led to the last two years."
The irony is that the Revs had something of an epiphany as it relates to spending this season, shelling out money to acquire Feilhaber as well as forward Milton Caraglio, the team's first designated player. But it proved too late to alter the Revs' fortunes, as well as those of Nicol.
That should do little to tarnish his legacy, however. Nicol oversaw some of the most impressive teams in the league's history, and the Revs and U.S. soccer are better off for having tapped his considerable knowledge and experience.
Jeff Carlisle covers MLS and the U.S. national team for ESPN.com. He is also the author of "Soccer's Most Wanted II: The Top 10 Book of More Glorious Goals, Superb Saves and Fantastic Free-Kicks." He can be reached at eljefe1@yahoo.com.
Soccer
Jeff Carlisle covers MLS and the U.S. national team for ESPN FC.
MOST SENT STORIES ON ESPN.COM