Commentary
Galaxy take another step toward title
Updated:
November 4, 2011, 8:07 AM ET
By
Jeff Carlisle
| ESPN.com
CARSON, Calif. -- To get an idea of why the L.A. Galaxy are one step closer to claiming their third MLS Cup, you only had to see the effort put in by Landon Donovan in the 54th minute of Thursday's playoff game against the New York Red Bulls. As New York launched a lightning-quick counterattack, Donovan knew his team was in trouble. Thierry Henry evaded David Beckham's challenge, and soon fed a streaking Dane Richards on the left wing. So Donovan embarked on an 80-yard sprint from well inside New York's half into his own penalty area, and managed to cut out Richards' cross at the last second when it seemed destined to find Luke Rodgers at the back post.
It was the kind of hustle play that won't show up in the box score, yet it enabled the Galaxy to beat New York 2-1 on the night to claim a 3-1 aggregate triumph in its Western Conference semifinal series.
"Our whole team makes plays like that," Donovan said. "They have all season, and they have throughout the playoffs."
[+] Enlarge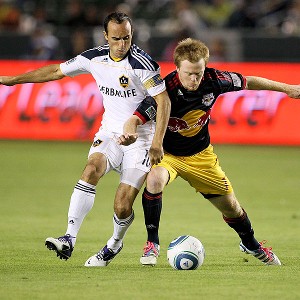 Stephen Dunn/Getty ImagesLandon Donovan's hustle was a key reason the Galaxy were able to dispatch the Red Bulls.
Indeed, David Beckham pulled himself off the turf to shake off a back injury and delivered another influential performance, even on a night when his passing was below par. Chris Birchall, after some shaky moments early in the match, capably filled in for the suspended Juninho in the center of midfield. And Mike Magee scored a critical goal that put L.A. ahead on aggregate, outworking Richards to head home his second goal in two games.
"If you were around our team every day you would have no idea who is making millions and who is making $50,000," Magee said. "I think it's an incredible group of guys, from [manager] Bruce [Arena] to our captains to our designated players. Everyone does an amazing job to make the atmosphere amazing for everyone."
The contrast with New York is striking. While the Red Bulls seemed to regain some of their early-season swagger in recent weeks, they made the same kind of backbreaking mistakes they have all year, especially on set pieces, turning their recent revival into a mirage.
The irony is that New York got off to precisely the dream start it wanted. Henry's penchant for dropping into midfield completely befuddled L.A. early on, and the Frenchman carved the Galaxy defense apart in the fourth minute with a defense-splitting pass that was slotted home by Rodgers.
The Englishman has long reveled in his role as villain, but he looked poised to careen over the edge, scuffling with Beckham on the ensuing kickoff to get a yellow card, and later blasting the ball out of bounds and narrowly missing the head of a spectator. But while the Red Bulls weren't lacking in intensity, their steady slide toward defeat was brought about in part by a lack of quality depth. Teemu Tainio was forced to leave the game in the 17th minute with tightness in his right hamstring, and his loss was keenly felt.
ESPN FC on Twitter
Don't miss a moment of the latest soccer coverage from around the world. Follow us on Twitter and stay informed. Join »
"[Tainio] is involved in almost every buildup from the back four when he drops from his midfield position," New York manager Hans Backe said. "He's the guy with the precise final passes in our attacking game, and he's the guy in front of the center backs being a kind of cleaner. We lost both [in terms of] attacking and defending."
While substitute Stephane Auvray is capable defensively, the switch upset New York's attacking rhythm. The Galaxy played a part in this as well, with Birchall and Beckham eventually sorting out their defensive responsibilities.
Finding a breakthrough was still proving difficult, however, and when Beckham sustained a back injury with the game roughly a half-hour old, some doubts began to creep in about his further participation -- and the Galaxy's chances of advancement. But Beckham soon returned with renewed vigor and assisted on Magee's goal three minutes before halftime.
"Whenever you get knocked off the ball or you take a hit, it does spur you on a little bit," Beckham said. "I think overall our team stuck together."
The second half saw New York limited to a few opportunities. Three minutes after Donovan's key intervention, Dax McCarty's pass released Rodgers on a breakaway, only for his shot to hit the side netting. The Red Bulls appeared to run out of energy after that, with Henry becoming an increasingly peripheral figure.
Beckham, meanwhile, helped put the game beyond reach in the 74th minute when he was bundled over in the box on a foolish play by Roy Miller. Donovan fired home the resulting penalty.
"David is a player with an incredible desire to win," Arena said. "I think when we went down a goal, he helped pick up the team. His energy in the second half in earning that penalty kick, it was all David. I think he was an inspiration to our team tonight."
L.A. will have little time to recover ahead of Sunday's Western Conference final against a Real Salt Lake side that will have the benefit of an extra day of rest. But Arena said he was unconcerned. "This is maybe the 10th time this year that we've done this," he said, referencing the quick turnarounds related to being in several competitions. "We know how to recover from it. It's never easy, but we'll get our team recovered."
And ready to make the kind of effort plays that win championships.
Jeff Carlisle covers MLS and the U.S. national team for ESPN.com. He is also the author of "Soccer's Most Wanted II: The Top 10 Book of More Glorious Goals, Superb Saves and Fantastic Free-Kicks." He can be reached at eljefe1@yahoo.com.
Soccer
Jeff Carlisle covers MLS and the U.S. national team for ESPN FC.
MOST SENT STORIES ON ESPN.COM