Commentary
Transfer window's winners and losers
Updated:
February 3, 2011, 9:43 AM ET
By
Ian Darke
| ESPN.com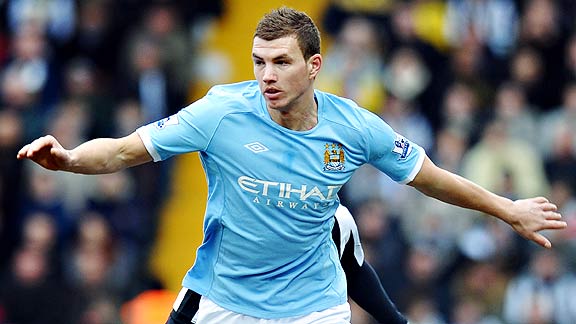 Paul Ellis/AFP/Getty ImagesMan City's $36 million man Edin Dzeko should give City a boost during the business end of the season.
The recession and credit crunch is clearly no more than a distant rumor in the English Premier League judged by the January spending spree. A record $300 million was splashed out, mainly on some of the hottest strikers in the business.
So who were the transfer deadline winners and losers?
Liverpool, now owned by the Boston Red Sox management team, was smart to sell a clearly disillusioned and sulking Fernando Torres to Chelsea for $75 million. The Reds have spent the money on Newcastle's impressive youngster Andy Carroll and Uruguay's Luis Suarez from Ajax, who hit 49 goals last season.
Carroll, third in the EPL scoring charts with 11 goals and seen as a future England star, will inherit Torres' No. 9 shirt, while Suarez gets the No. 7 jersey once worn by Kenny Dalglish and ESPN's own Steve McManaman. I think both men will freshen up Liverpool's attacking work, though it is too late for them to gate-crash the top four and make next season's Champions League.
The loss of Carroll is a terrible blow for Newcastle, particularly as it failed to sign a replacement. Manager Alan Pardew had told us that Carroll was "not for sale at any price." Clearly, unpopular owner Mike Ashley had other ideas.
Chelsea's signing of Torres and the $32 million Benfica defender David Luiz represent a massive U-turn by the club's Russian oligarch, Roman Abramovich, who had previously decided to tighten the purse strings. But he had to act because an aging Chelsea was sinking like a stone with its title hopes almost in shreds.
Torres, for so long a cult hero and sensation at Anfield, left largely unlamented after making it clear he wanted out. The move might well reignite his career. His Chelsea debut? Against Liverpool, of all teams, on Sunday.
I like the look of Manchester City's lanky $36 million man Edin Dzeko, who grew up in war-torn Sarajevo in the early 1990s. So he's unlikely to be fazed by anything that happens in the Premier League. His face-saving FA Cup equalizer against Notts County on Sunday should be the first of many.
Of more concern to City is a serious ankle injury which may rule out winger Adam Johnson for the rest of the season. He has not been replaced and City's attacking front often looks too narrow without him.
Manchester United and Arsenal, the pace setters, were quiet during the transfer window -- a sign that they are happy enough with what they have.
Meanwhile, it seemed half the Premier League was chasing Blackpool's inspirational midfield man Charlie Adam, with Liverpool, Villa and Spurs all failing to close a deal. Blackpool's chairman Karl Oyston used a great delaying tactic on deadline day -- he refused to pick up his phone -- though Spurs claim they failed by only two minutes to sign Adam in time.
Adam is furious at missing a lucrative move, but he'll most likely change teams in the summer. Plus, his staying with Blackpool will help keep Ian Holloway & Co. in the top flight this season. Everyone happy?
Americans abroad
A word on the U.S.'s Michael Bradley, who has secured a loan to Aston Villa for the rest of the season. I thought he was terrific at the World Cup, a composed and classy presence in midfield. Bradley deserves this crack at the Premier League. Of course, getting into the Villa starting 11 will not be easy, but I have a hunch he will do well in a side that could shoot up the table in the second half of the season.
And good luck to former Real Salt Lake forward Robbie Findley, who has joined Nottingham Forest.
Ian Darke is a commentator for ESPN. You can reach him on Twitter at http://twitter.com/iandarkeespn.