Commentary
The EPL's dead managers walking
Updated:
October 13, 2011, 7:25 AM ET
By
David Hirshey
| Special to ESPN.com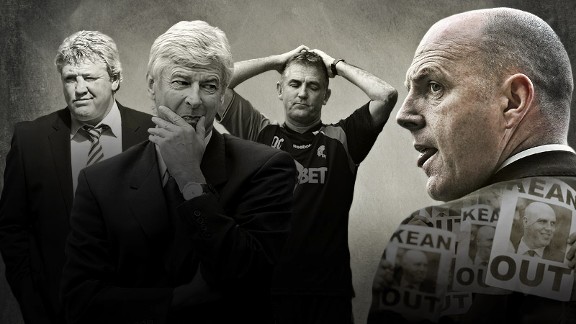 ESPN.com IllustrationWhat EPL managers will be given "gardening leave" and who will survive the chop?
The iconoclastic English manager Brian Clough (and by "iconoclastic" I, of course, mean "insane") was fond of countering those hysterics who prematurely wrote off his teams with this heartfelt piece of advice: "Don't pay attention to the table until November, you ##@&-ing son of a *#$&!"
Cloughie was afforded this luxury as he had led where-are-they-now Nottingham Forest to successive European Cups in 1979 and 1980. But this is 2011, when -- only seven games into the season -- trigger-happy owners of underperforming Prem clubs are all too eager to cast menacing glances at the men who led them into purgatory, because it's a lot easier than looking in the mirror.
So while the rest of the UK has been obsessed with Wayne Rooney's Montenegrin implosion and the failure of the other home nations to secure safe passage to Euro 2012, this week's international break also came as a welcome distraction to those EPL managers who constitute a veritable shortlist of the damned. More importantly, it gave their jittery owners something to think about other than how they can shift the blame for their clubs' problems onto the men whose authority they have undermined with their constant meddling.
Usually, the first cull doesn't come until around Thanksgiving, but it looks like the carving knives are already out for some of this season's managerial turkeys. Wait, that sounds too crude and violent for our delicate friends across the pond, who rely instead on the exquisitely British euphemism of putting a manager on "gardening leave."
English clubs forked out nearly $150 million in the 2010-11 season to shear these amateur horticulturalists off their payrolls, and the five men listed below are a lot closer to spending time tending to their flower beds (or other job opportunities) than most around the Prem.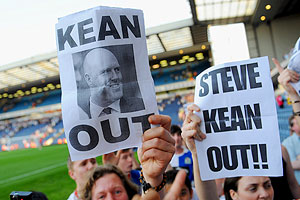 Michael Regan/Getty ImagesBlackburn fans send a none-too-subtle message to manager Steve Kean.
Steve Kean, Blackburn
It's a good thing Kean is bald, because if he had any hair he would have pulled it out by now. In their blinding exasperation over the Rovers' hapless start to the season, Blackburn supporters have been remorselessly venomous toward Kean, despite the fact that the real villains are the head-in-the-clouds, animal cruelty-accused chicken magnates who bought 99.9 percent of the club for 23 million pounds, or about what it cost Liverpool to buy Fernando Torres. Venky's came in full of bravado, talking up the immediate arrival of fading demi-gods like Ronaldinho (and, ahem, Damien Duff), but instead delivered cut-rate talent like Mauro Formica and Ruben Rochina.
When Big Sam Allardyce had the temerity to point out that Venky's now had two businesses involving headless creatures running around, he was sent packing in favor of Kean, an ex-Fulham assistant who has marshaled mighty Rovers to two wins in their past 17 games. If this was a boxing match, the ring would be filled with towels -- well, towels and blood -- a far cry from what was expected when the brash billionaires joined the EPL Boys Club (with apologies to Norwich's Delia Smith). Normally, supporters greet such financial clout in the boardroom with riotous celebration -- just ask Man City fans how they feel two years into Sheikh Mansour's reign -- but sadly for Blackburn, ex-owner Jack Walker cashed in to the wrong guys, as the Venky's brain trust makes Hicks and Gillett look sane. Relatively.
While a certain North London team with once-grandiose expectations contrived to lose to this ragtag bunch of grafters, that one freakish result can't obscure how out of their depth both Kean and his team look. With Phil Jones' eye-watering performances for Manchester United reminding Rovers every week how bereft they are of talent, their early-season efforts have shown that they are also shorn of hope. Hope of staying up. And hope that Venky's treat Kean more humanely than they do their poultry.

Likelihood of being sent on GL before T'giving: The bell tolls for thee, Steve Kean.
Owen Coyle, Bolton
When the opening week of the Prem was over, the Wanderers stood atop the league after hammering four past newcomers QPR. Today they rest comfortably at the bottom, with a defense as bad as Michael Jackson's personal physician. You can blame those mean anti-Bolton schedule-makers for not helping matters by all but guaranteeing early-season losses against Liverpool, Chelsea, United and Arsenal. But then how do you explain Norwich running roughshod over Coyle's cartoonish rear guard? And any long-suffering Liverpool followers could have told Coyle that David N'Gog was only useful for saving money on jersey vowels and was never going to replace the 18 goals that left with Johan Elmander and Daniel Sturridge.
What has to hurt the flinty Scot the most is his side's flaccid and dispirited play. Just the other day I picked up a copy of Four Four Two, a leading British soccer magazine, and was treated to a five-page love-in about Coyle's grit as an SPL player along with touting his genius as a "top manager." But here's what Coyle now sees if he's foolhardy enough to look: six defeats in seven league outings and 21 goals conceded. And these panic-button numbers came after Coyle's Pyrrhic victory of retaining the player who was thought to be his one decent defender, Gary Cahill. While it is not Coyle's fault that two of his key players -- midfielder Stuart Holden and winger Lee Chung-yong -- are both out until early 2012, and perhaps longer for Chung-yong, he has no excuse for the slag heap that remains alongside Kevin Davies.
Don't get me wrong; Coyle is eminently worthy of Prem-level employment, in spite of his appalling sideline fashion sense (please, FA, can you ban those bun-hugging BW short-shorts?). But the current malaise at the Reebok did not just spring full-blown over the past couple of months. It simply continues last season's downward spiral that saw the Wanderers lose five of their final six Prem games (of course, the one they won was against Arsenal). All told, that gives Coyle a 3-12 record in his past 15. Owner Phil Gartside is clearly fond of his fiery manager, but if there's no turnaround in their next three against Wigan, Sunderland and Swansea, come December the ex-Burnley man will either be managing against the second division side he abandoned or, more likely, sitting on his sofa hoping that those shorts don't ride up too high.

Likelihood of being sent on GL before T'giving: Might be time to update the old CV
[+] Enlarge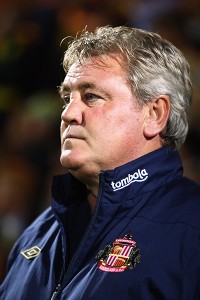 Photo by Julian Finney/Getty ImagesSteve Bruce: The look of a man who relies on Nicklas Bendtner to score goals.
Steve Bruce, Sunderland
Bruce is a hard-working man with an impressive résumé. As a player/legend at Manchester United, the neatly permed defender made more than 300 appearances and won three Prem titles. Unfortunately, he is now a manager, and that he's not so good at. In a mere two seasons on Wearside, he's run out no fewer than 30 new players while only managing two home wins since January. When he's not busy overpaying for Sir Alex's sloppy seconds (John O'Shea and Wes Brown), he's watching his talent flee his unfashionable way-northern burg. Rising Ghanian star and U.S. dream-killer Asamoah Gyan was so desperate to escape that he fled to the cash-happy hinterland of the UAE to be replaced by hardier -- although considerably less skillful -- Danish stock, Nicky "Pink Boots" Bendtner. Sunderland's home rally from two goals down against fellow strugglers West Brom on Oct. 1 probably provided a temporary reprieve, but it's hard to ignore the chants of "Bruce out" that had bounced around the stadium before the Black Cats equalized.
Afterward, a relieved Bruce hugged it out in the tunnel with now-former chairman Niall Quinn before waxing philosophical about his status. "I am the whipping boy," he told reporters, "but I will prove people wrong." With American owner Ellis Short shunting Quinn into an international ambassadorial role and assuming all the day-to-day handling (read: micromanaging), it would appear the jackals are circling.
Although Bruce's record isn't as dismal as a couple of the other bosses on this list -- six points in seven league games -- a failure to move his underperforming squad up the table means that Bruce could soon receive a slip that matches the color of his new Danish striker's boots.

Likelihood of being sent on GL before T'giving: Bruce was savvy enough to sign a fat contract extension before the start of this season, and knowing how costly his exit would be, Sunderland would rather he sack up than sack him.
Harry Redknapp, Spurs
You have to give the ruddy-faced anti-Wenger plenty of credit for the way he has turned, with Daniel Levy's considerable help, Tottenham Sixthspur from North London irrelevance to -- and I hate myself for saying this -- a legitimate fourth-place threat.
Just watching the gulf in desire and effort between Spurs and Arsenal on Oct. 2 is a testament to Redknapp's motivational skills, but as with all things 'Arry, there's a nagging suspicion that his love for Spurs will last only as long as it takes for him to get a better offer.
Having wrung Pompey dry before tossing them aside for the cachet (or in his case cash-ey) of the Prem's upper echelons, Redknapp and Levy have assembled a well-balanced, slick-passing, Gareth-Bale-is-the-most-amazing-player-in-Europe-believing team, led by Luka "Hands Off, Roman" Modric and Scott "The Immaculate Haircut" Parker. But when he's not busy lambasting his latest disgruntled Euro star -- poor Rafael van der Vaart got the Fergie Lite hairdryer treatment when he balked at tracking back on defense -- Redknapp is surely keeping one eye on the post-Euro 2012 England managerial spot, a job he's been linked to by the media for longer than he's been hounded by the Inland Revenue.
Although I'm required to point out the hypocrisy in Redknapp's latest advice to VdV -- "if you're in the team and asked to do a job, really, you should just do it," he said -- you wonder how much longer the EPL's resident quipmeister can resist the allure of the international scene, even if he'll need to adjust his tactical acumen beyond "just #$%#$ running about."

Likelihood of being sent on GL before T'giving: Listen, you don't put 'Arry on gardening leave, as he's already out the door.
Arsene Wenger, Arsenal
Yes, I know that the only way the Frenchman leaves the Emirates is of his own volition, especially after not-so-silent Stan Kroenke, Arsenal's majority shareholder, all but said last week that there is no other human being on the planet who could manage the club as we know it. But it's the "we know it" part that's precisely the rub; right now, the Arsenal most Gooners know is a leader-less, disjointed, slower-than-you-can-say-Per Mertesacker shell of a vintage Wenger team that is currently in 15th place, 12 points off the pace. And the question -- which never rose above a whisper around the Emirates until recently -- is: With a run of results over the past 30-plus EPL games that would make Roman Abramovich change managers at least three times, how much longer can Arsenal's increasingly delusional boss maintain his stoic "je ne sais quoi" stance?
The reasons for the Gooners' struggles are legion -- and too painful for me to enumerate, although I do below -- but one thing is abundantly clear: The results of the Wenger youth parade isn't going to be inspirational fodder for Brad Pitt's next sports film. Too proud and stubborn to ever change his ways, Wenger would pay little heed to Billy Beane's mantra of "Adapt or die."
Amid the wreckage of what he sees as player betrayals, an injury curse that has deprived him of several of his most influential players, a defense that can't execute the basics of its craft and an out-of-patience Gooner faithful that has taken to booing their side off the field, Wenger finds little comfort.
Although Wenger's contract at the Emirates doesn't run out until 2015 -- and he has never broken a contract -- you have to wonder at what point does he throw up his hands, exclaim "finis" and march back home to compare Burgundy vintages. Here's betting that he prefers young wines, too.

Likelihood of being sent on GL before T'giving: Practically nonexistent, but that's different from the odds of his leaving. The French aren't exactly known for their tenacity under fire.
David Hirshey has been covering soccer for more than 30 years and has written about the sport for The New York Times, Time, ESPN The Magazine and Deadspin. He is the co-author of "The ESPN World Cup Companion" and played himself (almost convincingly) in the acclaimed soccer documentary "Once in a Lifetime."