Commentary
In Arsene we still trust
Updated:
October 31, 2011, 2:20 PM ET
By
David Hirshey
| Special to ESPN.com
Dear Arsene,
Pardon my French, but je m'excuse, Monsieur -- and not simply for resorting to the hackneyed form of this open letter. I just didn't know how best to get in touch with you to offer a suitably groveling apology for doubting your genius on several hundred occasions these past two seasons.
But after this weekend's truly ballsy and utterly unexpected 5-3 win -- your 500th in charge of the club! -- at Stamford Bridge, a famous Gooner abattoir, I feel you deserve an explanation for my shameful loss of faith.
[+] Enlarge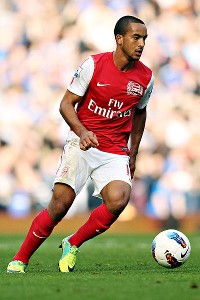 Ian Walton/Getty ImagesTheo Walcott must have made a good impression on England manager Fabio Capello, who watched from the stands as the Gunners took Chelsea apart.
Although I've been an Arsenal fan since the days of Charlie George, the rebellious '70s midfield icon with the boy-band haircut, I'm not averse to removing my red-tinted glasses on occasion -- like, say, after a certain disemboweling in Manchester that marked the nadir of the club's worst start to the season in 52 years. I mean, there we were, the proud Prem standard-bearers of "sexy football," the once-glorious home of Thierry Henry, Dennis Bergkamp, Patrick Vieira and the rest of the Invincibles, rolling around in the pig slop of 17th place. I didn't think I could feel any more depressed than I did back in February when that 89th-minute Szczesny/Koscielny Marx Brothers routine gifted the Carling Cup trophy to a team that would be relegated at season's end. But the steaming pile we left on the field at Old Trafford plunged me so far into Arsenal gloom that I may have written one or two unflattering things about my beloved Gunners.
Clearly, I didn't receive the memo that forbade such griping and sniping after Stan "Formerly Silent" Kroenke stormed to the top of the boardroom table. How else to explain the stern voicemail I received from one of the Denver billionaire's media guys, who pointedly suggested that he'd like to speak with me about my "recent criticism" of the club, and inquiring as to whether I owned any horses that I liked?
Just kidding about that last part, but really, is that how they do business these days at the Emirates? Now, in retrospect, I find myself wondering whether perhaps Kroenke's minion wasn't right to summon me to the woodshed, and equally, I was wrong to lose faith in you, cher Arsene.
After all, this past Saturday not only did you mastermind the first five-spot against the Blues at the Bridge in Prem history, but you also proved that the notion of a Chelsea "fortress" is as much a distant mirage as Ashley Cole's world-class defending. Better yet, it was your first away win of the season and your eighth win in nine games in all competitions, a Cardinals-esque season-changing run of form that should put an end to the league's widespread snickering at your two-month mid-table torpor.
My early-season bile toward the club -- column after column of seething rage at your transfer-window impotence that saw the 11th-hour arrival of the towering but slow German (Per Mertesacker) and the corpulent yet skilled Brazilian (Andre Santos) to bolster your fragile defense may have been a tad harsh. This mindset may help explain my stumbling into my local pub on a dour Saturday morning -- the fact that kickoff was at 7:30 a.m. only deepened the sense of impending doom -- feeling like the only goose at the foie gras festival.
Then I saw your lineup and quickly ordered a Stella to calm my jangling nerves. Frankly, I couldn't believe you started three of my favorite pratfall artists -- Santos, Mertesacker and Johan Djourou -- in defense alongside Laurent Koscielny who, while steadily improving, isn't exactly the second coming of Marcel Desailly. Yes Arsene, even before kickoff, I doubted you.
David Hirshey

For more from David Hirshey, check out his columns on all things soccer.
• The All-EPL Team, 2011-12
• Saying goodbye to Chinaglia
• Time to dethrone King Kenny Dalglish?
• In praise of Fulham
• The comeback artists
• Call it a comeback
• Death by Manchester
• The battle for third
• Spurs' title credentials
• EPL's best starting XI
• City handed first EPL loss
• Chelsea pushed to brink
• Fragile egos crossing
• City and United
• Is Newcastle for real?
• The bad-behavior derby
And those first 15 minutes certainly did nothing to disabuse my fears. But then the weirdest thing happened. Suddenly all the defensive clowns were wearing blue as the combination of Andre Villas-Boas' refreshing attack-minded philosophy and a back line with an average age of about 104 began to look so exposed that even Theo Walcott couldn't miss.
I suppose I can't blame EAJT (England's Awful John Terry) for being a bit distracted by his busy week off the field, but there was a delicious sense of karmic payback when he was left gasping for air, like a fish on a boat deck, on Robin van Persie's second goal. Granted, Florent Malouda's back pass to Terry was careless and overhit, but the slapstick way Terry fell on his face when he realized he was never going to catch RvP conjured up my all-time favorite Terry-freude moment. If you go back and check the Zapruder close-ups of Terry's tumble on the penalty spot in the 2008 Champions League final against Manchester United in Moscow -- and I can assure you it never gets old -- you'll notice that he looked totally stunned. Saturday's splashdown just made him look old and slow.
How much do you think Wayne Bridge and Anton Ferdinand enjoyed the sight of Terry sprawled on the ground watching helplessly as RvP scampered in on goal? Probably almost as much as that lucky Arsenal fan, whose nose and lip rings glinted in the sunshine, upon whom Robin bestowed his jersey at the end of the match. And speaking of unrestrained delight, how about the way you and Gervinho high-fived on the touchline after RvP completed his hat trick to make it 5-3? If I didn't know better, I might have thought that Arsenal had won its first trophy in six years.
But surely that silverware is coming, given the remarkable turnaround you have engineered with some help from your glass-ankle assassin, RvP. Once again I must admit feeling you had erred in naming the oft-injured Dutchman to be your captain, thinking he'd be more likely to wear a cast than the armband, but with 28 goals in 27 league games in this calendar year and an astonishing seven in his past three matches, he is the epitome of the man who leads by example. You are a brilliant, brilliant man, Arsene, and RvP might be your finest work. Now, can we please keep him?
ESPN FC on Twitter
Don't miss a moment of the latest soccer coverage from around the world. Follow us on Twitter and stay informed. Join »
And while Samir Nasri's derriere gathers cobwebs on the City bench, and Cesc Fabregas' Barca looks up the La Liga table at a rampant Real Madrid, their spiritual replacement, Aaron Ramsey, showed the kind of gutsy, composed performance you had said he was capable of all along. Hard to believe he's only 20 years old, or two years younger than Walcott, who -- while maddeningly inconsistent -- still has those electrifying flashes, like his sick fall-down-get-back-up dribble and sweet finish for Arsenal's third goal that will no doubt give Fabio Capello a major selection headache when he contemplates his next England lineup. At the same time, how great was it that Walcott made Cashley Cole look every bit the past-his-prime back he has become?
And so, Arsene, I happily pass the "in crisis" baton to the Chelsea faithful, while I genuflect in the glow of your redemption and the knowledge that Arsenal's next games are against WBA, Fulham and Wigan.
An easy nine points … right, Arsene?
Yours for the quadruple,
David Hirshey
David Hirshey has been covering soccer for more than 30 years and has written about the sport for The New York Times, Time, ESPN The Magazine and Deadspin. He is the co-author of "The ESPN World Cup Companion" and played himself (almost convincingly) in the acclaimed soccer documentary "Once in a Lifetime."
MOST SENT STORIES ON ESPN.COM