Commentary
Is anyone playing to win in the EPL?
Updated:
January 3, 2012, 1:57 PM ET
By
David Hirshey
| Special to ESPN.com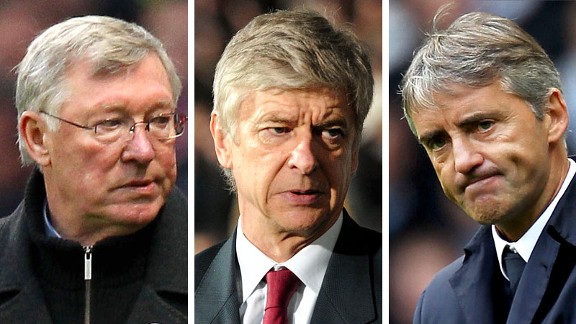 Getty ImagesThe new year brought seismic shocks to the Prem elite as United, Arsenal and City all stumbled. Again.
The great thing about making New Year's resolutions is that they sound so realistic in the blurry daze of your Jan. 1 hangover. I mean, anything's possible in the weeks and months that follow, right? Landon Donovan could get Everton's goals-per-game average up to four or five; Gary Cahill could get Chelsea's goals-against average down to two or three; and Thierry Henry could lead Arsenal to a Prem title and get his own statue outside the Emirates. (Oh, wait.)
And yet in soccer, as in life, on Jan. 2 reality eventually intrudes, and all of your best intentions and hopes for the future turn out to be nothing more than champagne-fueled hallucinations.
ESPN FC on Twitter
Don't miss a moment of the latest soccer coverage from around the world. Follow us on Twitter and stay informed. Join »
So my promise to no longer allow the Gunners to ruin what's left of my liver lasted a paltry 78 minutes of Monday's game at Fulham's Craven Cottage. That was the moment when it became horrifyingly apparent that the Gunners were going to throw away three points and their top-four slot in the Prem, and that I was going to throw away my commitment to have no more than two beers during regulation time.
That was the moment I saw Sebastien Squillaci warming up.
[+] Enlarge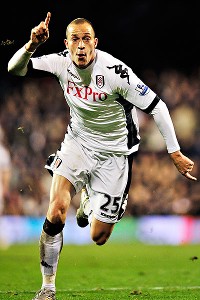 Glyn Kirk/AFP/Getty ImagesHe's the one: Bobby Zamora scored the game winner against Arsenal to ring in the new year.
Even the most smug, myopic Gooner (in other words, all Arsenal fans) could see the team unraveling in the second half like the thread on the pocket of Arsene Wenger's ridiculous knee-length quilted jacket that he kept desperately trying to pry open, as though it contained a secret plan on how to preserve a fragile one-goal lead with 10 men against a rampant Fulham team.
To be fair, there wasn't much the Arsenal manager could do after Johan Djourou was sent off 12 minutes from full time for a Charmin-soft second bookable offense on Bobby Zamora. Unless Harrods had a sale on fullbacks, the sartorially challenged Frenchman was out of luck, having lost all his first- and second-teamers long ago with injuries to Bacary Sagna, Kieran Gibbs, Carl Jenkinson and, of course, Thomas Vermaelen, the center back turned emergency left back who always has a semi-permanent reservation on the DL. (I'm beginning to think that Vermaelen, Fabio Aurelio and Rio Ferdinand are part of a sophisticated health-insurance swindle.)
Rather than shopping for a proper defender, Wenger turned to Squillaci, but not before flailing his arms and stomping his feet to show his displeasure, and possibly to restore a modicum of mobility in his winterized body-igloo.
Wenger should have been equally histrionic about the Gunners' limp second-half performance as they hung on by Wojciech Szczesny's fingertips while Fulham pressed them all over the field and Gervinho and Theo Walcott fell apart in the box like the world's most expensive and frustrating game of Jenga.
Inserting Squillaci, however, was the equivalent of Wenger waving a white silk handkerchief at his good friend Martin Jol, whose lifetime record was a generous 0-0-8 against the Frenchman, not including his pyrrhic victory in their 2006 shoving match.
In keeping with the surreal nature of the Gunners' collapse, it was cued by two Wenger rejects. Philippe "The Swiss Squillaci" Senderos' header across goal set up Steve Sidwell to take advantage of a de Gea-esque flap by Szczesny and pinball a header into the back of the net. 1-1. With seconds of injury time remaining, Squillaci failed to clear a cross in the goalmouth and watched in horror as Zamora powerfully lashed it home at the near post. The England fringe player hadn't started a Prem game since Dec. 5 amid rumors of a fallout with Jol, but judging by the way the ample-bellied Dutchman hugged it out with his striker, Zamora might be going nowhere other than back into the starting lineup.
If there is a redeeming element to Arsenal's meltdown, it is twofold: RvP survived another game intact, and even Wenger now realizes his dearth of defensive options, so perhaps he will deign to dip into the January transfer window to find a proper fullback. Of course, my biggest fear is that he will simply slot Henry in at left back.
David Hirshey

For more from David Hirshey, check out his columns on all things soccer.
• The All-EPL Team, 2011-12
• Saying goodbye to Chinaglia
• Time to dethrone King Kenny Dalglish?
• In praise of Fulham
• The comeback artists
• Call it a comeback
• Death by Manchester
• The battle for third
• Spurs' title credentials
• EPL's best starting XI
• City handed first EPL loss
• Chelsea pushed to brink
• Fragile egos crossing
• City and United
• Is Newcastle for real?
• The bad-behavior derby
As amusing as it was to watch the Arsenal manager frantically trying to find his puffa jacket pocket and loping across the field at halftime at a clip that would make Per Mertesacker weep, it's testament to the wackiness of the holiday season that Arsenal losing 2-1 at Craven Cottage is far from the biggest story of the weekend. Why should the Gunners be impervious to the mazy, slithering dribbles of fate that befell the rest of the top teams in the Prem since Boxing Day? If the Manchesters, Chelsea and Spurs (OK, they only threw away two points) could contrive to lose in spectacular fashion, surely the Arsenal faithful knew their side could figure out a way to implode dramatically.
What made it that much more frustrating was that 2012 had started so promisingly, with Arsenal supporters prying open their bloodshot, crusty eyes on Jan. 1 to see Robin van Persie & Co. comfortably nestled in fourth place, a position they had clawed their way up to from 17th place over the past three months. Even more encouraging, one of the Emirates' bronzed statues was coming back to life, as the man who had scored 226 goals for the red and white was returning from the MLS hinterlands to the Arsenal bosom for two months on a short-term deal. Come to think of it, Henry at left back may not be such a bad idea.
Speaking of brilliant ideas, is there any more clever concept than the awesome glut of holiday games in the EPL? I honestly don't know how they survive in Spain and Italy. Do they actually talk to their families while on vacation? Fortunately, that wasn't a problem for me as I sat bleary-eyed in front of the TV watching the Prem's top teams self-destruct in the most entertaining ways.
Fergie has a sad, then happy 70th birthday
It was the soccer version of Buster Douglas over Iron Mike when last-place Blackburn spoiled Sir Alex's birthday Saturday. At 33-1, the Rovers were at the longest of odds, and anybody who says they had a fiver on manager Steve Kean's lads is either delusional or also bet on Arsenal to bring home a trophy this season.
While the Prem loves to tout itself as the greatest league in the world, the recent spate of upsets does support the axiom that any side, no matter how lowly and besieged, can beat any other, no matter how smug and entitled.
Still, we're talking Blackburn! All its embattled manager hoped for when he arrived at Old Trafford was that he'd survive yet another public stoning by his side's baying vigilante mob of away fans. This is a man so under siege that everywhere he turns -- including a recent live broadcast of a major darts tournament -- he is greeted by lovingly hand-crafted "FIRE KEAN!" placards.
While I showed my usual perspicacity in including Yakubu in our All-Prem midseason team, even I was shocked when the pudgy Nigerian staked his side to an astonishing 2-0 lead. For Ferguson's big day, Wayne Rooney was left home to continue to nurse his alleged hangover, while something called Paul Pogba (I believe it is a Pokémon) found itself sitting on the subs bench. Unfortunately, Fergie didn't put David de Gea next to him, as the keeper's latest howler may be his last for a while. With Anders Lindegaard boasting more vowels and a perfect five clean sheets in five Prem starts this season, it's likely that the steel-jawed Dane will get a real chance to bolster his résumé.
[+] Enlarge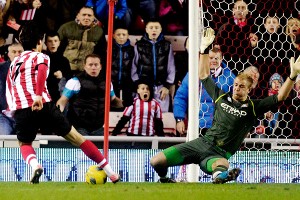 Graham Stuart/AFP/Getty ImagesSunderland's Ji Dong-won scored the unlikely game winner against Man City, giving Sir Alex a belated birthday gift.
United's failings were legion as its manager chose to run out a side far more suited to a Carling Cup tie. After all, when else does Dimitar Berbatov ever get a game? Michael Carrick and Antonio Valencia struggled to deputize at center back and right back. (Where is John O'Shea when you need him?) Chicharito didn't sync with the elegant Bulgarian in attack; Nani was profligate from the flanks; and de Gea was positively Almunia-esque between the posts, dealing with crosses in the box with all the aplomb of a vampire.
Fergie's iron-fisted treatment of Wazza, Jonny Evans and Darron Gibson's violation of team rules would have been vindicated if the Red Devils had repeated anything close to the 7-1 beatdown they laid on Blackburn last season, but instead of starting 2012 three points clear at the top, they turned the Theatre of Dreams into a shrine of slapstick. Consider the sheer scale of United's wastefulness Saturday: possession (63 percent), corners (17 to 3) and shots on goal (27 to 11). You can understand why the loss reduced Sir Alex to post-match Wengerian grapes, blaming his team's subpar performance on the state of his own Old Trafford surface.
Oh, how they must have hooted with fiendish delight at the United result across town, at least until the hilarious offside stoppage-time goal by Sunderland's Ji Dong-won, which made City's celebration as short-lived as Newt Gingrich's lead in Iowa.
Somehow Mancini's men were unable to pierce the veil of Manchester United's reserve side (Sunderland), a team shorn of most of its regular defenders. Like Sir Alex, Mancini chose to rest many of his starters in advance of the Liverpool match on Tuesday, but that shouldn't mean much for England's version of the Galacticos. With an improbable 1-0 home win, Sunderland gave United's manager the birthday gift he was expecting from Blackburn. I wonder what the odds were of that.
David Hirshey has been covering soccer for more than 30 years and has written about the sport for The New York Times, Time, ESPN The Magazine and Deadspin. He is the co-author of "The ESPN World Cup Companion" and played himself (almost convincingly) in the acclaimed soccer documentary "Once in a Lifetime."
Soccer on ESPN.com

Follow Soccer on ESPN: Twitter
Coverage on ESPN FC
Euro 2012 in Review