Commentary
These clubs know how to do business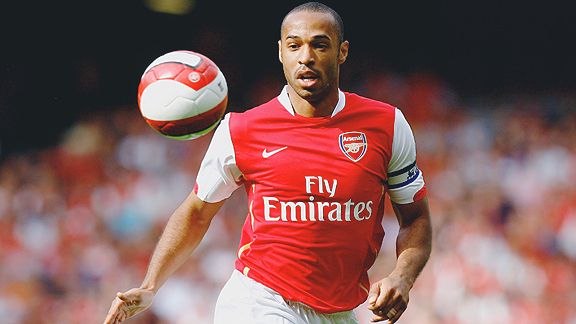 Ryan Pierse/Getty ImagesArsenal manager Arsene Wenger brought Thierry Henry to London for $16.7 million in 1999 and sold him for $25.6 million in 2007.
With the transfer window open for business, rumors of players being bought and sold swirl no matter how poor the economy is or how little money clubs really have to spend. They don't call it the silly season for nothing.
But while every club dabbles in the market, only a few are savvy at conducting transfers. Most buy for too much, sell for too little, and lack a full understanding of the market's intricacies.
Which clubs are the smartest wheelers and dealers? Five come to mind.
5. SC Heerenveen
How can a provincial club stay relevant in today's high-stakes transfer game? For a prime example, see Heerenveen, which is located in a eponymous small farm town in the Netherlands. Through top-shelf scouting and a shrewd acquisitions policy, Heerenveen has consistently competed with bigger clubs. In the past 15 years, Heerenveen bought Jon Dahl Tomasson, Ruud van Nistelrooy, Georgios Samaras, Klaas Jan Huntelaar, Afonso Alves and Miralem Sulejmani for a combined $8.7 million. All of them thrived at the Dutch club and eventually were sold for a total of $80.5 million.
4. TSG 1899 Hoffenheim
The unlikely story of the little club that could, Hoffenheim emerged out of a town of 3,000 to compete in the Bundesliga just eight years after residing in the fifth division. The club's success was fueled by uncanny fortune in the transfer market.
In 2007, after acquiring U.S. castoff Vedad Ibisevic, Demba Ba, Carlos Eduardo and Chinedu Obasi, Hoffenheim's last step up from the second division to the Bundesliga was all but a given. Having carefully selected players who could grow with the club, Hoffenheim positioned itself to play for trophies in 2008, its inaugural year at the top of German football.
Hoffenheim's ascent wasn't exactly organic. An influx of money -- exactly how much is hard to tell, since transfer fees weren't disclosed -- allowed the team to purchase experienced players. But cash is of little consequence when it's splashed on the wrong players. Hoffenheim knew better.
3. FC Porto
Many of the world's best players have called Porto their first port of call. And the club's results prove it. In the past decade, it dominated the Portugal premier league and won the European Championships in 2004. Much of Porto's success can be chalked up to a superb scouting network, which has yielded bargain after bargain.
Indeed, Porto has made a practice of buying players for a pittance and shipping them off to big European clubs for a tidy profit. Deco and Paulo Ferreira, for example, were picked up when they were virtual unknowns and sold for $32.9 million and $20.9 million, respectively.
More recently, Porto cashed in on a number of acquisitions: Lisandro Lopez (in for $3.1 million, out for $31.6 million), Ricardo Quaresma (in for $7.9 million, out for $24.5 million) and Lucho Gonzalez (in for $8.7 million, out for $23.7 million). The club made a combined $46.8 million on defenders José Bosingwa and Aly Cissokho.
2. Olympique Lyon
Another club that realized its lofty ambitions through clever transfer maneuvering, Lyon is a master at buying up the best talent in France. Consider: Lyon raided fellow French teams for Florent Malouda, Eric Abidal, Michael Essien, Mahamadou Diarra and Hugo Lloris. All of them helped Lyon dominate the French league, which in turn raised each player's value. Then, of course, Lyon sold most of them: Malouda for $27.6 million, Abidal for $19.7 million, Essien for $41.3 million and Diarra for $34.2 million. Lloris is still at the club, though he's thought to be worth at least twice his acquisition price of $11.2 million.
Lyon isn't just about buying up the best players, however. It grows from within, too. Youth academy products Karim Benzema, Hatem Ben Arfa and Loïc Remy, who cost the club only what it spent on developing them, brought in a staggering $39.5 million, $15.8 million and $10.5 million when they were sold.
Lyon has parlayed its riches into state-of-the-art facilities and a top coaching staff, while maintaining a war chest large enough to compete with the rest of Europe where it matters most -- in the transfer market.
1. Arsenal
You know your club is in good hands when the manager has a master's degree in economics. Arsene Wenger, "The Professor," has made a career of buying young, talented players from the nooks and crannies of the sport and selling them for a fat profit. Sure, there has been the odd misfire. But with the notable exception of Sylvain Wiltord and José Antonio Reyes, Wenger's transfer policy has yielded more strokes of genius than Rembrandt.
Wenger snapped up Nicolas Anelka from Paris Saint-Germain for $800,000 in early 1997. Two-and-a-half years later, Anelka was a Real Madrid player, leaving $36.5 million in Arsenal's coffers. Emmanuel Petit and Marc Overmars cost Wenger a combined $15.1 million in June 1997. They brought in $47.7 million when sold as a package to Barcelona in 2000. Kolo Touré, signed from ASEC Abidjan for $240,000 in 2002, was worth $25.4 million to Manchester City in 2009.
You could go on, of course. Perhaps what's most impressive about Wenger isn't that he just sells players for much more than he paid for them. It's his ability to sniff out underappreciated yet talented players and then off-load them for a profit after their best years are behind them. For example, Wenger bought Patrick Vieira from Milan for $5.5 million in 1996. Vieira become one of the world's foremost midfielders. Having squeezed his best time out of him, Wenger then sold Vieira to Juventus for $21.7 million in 2005.
Current New York Red Bulls striker Thierry Henry joined Arsenal from Juventus for $16.7 million in 1999, the exact sum Juve had paid Monaco for him six months prior. By 2007, Henry was sold to Barcelona for $25.6 million -- and was arguably past his prime. As Wenger demonstrated when he sold Henry, the manager has an almost sixth sense about knowing when to send a player packing.
And look at Wenger's current team of world-class players. Arsenal paid $400,000 for Gael Clichy, $4.3 million for Robin van Persie and $1.6 million for Emmanuel Eboue. Cesc Fabregas arrived in London on a free transfer. Now, as we all know, he is highly coveted by Barcelona and will eventually move to the club for what will undoubtedly be a massive transfer fee.
But that's just business as usual for Wenger.
Leander Schaerlaeckens is a soccer writer for ESPN.com. He can be reached at leander.espn@gmail.com.

Contributing writer, ESPN.com
Leander Schaerlaeckens is a contributing writer for ESPN.com. He has previously written for The Guardian, The Washington Times and UPI.
SPONSORED HEADLINES
MORE SPORTS HEADLINES
MOST SENT STORIES ON ESPN.COM