Commentary
San Jose aiming for postseason place
Most designated players are expected to do two things: put butts in the seats and help the team win. Yet for the San Jose Earthquakes and Geovanni, fulfilling the latter objective will suffice.
That Geovanni isn't being expected to impact off-field matters -- at least directly -- was made clear Monday, when San Jose executive vice president of business operations David Alioto said of the Brazilian's signing, "This decision wasn't made for marketing reasons. This was a player that we felt was the best one for the Earthquakes."
At present, all signs point to the former Hull City attacker as being the missing piece in the Quakes' playoff puzzle, and while nothing is guaranteed, it was a move that had to be made. San Jose's promising start to the season had given way to a spate of injuries, none more critical than the season-ending knee injury to midfielder Andre Luiz. Without Luiz's classy passing, it was too easy for opponents to clamp down on Bobby Convey and dare the rest of the Quakes' attack to beat them.
The recent acquisition of Khari Stephenson went some way toward addressing that problem, but with Geovanni on board San Jose has regained its ability to threaten on multiple fronts.
[+] Enlarge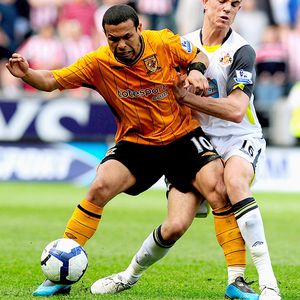 Jamie McDonald/Getty ImagesGeovanni's experience in the Premier League should prepare him for the pace and physicality of MLS.
At times in the past, Geovanni has lined up on the wing, but Quakes general manager John Doyle foresees a different role for the Brazilian in San Jose.
"He will be playing centrally depending on the formation that [manager Frank Yallop] plays," said Doyle. "He gives Frank a lot of options. He can play underneath a point striker or deeper in a midfield diamond. Good players make it easy to play different formations."
The second striker role seems the more likely of the two scenarios. Other than Chris Wondolowski, the team's rather ho-hum complement of forwards has not impressed. Injuries have also forced Yallop to rob his corps of defensive midfielders in order to shore up the team's injury-hit defense. The news that goalkeeper Joe Cannon will miss six to eight weeks with a broken ankle only reinforces the view that Yallop will lean more toward defense when selecting his starting midfielders.
But beyond Geovanni's position on the field, his ability to adapt to life in MLS will ultimately determine the team's playoff fate. With few exceptions, MLS coaches and GMs insist that a new signing won't take long to adapt to the league's fast and furious style. Doyle is no different.
"I think if you're a good player, you're a good player," said Doyle. "I think [Geovanni] will settle in fine."
History has shown it's not so simple, and the experience of Dallas midfielder David Ferreira makes for an interesting comparison. Like Geovanni, Ferreira is a creative yet undersized attacker, and it took the Colombian half a season to fully come to grips with the league's pace and physicality. And with San Jose perched on the edge of the playoff places, such a grace period doesn't exist for the Earthquakes' newest signing.
The hope, of course, is that Geovanni's experience in the EPL -- as fast and physical a league as there is anywhere -- will provide him with the kind of preparation needed to accelerate the acclimatization process. The Quakes' history of making astute in-season acquisitions like Darren Huckerby, Luiz and Francisco Lima also points to Geovanni giving the team what it needs.
The expected result of Geovanni's arrival is a spot in the playoffs, something the Quakes have found elusive since their rebirth in 2008. The hope, of course, is that such achievement will not only galvanize the team's flagging fan base (the Quakes are averaging 9,509 fans in 10,500 seat Buck Shaw Stadium) but will push the team over the hump in terms of breaking ground on a new stadium.
At present, the political hurdles have all been overcome, along with the acquisition of a suitable site. But owner Lew Wolff is waiting for enough corporate backing to emerge so as to finance the stadium's construction. Whether a playoff spot will be sufficient to pry open the wallets of prospective sponsors is an open question, but Alioto feels that the signing at least sends an important message.
"It will show the fans that our ownership group is committed to making this work," said Alioto. "As hard as we worked on the DP player, we're working just as hard on the stadium. But we want to win now."
NEWS AND NOTES
Adu not MLS-bound, for now: One story circulating throughout the league was the possible return of one-time MLS poster boy Freddy Adu. Adu has been deemed surplus to requirements at both Benfica as well Greek side Aris Thessaloniki, to whom Benfica loaned him last season. For that reason, a return to MLS seemed to make plenty of sense for Adu, but with the closing of the league's transfer window last weekend, any move back stateside will have to wait.
So how close was Adu to returning? Not very, according to a league official who indicated that while there had been talks between Adu's representatives and MLS in the last year, "there were no active negotiations" during the final week that the international transfer window was open.
Adu's Los Angeles-based agent, Richard Motzkin, didn't address whether any talks with MLS took place but said that after a failed trial with Swiss club Sion, Adu had returned to Greece and was "trying to make his way back in with Aris," with whom he remains under contract for the 2010-11 season.
Defense rallies Revs: It's tempting to think that New England's eight-game unbeaten streak in all competitions is due to a revamped attack. Certainly the addition of Marko Perovic's creativity has boosted the Revs' offense and the recent arrival of Ilija Stolica looks set to give New England a forward with the ability to hold the ball up. Given that attacking cogs like Clint Dempsey, Andy Dorman and Steve Ralston have departed over the years, as well as Taylor Twellman's injury woes, this is welcome news indeed for New England manager Steve Nicol.
But closer inspection reveals that New England's revival is primarily the result of a vastly improved defense. The Revs have conceded just two goals during their streak, and for Nicol the reason for the team's improvement is simple.
"A lot of the games prior to us starting this run we made some real basic, fundamental mistakes defensively that were costing us goals," he said. "So far, we've cut that out. When you're not just not giving goals away for no apparent reason, that makes a huge difference in any team. We've just made good decisions and done the basics really well and picked up good positions defensively."
The run, which includes taking 10 of a possible 12 points in its last four league matches, has seen New England climb within five points of the eighth and final playoff place. But Nicol insists his side isn't looking too far ahead or worrying about what other teams are doing.
"All of these things take care of themselves," said Nicol. "We're not sitting down talking about how we need to this or need to that. We're just concentrating on each game as it comes and trying to do what we can to win it."
Given the team's newfound defensive resilience, it seems likely the Revs will have a significant part to play as the playoff race winds down.
Runaway ROY: The voting for MLS Rookie of the Year isn't set to open for several more weeks but the race looks to have already been decided, with Philadelphia forward Danny Mwanga threatening to lap the field.
Sure, New York defender Tim Ream has enjoyed a strong inaugural campaign, and plenty of good days seem in store for the Chivas USA duo of Blair Gavin and Ben Zemanski. But Mwanga's seven goals on just 20 shots in 824 minutes make it difficult to see how those aforementioned players will win out over the Union striker. The only question left for Mwanga is whether he'll break the rookie scoring mark of 11 set by Chicago's Damani Ralph in 2003.
Jeff Carlisle covers MLS and the U.S. national team for ESPNsoccernet. He is also the author of "Soccer's Most Wanted II: The Top 10 Book of More Glorious Goals, Superb Saves and Fantastic Free-Kicks." He can be reached at eljefe1@yahoo.com.
Soccer
Jeff Carlisle covers MLS and the U.S. national team for ESPN FC.
MOST SENT STORIES ON ESPN.COM