Commentary
Who's next to move to Europe?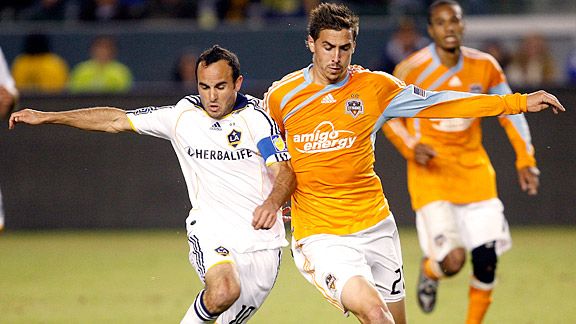 Getty ImagesSome lesser-known MLS players such as Houston's Geoff Cameron may be more likely than Landon Donovan to seek employment with a European club.
Each week, Leander Schaerlaeckens will answer five pressing (to him) soccer questions without (enough) regard for the consequences of what he is saying.
Q: U.S. head coach Bob Bradley will meet with U.S. Soccer president Sunil Gulati this week. What does it all mean?
Not a ton. As Bradley indicated before the U.S.'s most recent game, a friendly against Brazil on Aug. 10, he and the federation have been meeting for a while. He also said that they would meet again sometime after that game and talk more about whether they would renew his contract, which is set to expire on Dec. 31, or whether he would leave for a job in club soccer. However, chances are that, like in all previous meetings, no decision will be made at this point.
Although star player Landon Donovan told Fox Soccer Channel that his "gut" thinks it's unlikely that Bradley will remain, no conclusions can reasonably be made at this point. Gulati told reporters that he wasn't by any means overjoyed with the second-round performance at the World Cup -- even though that had been announced as the team's objective -- and Bradley, for his part, has been drawing a tad of interest from Premiership clubs such as Fulham (which has since found a new manager) and American-owned Aston Villa.
The typically mum Bradley has made no secret of his yearning for work in Europe, while U.S. Soccer seems to be forever lusting after a big-name coach, although few have been mentioned other than perennial coach-in-waiting Jurgen Klinsmann.
In the end, what seems most likely is that Bradley and U.S. Soccer will find each other the way they did four years ago: as the best remaining option.
Reader Q: Who do you think will be the next MLSers to move to Europe besides Landon Donovan? Maybe Omar Gonzalez? Tim Ream? -- David Vitek, Raleigh, N.C.
Actually, David, I think there are a number of players more likely to leave than Donovan at this juncture.
Here's why: For Donovan and his freshly upped salary, money might no longer be an incentive to move, because the $2.1 million (plus tips) he is now making isn't very far from what he could command in Europe. His move to Everton was facilitated by his impending divorce. It appears that he's trying to get back together with his ex, so he might want to be in the area. And Donovan feels that he has proved himself in Europe, however brief his excursion there was.
So his urge to go, by those three measures, has to be considerably less pressing than it would have been a year or so ago.
There are, however, a number of players who look like good bets to go. Houston's Geoff Cameron makes the league's minimum wage in spite of sitting comfortably in the 90th percentile of quality among players. Cameron appears to be resisting a new contract to follow the likes of former Dynamo players Stuart Holden and Ricardo Clark to Europe via free agency. Danny Mwanga, Philadelphia's rookie standout, told me minutes after being drafted first overall in January that he couldn't wait to start playing in France, and that he had to be persuaded to use MLS as a springboard in favor of going right out of college. Look for him to bolt when he gets the chance. New York's Macoumba Kandji, meanwhile, also has discovered his name on a few European wish lists. Although he has yet to light up the league here, his size could make him a good fit in, say, a Championship-type team in England.
Several others look to have slowly outgrown the league and may be ready to take a step up. Seattle's Fredy Montero, for example, or New England's Shalrie Joseph. D.C. United's preposterously gifted Andy Najar might not be far behind them.
As for Ream and Gonzalez, both lack a good bit of polish. Although that may not stop them -- others have preferred getting to know European pine over MLS grass before -- they're certainly not the most Europe-ready players in the league. Ream is an able distributor but needs to work on his defending, while Gonzalez, a better pure defender, has looked a bit shaky as often as he has solid.
Q: Does the flurry of goals in this week's English Premier League make it Europe's most unbalanced league?
This question has been making the rounds all week, and it is really bugging me.
The answer, very, very simply put, is no. Dismissing the EPL as more top-heavy than other leagues is nonsense.
Based on the widening gap between the number of points accrued by EPL champions and relegationists in past years, it is incontrovertible that, the way soccer has been since the '94 Bosman ruling, the rich have been drifting further and further from the poor.
That said, this season is only a few games old. One-sided results are common early in the season, as some teams have it together and others do not.
The EPL has always been more charitable to the not-so-rich and famous than other leagues. The Scottish Premier League has been quashing the dreams of anybody not named Celtic or Glasgow Rangers since 1986. The Portuguese league has been dominated by just a few teams for even longer, while in Spain nobody but Barcelona and Real Madrid has even a prayer of winning the title.
That isn't to say that anybody can win the EPL; far from it. But the EPL has an uncommonly large middle class as compared with other European leagues, with a bevy of biggish, solid clubs that compete for European qualification year after year. This hasn't changed, since the bulk of thumping victories was either an early-season aberration or came when a very good team played a very bad one. So the notion that there is less parity than before is unfounded.
Reader Q: Leander, I have a hypothetical question for you that someone asked me yesterday. If the best club team in the world (just for argument's sake, let's say Inter Milan under [Jose] Mourinho last season) played the reigning World Cup champs (Spain), who would win and why? -- Kevin Humphreys, Madison, Miss.
I've wondered about this myself, Kevin. And I tend to think that a quality club would beat a quality national team more often than not. Although national teams tend to be deeper, I think club teams have a more balanced lineup because they can simply buy a player their player pool has failed to provide them, whereas a national team can't. Take, for example England's failure to develop a quality goalkeeper. This wouldn't afflict, say, Manchester United as badly, because the club could go out and buy a suitable candidate.
In addition to having more control over the makeup of their squads, clubs also have the luxury of practicing together year-round, while national teams get together once a month at best. This should logically lead to more fluid play from club teams.
To use your example, Inter found a way to beat Barcelona, which staffs the bulk of the World Cup-winning Spain squad, soundly in the Champions League semifinals last year. That said, Spain is an abnormality as far as national teams go, as it's exceedingly rare that one country breeds so much talent at once. So whereas clubs, by my theory, are better than national teams, Spain could be the exception to the rule.
Q: The young Brazilian superprospect Neymar snubbed Chelsea in favor of a prolonged stay at Santos. Good call?
Yes. And not just because it's nice to see Chelsea being rebuffed for once.
The London-based team, which has been stockpiling young talent for nearly a decade (although much of it never boils to the surface) was hoping to snatch one of the crown jewels in what is expected to be Brazil's next great front-line: 18-year-old Santos forward Neymar.
At the urging of Pelé and new Brazil coach Mano Menezes, and drawing the plaudits of Brazil's president, Neymar decided to stay and sign an extension with Santos. Regardless of whether his decision was designed to stay in the good graces of Menezes after being shunned from Dunga's squad for last month's World Cup, it appears to be a wise one. Plenty of lithe, Brazilian hybrid striker-wingers like Neymar went at a very young age, for a lot of money and burned out soon thereafter as a consequence of being mismatched with their club's playing style or becoming complacent, such as Denilson in the late '90s and Robinho just a few years ago.
Neymar would be best served by playing out his new five-year deal -- he'll be only 23 when it's up -- and picking whatever club is best-suited to him then as a free agent. By not going over to Europe until he is as unassailable as his mawkish Mohawk, Neymar will remain hungry and might just avoid becoming a flameout.
Got a question, rant or musing tangentially related to soccer that you'd like Leander to answer? Write him at leander.espn@gmail.com.

Contributing writer, ESPN.com
Leander Schaerlaeckens is a contributing writer for ESPN.com. He has previously written for The Guardian, The Washington Times and UPI.