Commentary
Something to write home about
Updated:
September 7, 2010, 8:51 AM ET
By
Brent Latham
| Special to ESPN.com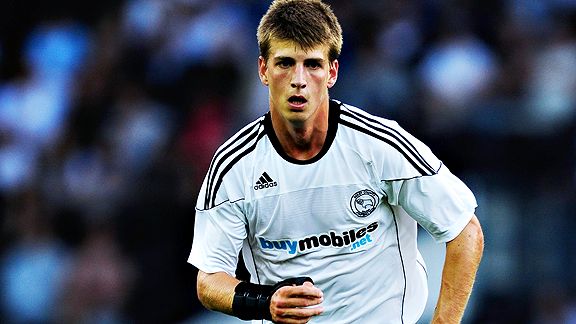 Jamie McDonald/Getty ImagesConor Doyle signed his first professional contract with Derby County.
Considering the excitement (and, OK, a bit of hype) from the U.S.'s World Cup run in South Africa, it was a quiet transfer season for Americans on the European market. Rumored moves for Landon Donovan and Clint Dempsey never got off the ground. Free agent DaMarcus Beasley only recently found a team, and Jay DeMerit is still looking for one. Jozy Altidore and Benny Feilhaber failed to extract themselves from less than ideal situations.
Not much to write home about. Unless you're Conor Doyle.
Without much fanfare, the 18-year-old Texan signed his first professional contract last month with English Championship club Derby County. In the shadow of news about the destinations of American World Cup stars, Doyle's move passed largely under the radar.
For an American youth player who was still in high school last year at this time, Doyle has gone on to make quick and impressive progress. The forward has already appeared for Derby County's first team several times this season, even starting a few games. But he isn't quite ready to fire up his Twitter account.
"The kind of person I am, I keep things quiet," said the soft-spoken Doyle. "I wouldn't make this a huge deal. I don't know why people haven't paid that much attention to it [in the U.S.]. I can't tell you. I just try the best to make the most of the opportunity I have right now."
That opportunity came last year when Derby County scouts spotted him playing for his youth club, the Dallas Texans, in the U.S. and invited him to England to train for the summer.
With that experience under his belt, Doyle enrolled at Creighton University in the spring. When he got a call back to train with Derby County again this summer, he planned on using the repeat experience to gear up for his first collegiate season in the fall. But the Rams' manager, former English national teamer Nigel Clough, had other ideas.
"I was thinking [I would be there for] a few weeks and take the experience back to Creighton and hopefully help them, but at the end of two weeks they asked me to stay with them and offered me the contract," Doyle said. "It was crazy."
Derby County, home to Benny Feilhaber during a miserable 2007-2008 Premier League campaign that ended in demotion back to the Championship after just one season, is still a reasonably respected second-tier club. For any 18-year-old, much less an American, to break the starting lineup at the onset of a new season is remarkable. But for Doyle that scenario has become a reality, as Clough has relied on him heavily in attack in the face of an early-season injury crisis.
"I was expecting more reserves and maybe once in a while with the first team," Doyle said. "But with all the unfortunate injuries we've had going on, it's given me some time with the first team."
The Championship won't be confused with England's top flight, but it's also a long way from the youth soccer Doyle was still playing less than a year ago. Although playing professional soccer in the country that invented the game is undeniably a huge step up for Doyle, those who know the young forward aren't surprised to see him make the leap.
"

At the end of two weeks [of camp], they [Derby County] asked me to stay with them and offered me the contract. It was crazy.

"

-- Conor Doyle
"It's not a surprise to me," said Hassan Nazari, founder of the Dallas Texans club team and Doyle's former coach at the under-18 level. "Conor always had that professionalism in him. As a player he was always so clever. He was very interested from a young age. He followed Manchester United and he watched soccer on TV. He didn't just watch it as fad. He watched it to educate himself. All he needed was a little bit of a better environment and more soccer. Now he has that and I feel he has a lot of room to improve and get better."
Nazari speaks from experience, having worked with U.S. national team player Clint Dempsey and MLS star Alejandro Moreno at his Dallas-based club.
In addition to citing what Nazari called an increasingly professional environment in the youth ranks of American soccer, Nazari credits much of Doyle's success to the influence of his father, David Doyle, an Ireland native who enjoyed a long career playing indoor soccer in the U.S.
"Conor is very attached to his dad," Nazari said. "He respects his dad in terms of soccer and everything. His dad has had a very big part in the whole thing. That also played a big part because it's much easier for players with a European passport to join the club in England, if you're talented. Not everyone with a European passport can play, but that made it much easier."
Of course, that Irish passport also makes the younger Doyle eligible to play for his father's country of birth. The native Texan said he has never been contacted by the U.S. Soccer Federation, and said the prospect of suiting up for the Irish would be alluring if offered. But for the time being, the new professional has other priorities.
"Right now my main focus is to settle in here and just keep impressing the gaffer," Doyle said. "Hopefully that chance will come down the road."
If Doyle can continue his early success in England, he will get that chance sooner rather than later. And he can probably expect a little more attention back home, too.
Brent Latham covers soccer for ESPN.com. He previously covered sports throughout Africa for Voice of America radio and now works as a soccer commentator for a national television station in Guatemala. He can be reached at brentlatham@ymail.com.
ESPN Insider
Brent Latham is a soccer commentator who covers the youth national teams for ESPN.com. Based in Guatemala, he has attended youth World Cups from Peru to Egypt, and places in between.