Commentary
Time for Bradley to sort things out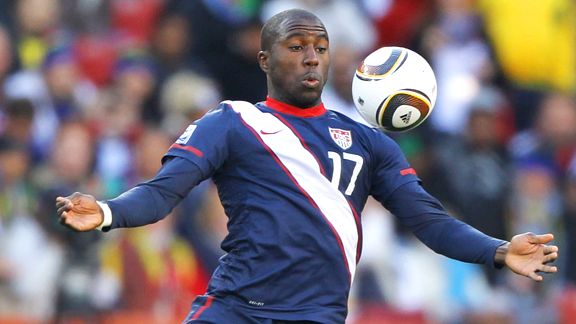 Ezra Shaw/Getty ImagesGoing forward: The U.S. needs Jozy Altidore to start finding the back of the net again.
This past Friday, the U.S. Soccer Federation announced the third of the friendly games the national team will play before this World Cup year is out. After facing Poland in Chicago on Oct. 9 and Colombia in Philadelphia on Oct. 12, the U.S. will travel to South Africa once more to take on the Bafana Bafana on Nov. 17.
With the next World Cup four years away, these matches seem like throwaway games, a waste of time for the players and the fans. Ah, but not so fast.
Next summer brings the CONCACAF Gold Cup -- the North American, Central American and Caribbean championships, which will be the only serious test before World Cup qualifying begins again. Plus, the winner of the Gold Cup receives a ticket to the Confederations Cup on the eve of the next World Cup in 2014. The Confederations Cup would offer the U.S. a chance to compete with countries from outside its own modestly talented region and a chance to get accustomed to World Cup venues, an experience that benefited the Americans considerably in South Africa this past summer.
So, these upcoming friendlies aren't so meaningless after all. They'll be a rare window for experimentation before the stakes steadily rise. (The only other friendlies the U.S. will have to prepare for the Gold Cup are in February and March.)
Coach Bob Bradley should be well into charting his course for the next four years by now.
"I'm sure Bob began evaluating his pool, trying to see which players can or cannot be available for 2014 World Cup," said Bruce Arena, Bradley's predecessor (1998-2006) and the only other man to embark on a second World Cup cycle in charge. "There are going to be a number of players who are capable for the next year or two, and others that will not be ready. It's really forecasting those things and trying to evaluate the current pool. He's just gone through a cycle and knows which players can help him down the road."
That road, however, has many potholes Bradley will have to negotiate. Here are five of them:
An aging back line
The men who formed three-fourths of the U.S. back line in every single 2010 World Cup game -- captain Carlos Bocanegra, Jay DeMerit and Steve Cherundolo -- will be 35, 34 and 35, respectively, by 2014. Chances are slim that any of them will be at a level that he can compete effectively. Although clearing them out and replacing them with prospects straight away would be senseless, their ultimate successors should start seeing playing time immediately, so they can gradually grow into starting roles.
"Are there young players out there that can come up and provide not just the composure you need as defenders but the pure athleticism and the youthful exuberance that can sometimes make up for mistakes?" wondered Alexi Lalas, a starting defender on the 1994 team and a roster member in 1998.
The answer to Lalas' question is yes, or at least a strong maybe. The Los Angeles Galaxy's Omar Gonzalez made his debut against Brazil in an August friendly. Tim Ream (New York Red Bulls) and Ike Opara (San Jose Earthquakes) should follow suit. Now. As should Gale Agbossoumonde, once the U-20 star sorts out his messy club situation. Ideally, one of them will prove suitable to line up alongside Oguchi Onyewu, 32 in 2014, in the center.
West Ham United's Jonathan Spector, 28 in 2014, should take over at right back. As for left back, well, that could be the hardest hole to fill for Bradley.
Lack of creativity
Other than Landon Donovan's piercing runs at opposing defenses, the U.S. still offers very little by way of the offensive threats necessary to break down opponents. The midfield is especially lacking in that department.
Could Stuart Holden or Benny Feilhaber -- 28 and 29, respectively, in 2014 -- provide that spark of creativity in the center of midfield? Or should Donovan be moved to the middle with Holden or Feilhaber playing out wide?
Soft up the middle
Can someone get Michael Bradley, 26 in 2014, a buddy? The central midfielder was lonely during the World Cup, as none of the players who joined him in the center was up to his standard of play. As a result, the U.S. was vulnerable to attack up the middle.
"In the midfield, the team has to answer who and how they're going to play next to Michael Bradley," Lalas said. "Not just who that person is, but how that means Michael Bradley plays. Finding a complement to Michael Bradley is key."
Maurice Edu, Ricardo Clark and Jose Torres -- 28, 31 and 26, respectively, in 2014 -- took turns deputizing for Bradley and would seem to be the most likely candidates. Clark exposed himself badly against Ghana in the second round and seems the least likely option. Edu is playing regularly at Glasgow Rangers in the Champions League. But the best option might be Torres. His ability to effectively hold and distribute the ball allows Bradley to slide up a few yards and attack.
Once Bob Bradley picks a player, it's important that he stick with his choice so Michael Bradley can develop a seasoned partnership with the other player in the midfield.
Instability
What all the world's greatest teams have in common is that you can draw up whom they will field and how they will play well in advance of a big tournament. In international soccer, predictability is a telltale sign that things are on the right track -- and it's been conspicuously lacking in Bob Bradley's term. Good teams don't require many changes. Take the World Cup finalists. Spain cycled in just two regular contributors (Sergio Busquets and Pedro) in its 2008-10 run of triumphs, and the Netherlands has played in the same formation for two years. It would serve Bradley well to conceive of an ideal lineup that will stand the test of time -- and stick with it.
Mess up front
As long as Donovan and Clint Dempsey, 32 and 31 in 2014, respectively, operate as wingers drifting inside for the U.S. -- as well they should -- the Yanks will have a striker problem for the foreseeable future. Indeed, the U.S. hasn't seen a striker score in a World Cup since 2002 -- and that striker, of course, was Donovan.
"Who is going to score goals and who can consistently be a threat at the top?" Lalas asked. "We haven't scored a goal from our strikers in two World Cups. That needs to be addressed. Bob only has so many bullets in the belt."
Bradley's experimentation with the front line in the last World Cup cycle never panned out, as the likes of Jeff Cunningham, Conor Casey and Robbie Findley all got prolonged looks -- only to prove they didn't have an international pedigree. Brian Ching, Eddie Johnson and Edson Buddle showed that they weren't the answer, either. Mexican League retread Herculez Gomez was a nice pickup, but he's clearly best used as a late-game substitute.
Jozy Altidore, 24 in 2014, and Charlie Davies, 27 by then, are the obvious picks up top. But Altidore hasn't scored a goal for the U.S. in a competitive game since Sept. 5, 2009, and who knows whether Davies will ever truly recover his pace after his horrific car accident.
"Jozy Altidore has yet to provide a consistent threat, not only in terms of scoring goals but also in occupying the attention of opposing defenses," Lalas said. "The Charlie Davies question has yet to be answered, and you have to recognize that you certainly can't count on him being back at this point."
Ultimately, the U.S.' success in 2014 also will require a little luck. You need some good fortune with your players' peak ages coinciding with the quadrennial tournament. "We were one of those teams that were probably a half a year late for the World Cup," Arena said. "I think the years 2003-2004-2005 we were probably the best team in the history of U.S. soccer. It got a little old by [the] 2006 [World Cup]."
In addition to luck, Arena said that solid preparations were lacking in his second cycle. "In 2006, all preparations for the World Cup were poorly done," he said. "And it impacted our ability to succeed at the World Cup. The quality of games was no good, the rhythm of the games -- all of those things were poorly executed."
For Bob Bradley, all the hard work that will go into 2014 starts now.
Leander Schaerlaeckens is a soccer writer for ESPN.com. He can be reached at leander.espn@gmail.com.

Contributing writer, ESPN.com
Leander Schaerlaeckens is a contributing writer for ESPN.com. He has previously written for The Guardian, The Washington Times and UPI.
MOST SENT STORIES ON ESPN.COM