Commentary
The difference-maker
Updated:
November 12, 2010, 9:47 AM ET
By
Jeff Carlisle
| ESPN.com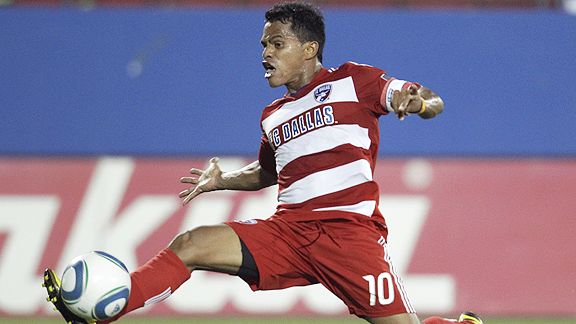 AP Photo/Tony GutierrezLandon Donovan has called FC Dallas' David Ferreira "the best playmaker in the league." Ferreira will need to be when he takes on Donovan and David Beckham on Sunday.
In the opening months of the 2009 MLS season, David Ferreira was on the cusp of reaching an uncomfortable and depressing conclusion: His decision to join FC Dallas on loan from Brazilian side Clube Atletico Paranaense had been a mistake.
FCD opened that campaign by winning just one of its first 10 games. Ferreira, brought in to be the attacking catalyst, was viewed as a colossal bust, notching a solitary assist during that spell. Even worse, he despaired over the style of both the league and his team. The fast pace of MLS robbed Ferreira of, as he put it, "the pausing in the game" that allowed him more time on the ball. Then there was Dallas' approach, which rendered his speed, close control and vision all but useless.
"I saw the soccer ball up in the air most of the time," Ferreira said via e-mail through a team translator. "That complicated things for me because I'm a player who controls the ball on the ground."
The hopes placed on him by coaches, teammates and fans only added to his discomfort. "The first games I felt sad because there were people giving me their confidence, and I wasn't achieving the expectations," Ferreira said. "I thought, 'Look where I have ended up, in a different league, a different game.'"
Seventeen months later, the fortunes of both player and club have done a complete 180. Ferreira is a finalist for the league's MVP award after notching eight goals and 13 assists during the regular season. And Dallas has morphed into one of the league's more successful and attractive teams.
And a win over a formidable Los Angeles Galaxy side this Sunday in the Western Conference final will vault Dallas into its first-ever MLS Cup final. The turnaround isn't lost on Ferreira.
"I never gave up," he said. "I always found difficulties in all the leagues I had played, but when you overcome all those difficulties and obstacles, the results taste better. I like the moment I'm living in right now. It's really positive. I'm happy in the league, with my team, and I hope I can play many more years here."
Ferreira's move to MLS was one that was long in the making. The Colombian first caught the eye of Dallas head coach Schellas Hyndman in 2005, when he was still coaching in the collegiate ranks at Southern Methodist University. Hyndman was in the Brazilian city of Curitiba teaching a coaching class on behalf of the National Soccer Coaches Association of America. During that trip, he had an opportunity to watch Paranaense train, and included in that squad was Ferreira.
"Ferreira was a young player on that team, and I was absolutely amazed that Brazilian soccer would bring in a Colombian to be a playmaker," Hyndman said. "If you think playmakers, you think Brazil, don't you? So I watched him, and saw he was a good player."
Hyndman took the reins in Dallas three years later, and as he headed into the 2009 campaign, he was determined to find a playmaker to operate at the top of his diamond midfield. The Dallas manager settled on two candidates, Ferreira and Fluminense attacking midfielder Dario Conca. Hyndman went down to Brazil with the intention of making an offer to both players "to see who would bite." As it turned out CAP and FC Dallas already had a partnership agreement in place, and that eased the way for a loan deal for Ferreira.
That left the Colombian in his initial quandary early in 2009, although Hyndman is the first to point out that his midfielder wasn't the only one learning the ins and outs of MLS. Hyndman himself was less than a year into professional coaching after having worked in the collegiate ranks for more than three decades.
"Not everyone had bought into Schellas Hyndman," said the Dallas manager. "If I said pass the ball to the right, they'd pass the ball to the left. If I said pass the ball to David Ferreira, then the guys would pass the ball to someone else. It was an adjustment for David, it was an adjustment for me being new to the league, and it was an adjustment for the players that were here."
But adjust they did, and if there was one turning point during Ferreira's inaugural season, it was Hyndman's decision to junk his preferred 4-4-2 for a 4-1-4-1 that had the attacker operating between the midfield and the lone striker.
"The change in formation suits Ferreira's game better," said Houston Dynamo head coach Dominic Kinnear. "It gives him a little bit more freedom to find pockets. And he's more elusive because he plays in that unknown area.
"When the ball turns over, he always receives the ball correctly," Kinnear added. "You rarely see him take the ball back to where it came from. His awareness of where the ball should continue to go is pretty sharp. And he doesn't waste the ball. I don't know what his possession percentage is, but I'd say it's very high. And most of the time when he does play it, he's bringing other people into the attack."
While Ferreira's voracious appetite for work, as well as the addition of players like Daniel Hernandez, helped him in those difficult times, his game has thrived ever since the change in playing formation. He nearly led Dallas to an improbable spot in the playoffs last season. In 2010, the team overcame another sluggish start to finish tied for the fourth-best record in MLS, notching a league-record 19-game unbeaten streak in the process. And what initially irritated Ferreira about playing in the U.S. has now become something he admires.
"Here in MLS, the ball is always going forward with a lot of intensity and rhythm," Ferreira said. "That caught my attention and I like it a lot. Working hard every day in practice gives you the strength to keep up with the intensity of the league."
"I knew Ferreira quite well, but he has really surpassed my expectations of what he would be able to do for FC Dallas," Hyndman said. "I knew he could hold the ball, I knew he could do a lot of things, but I didn't know he would be that much of a difference-maker. And I didn't know he would be so competitive. Every game, every training, he gives 100 percent."
Ferreira will need to be at his peak against an L.A. side featuring the tibia-rattling duo of Juninho and Dema Kovalenko. Kovalenko, in particular, can be expected to give Ferreira his own brand of special attention. The Dallas midfielder insists he's ready.
"They are really solid and smart," Ferreira said about Juninho and Kovalenko. "They will try to not give any space, but I'll try to move around them and take advantage of the little space they do give me and maximize that opportunity. I know I will have a really intense mark on me, but I'll try what I've been doing all season long, which is helping the team to win. I'm not saying it will be easy. It is going to be a hard game."
Win or lose, Ferreira knows that his decision to come to MLS has been the right one.
Jeff Carlisle covers MLS and the U.S. national team for ESPNsoccernet. He is also the author of "Soccer's Most Wanted II: The Top 10 Book of More Glorious Goals, Superb Saves and Fantastic Free-Kicks." He can be reached at eljefe1@yahoo.com.
Soccer
Jeff Carlisle covers MLS and the U.S. national team for ESPN FC.
MOST SENT STORIES ON ESPN.COM