Commentary
Keeping it simple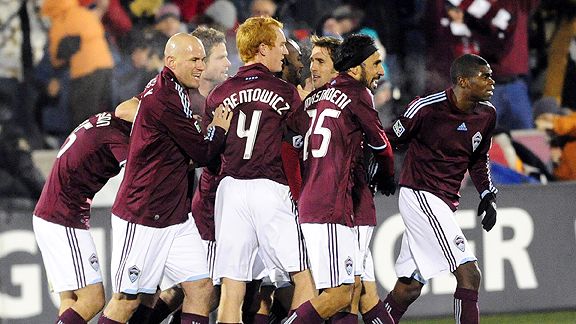 Byron Hetzler/US PresswireThe Colorado Rapids defeated the San Jose Earthquakes to reach the MLS Cup final.
COMMERCE CITY, Colo. -- For the most part, Gary Smith just stood there, hands tucked into the pockets of his thick Rapids coat, as close to the playing field as the chalk barrier permitted. Every now and then he waved or pointed. Rarely did Colorado's head coach resort to the use of his booming voice. There was no need, after all.
In the bitter mid-20s, with the wind tearing over the Rocky Mountains and into the valley, Smith's Rapids were a paradigm of organization. They took apart the San Jose Earthquakes, which had been the postseason's Cinderella story, in a 1-0 win to reach the MLS Cup final in Toronto.
When Smith, an Englishman who spent his playing career with Fulham, took over the last-place Rapids from Fernando Clavijo in the middle of the 2008 season (first as an interim; then full-time as of the 2009 season), he set out to do a few simple things: to improve morale, to get players to reach their potential, to sharpen the team's organization.
"The guys were low on confidence, but there were good players in the group," said Smith on Saturday. "The first challenge was to really get the guys back on track and to get them back into that mindset of believing in themselves again."
The charming former midfield bruiser succeeded, integrating himself and his staff into the group, like a true players' manager. "He's got everybody on the same page and everybody confident," said striker Conor Casey, who joined the club in 2007. "That goes a long way."
With morale at a high, Smith set about helping his players improve at their respective positions, suggesting that they train individually and outside of team training hours. The players bought into this culture change, most notably exemplified by the rise of home-grown draftees such as striker Omar Cummings and wing back Kosuke Kimura, who scored the winner Saturday night.
"He brought his own philosophy and he has a good way of articulating his philosophy in a way that makes sense to the players," said club captain Pablo Mastroeni. "Everyone believes in his way of thinking."
Smith doled out very specific task lists in his classic English basic 4-4-2, forgoing the complicated instructions most modern coaches insist on.
"He's really specific in what he wants from each individual player," said Mastroeni, who has been on the Rapids since 2002. "Going into every game, every player knows what's expected of him. He has an individual philosophy for each player in each position and then he has a collective team philosophy."
That was especially evident last night, when every player focused on a simple task: Casey was the target man; Cummings played off the last defender's shoulder; midfielder Brian Mullan was largely responsible for sending through balls; Mastroeni and Jeff Larentowicz held the midfield and distributed short passes. This allowed the speedy Rapids to play circles around the Earthquakes and create far more chances with their quick, crisp ball movement than the one goal suggests.
It all boiled down to simple things that have become increasingly rare as soccer has become more sophisticated. That the beautiful game is also the simplest of games is often lost on managers, who are keen on outwitting the competition with crafty formations.
"This group works hard, every day they train hard," said Smith. "They condition themselves mentally and physically every day of the week, and when they come out and play, they've got a good understanding of what's expected of them and they've got a great physical capability of achieving that as well. That's it. Football's a simple game."
"You can blind yourself with science," said Smith's right-hand man, Steve Guppy, "but it really is quite a simple game. If you stick to your task and do your job, you can turn out some nice soccer."
Smith has a saying scribbled on a blackboard in his office: "Live simply, do more, expect less."
Regardless of who they play in next Sunday's MLS Cup final, expecting less might be difficult for this Rapids team. It's that simple.
Leander Schaerlaeckens is a soccer writer for ESPN.com. He can be reached at leander.espn@gmail.com.

Contributing writer, ESPN.com
Leander Schaerlaeckens is a contributing writer for ESPN.com. He has previously written for The Guardian, The Washington Times and UPI.