Alex Morgan scores for U.S.
Updated:
November 20, 2010, 4:30 PM ET
Associated Press
PADUA, Italy -- Alex Morgan is the new clutch scorer for the U.S. women's soccer team.
Morgan came off the bench and scored in the fourth minute of added time Saturday to give the United States a 1-0 victory over Italy in the first leg of a playoff to determine the final spot for the Women's World Cup.
At 21, the youngest member of the U.S. team, Morgan showed steely nerves by finishing off a counterattack with a precise, angled shot from the edge of the box.
"We've seen her come in and change games before and the only thing I told her was 'Just go to goal," said U.S. coach Pia Sundhage, who sent in Morgan at the 85th minute. "You don't have to be tricky, you don't have to be smart, just go to goal, because you're faster than everybody else."
The Americans were forced into the playoff when they were upset 2-1 by Mexico in the semifinals of their qualifying region. The U.S. and Italy will play again Nov. 27 near Chicago in Bridgeview, Ill.
[+] Enlarge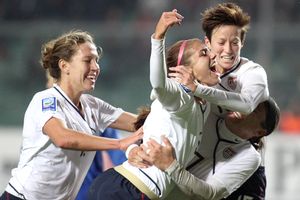 AP Photo/Felice CalabroAlex Morgan, center, came on as a second-half sub and scored in the fourth minute of added time.
The top-ranked Americans need to beat the 11th-ranked Italians in the two match total-goals series to gain the final berth in the 16-team World Cup, which begins June 26 in Germany. The U.S. won the 1991 and 1999 World Cups.
Morgan said it was the biggest goal of her career, but late scores are nothing new for her.
She came off the bench to score a late goal and salvage a 1-1 draw with China last month for her first international goal.
At the 2008 under-20 Women's World Cup, Morgan's fourth goal of the tournament was a match-winner that gave the U.S. a gold medal. And as a junior at the University of California last season, she registered three game-winning goals.
This was her fourth goal in eight appearances for the senior national squad.
"We were pushing up and looking for a goal and that's what we did," Morgan said. "Me and Abby [Wambach] stayed up, she got a great long ball, flicked it on and I was there to finish it."
Using their advantage in physical stature, the top-ranked Americans threatened throughout but had trouble finding the target against the Azzurre's well-organized defense.
In the final 10 minutes, Italy defenders cleared four shots off the line with their goalkeeper out of position.
"Even before they scored, we could have very well allowed a goal in the previous five minutes," Italy coach Pietro Ghedin said. "We didn't have any strength left and fatigue led to that goal."
Italy is hoping to have key forward Melania Gabbiadini back from an ankle injury for the second leg Nov. 27 in Bridgeview, Ill.
"We're not defeated. We lost today but we honored our jersey," Ghedin said.
Sundhage wanted to bring on Morgan earlier, but she grew cautious after she had to take out right back Heather Mitts in the 75th because of cramps, leaving only one more substitution.
"We were waiting and waiting and the bench said, 'What the heck, let's do it,' " Sundhage said.
For the past month, Morgan has been traveling between her team at California and the U.S. squad. She played the final game of her college career with Cal last weekend.
"I've been transitioning for the last year, but this is where I wanted to get and this is where I am now, so I look forward to staying with the national team for many years," she said.
Morgan's stock for January's Women's Professional Soccer League draft surely is rising fast.
"I hope so," she said. "I'm looking forward to it."
The match was played before about 5,000 fans on a gray and damp afternoon at the 30,000-seat Stadio Euganeo, with a small, but loud group of American fans from a nearby military base waving flags and shouting "USA, USA."
Italian fans disrupted the match by setting off sporadic firecrackers.
Giancarlo Padovan, the head of Italy's delegation and the president of the Italian women's league, called the qualifying process "scandalous."
"In Europe, qualifying is spread over two years and Italy has played 16 matches and three playoffs -- this is the fourth -- whereas CONCACAF qualifying is held over 12 days with two groups of four teams each," Padovan said. "We saw tonight that the level of play is not so dramatically different between the two regions, yet the qualifying is not balanced."

Copyright 2010 by The Associated Press
MOST SENT STORIES ON ESPN.COM