Commentary
FC Dallas' master tactician
Updated:
November 21, 2010, 7:56 PM ET
By
Jeff Carlisle
| ESPN.com
TORONTO -- November usually isn't the time of year for a coach to throw out a tactical wrinkle. It's a time when a team's identity has long since been forged, and the impulse to avoid tweaking what isn't broken is strong.
That didn't stop FC Dallas head coach Schellas Hyndman from modifying his approach during last week's Western Conference final against Los Angeles. The FCD manager surprised many by playing nominal midfielder Atiba Harris in the lone striker role instead of Jeff Cunningham, who is currently the league's second most prolific goal scorer of all time. And while it was initially thought that Dallas would miss the threat of Cunningham's speed, the strength and athleticism of Harris proved to be a vital component of Dallas' attack in combating L.A.'s hulking center back Omar Gonzalez.
"L.A. brought certain problems to us that we had to adjust to, and we knew if we waited until halftime it would be too late," Hyndman said.
So will Hyndman tweak things against Colorado? The Rapids certainly offer a different kind of challenge in the back than L.A. did. While less physically imposing, they have more speed through Marvell Wynne. Wynne's backline partner, Drew Moor, is a highly underrated performer who is solid in his defending and plenty capable of initiating the attack. Yet Hyndman didn't sound like a coach intending on changing things this time.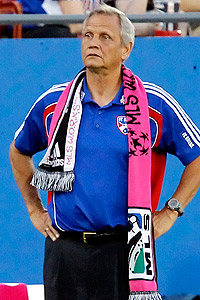 Brandon Wade/Getty ImagesFC Dallas head coach Schellas Hyndman isn't afraid to tinker with a winning formula.
"I don't think there is going to be that many surprises that's really available for us," Hyndman said. "That game against L.A. was probably the best game of the season for us, so when you finally get it right you don't want to be tinkering with it too much. I think one of the problems coaches have in general is they overthink and overact and sometimes you forget that it's really the players' game. You put the players on the field that you think are the best at the time and let them carry it on. I've seen a lot of times, myself included, where we tinkered with things and it only made it worse. So I don't think there will be too many changes."
For his part, Harris praised Hyndman for creating an atmosphere within the team that enables players to thrive in different roles.
"It all starts with Schellas," Harris said. "He instills discipline in the whole squad, and anyone can step in at any moment and contribute. We all know what we need to do. Every player knows what he needs to do in every position."
As for where he prefers to line up on the field, Harris added: "It doesn't matter. I just love being on the field. I'm a soccer player, and that's what I want to do -- play."
Will he line up at forward on Sunday? "That's up to the coach," Harris said with a laugh. "You'll see."
One for the thumb: "I don't like jewelry," joked Colorado midfielder Brian Mullan following Saturday's workout. But his aversion to bling notwithstanding, the 10-year veteran has an opportunity to join a select group on Sunday. If the Rapids emerge victorious, it will mark the fifth MLS Cup victory for Mullan, and the acquisition of another ostentatious championship ring. He'd join former San Jose teammate Jeff Agoos as the only players to have won that many league titles.
"It would be a great honor," he said about joining Agoos. "It's been great playing the games and being part of the teams that have made it there. It would be very special this first year in Colorado to have that experience as well."
Mullan was acquired just before the trade deadline from the Houston Dynamo, and while he stated that it felt "weird" not being with the group of players that won three championships in both San Jose and Houston, he also said his transition in Colorado has been easier than he originally thought.
"These guys have been great, Gary [Smith] has been great and it's been easy to fit into the system," Mullan said. "The attacking soccer that they play here, I feel it's been great for me."
The fact he sees some similarities between those teams and the Rapids has helped the acclimatization process as well.
"The team's very hard-working, like the [championship] teams in the past have been," Mullan said. "That just leads to good things when everyone is working hard behind the ball and creating things attacking-wise."
Old comrades are now enemies: A quick perusal of the rosters reveals a fair amount of cross-pollination between the two sides. For Colorado, Drew Moor and Anthony Wallace spent time in Dallas. Conversely, Ugo Ihemelu used to be on Colorado's books. But the respective histories of Colorado midfielder Jeff Larentowicz and Dallas counterpart Daniel Hernandez run even deeper. Not only are they former teammates, but both have made it to multiple MLS Cup finals without tasting victory.
The two combative midfielders were with the New England Revolution during the club's heyday years ago. Hernandez played in both the 2005 and 2006 MLS Cup finals, losing to Los Angeles and Houston. (He was also on the losing side in 2002.) Larentowicz was a reserve on both of those teams, and took Hernandez's spot in the lineup when he was waived during the 2007 season.
"He's a great player, he makes great tackles, he never stops working," said Hernandez about Larentowicz. "He's a very physical player."
Larentowicz said that he learned a great deal in his early years in the league watching how Hernandez and Shalrie Joseph went about their business. But his focus is now on Sunday's game, and he said his determination "is enhanced by the fact that I've lost three already, no doubt."
The same goes for Hernandez, who created something of a stir after the Western Conference final win over Los Angeles by saying that he thought that game "was the championship," a comment that didn't impress Larentowicz. "If that's the way [Hernandez] feels, that's the way he feels," he said. "But we'll be here [Sunday] so they have to play us, too."
Jeff Carlisle covers MLS and the U.S. national team for ESPN.com. He is also the author of "Soccer's Most Wanted II: The Top 10 Book of More Glorious Goals, Superb Saves and Fantastic Free-Kicks." He can be reached at eljefe1@yahoo.com.
Soccer
Jeff Carlisle covers MLS and the U.S. national team for ESPN FC.
MOST SENT STORIES ON ESPN.COM