Commentary
The Berb-a-nator
Updated:
November 29, 2010, 1:43 PM ET
By
David Hirshey
| Special to ESPN.com
OK, let's not get carried away. Dimitar Berbatov is never going to score five goals again, in part because Manchester United doesn't play Blackburn every week. And also because the mercurial striker's history tends to consist of one glorious masterpiece (remember his overhead kick-fueled hat trick against Liverpool -- in September) followed by five or six weeks during which you don't even know he's on the field, unless you're listening closely to manager Sir Alex Ferguson screaming from the touchline, "Move your slow Bulgarian butt, you useless waste of 31 million pounds!" Or something to that effect.
The point is -- and I say this as a longtime admirer of The Brilliantly Intermittent One -- Berbatov is what you would generously call a streak player. When he's in full cry, there may be no deadlier finisher in the world. But these scorching runs are frequently overshadowed by winter-long stretches when Berbs goes into hibernation and displays all of the urgency of a man sporting a smoking jacket and velvet slippers.
No one, not even Sir Alex, knows from match to match which baffling Bulgarian will show up -- the majestic ball wizard with a ruthless cutting edge or his evil twin, the rumored majestic ball wizard, for whom anything more than the occasional half-hearted backheel or nutmeg is simply too much exertion to bear. It's why last week, instead of kicking the metaphorical boot at Berbs' head, the United manager resorted to the old psychological gambit of blaming himself for Berba's loss of form. Ferguson told the English press that by interchanging his strikers so often, he has affected their "consistency of performance."
Of course, Ol' Strawberry Nose could afford to be altruistic because he knew he had Wayne Rooney back to partner Berbatov in a Prem game for the first time in nearly two months. During Rooney's prolonged absence, Berbatov was forced to be the focal point of United's attack but struggled to find the net without a GPS. On Saturday, with the newly contrite Rooney (hey Wazza, thanks for apologizing to the fans for your contract hissy fit, but did your agent really need six weeks to come up with the words "I'm sorry?") playing alongside him, Berbatov was comfortable enough once again to be his technically immaculate, goal-poaching self.
[+] Enlarge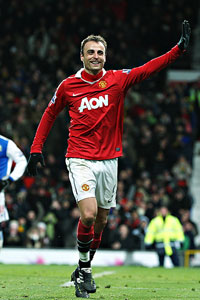 John Peters/Getty ImagesDimitar Berbatov tops the Prem with 11 goals.
The result was a 7-1 dismantling of Blackburn that vaulted United into sole possession of first place as Chelsea continued its November fall from grace (1 point in the past three games) with a 1-1 draw against Newcastle, a score line that was matched by the other Prem team in Manchester against the toughest of nuts, Stoke City.
Does this mean that we should cede front-runner status to United on the strength of a performance so dominant that in addition to Berbatov's goal haul, Rooney seemed to morph into a stocky version of Xavi, and a rampant Nani looked like he should be short-listed for the Ballon d'Or?
I think the Red Devils should give themselves at least a couple more games before engraving their names on the trophy -- those seven draws in 15 games are not quite title-worthy, unbeaten or not -- but Saturday was certainly an ominous harbinger of how truly frightening United can be when the attacking troika of Nani/Rooney/Berbatov are in sync.
True, Blackburn, recently purchased by an Indian poultry magnate, put in -- please pardon the expression -- a fowl display of epic proportions. United scored 7, and the fact that not one of them came from Rooney is both ironic and worrisome to the rest of the EPL. But the part of Saturday's highlight reel that will no doubt keep Ancelotti, Wenger and Mancini up at night was the third United goal, an instant classic imagined, created and finished by Berbatov with a little help from his friends.
It began in the United end with an insouciant backheel from Berbatov to Patrice Evra, who returned it to the Bulgarian in enough space for him to launch a 30 yard cross-field pass to an open Nani on the right flank. In a blur of movement, the Portuguese winger controlled the ball, pushed it past a gloriously oblivious Pascal Chimbonda, and cut it back to an onrushing Berbatov to side-foot home. And if the Chelsea, Arsenal and City managers have the stomach to watch more, they should check out the 1-2, 1-2, 1-2, that Rooney and Berbatov performed in the box as if they were the only two players on the field. Yes, it would be more memorable if the fourth 1-2 had resulted in a goal rather than an interception, but as a piece of slick interplay, it was right up there with the great Brazilian strike tandem of the 1990s, Romario and Bebeto, or closer to home, the irrepressible partnership of United's Andy Cole and Dwight Yorke.
David Hirshey

For more from David Hirshey, check out his columns on all things soccer.
• The All-EPL Team, 2011-12
• Saying goodbye to Chinaglia
• Time to dethrone King Kenny Dalglish?
• In praise of Fulham
• The comeback artists
• Call it a comeback
• Death by Manchester
• The battle for third
• Spurs' title credentials
• EPL's best starting XI
• City handed first EPL loss
• Chelsea pushed to brink
• Fragile egos crossing
• City and United
• Is Newcastle for real?
• The bad-behavior derby
It's no revelation that Berbatov possesses incandescent skills -- just ask West Ham fans about that assist in 2008 -- it's just anybody's guess as to when he chooses to showcase them. Some would call his style "languid" (admit it, is there a soccer commentator alive who hasn't used the L-word when referring to Berbs?). And when things aren't going well, like during his recent 10-game scoreless slump, he's also Randy Moss-like "sullen."
Granted, Berbs doesn't play with an infectious Messi-esque smile on his face, but that has more to do with the weight of expectation he feels as United's most expensive player in history. Even when he was lighting up the Prem in late September with seven goals in six games, he confessed to bouts of self-doubt. "You start to underestimate your skill, which is not good because I know what I can do, " he told reporters. "But every player has periods like this in their careers, and the main thing to learn is to stay strong because you are going to have these dark moments and you need to be strong to get through them."
There have many false Prem dawns for the Bulgarian, but five goals is five goals, and I don't care if you score them in U-11 AYSO (a trick that I managed, by the way) or even against Blackburn, attention must still be paid. Languidly, of course.
David Hirshey has been covering soccer for more than 30 years and has written about the sport for The New York Times, Time, ESPN The Magazine and Deadspin. He is the co-author of "The ESPN World Cup Companion" and played himself (almost convincingly) in the acclaimed soccer documentary "Once in a Lifetime."
MOST SENT STORIES ON ESPN.COM