Commentary
What's ailing the Villains?
Updated:
December 9, 2010, 8:08 AM ET
By
Michael Cox
| Special to ESPN.com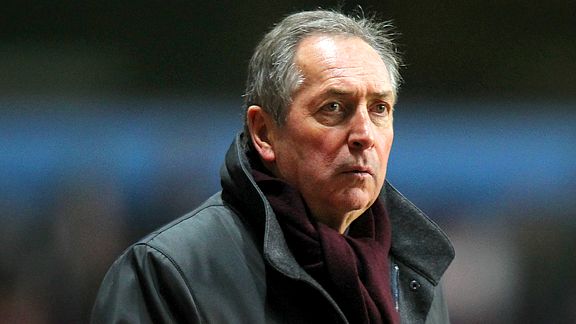 AP PhotoWith his club just two places above the relegation zone, Gerard Houllier has a tough job heading into the second half of the season.
Aston Villa has won just one of its past nine league games -- and that lone victory was against a second-string Blackpool side. Couple this with a Carling Cup exit to fierce rival Birmingham, and it's been a poor couple of months for Villa. Here are five reasons it's going all wrong for Villa:
1. Formation isn't working
Martin O'Neill, who left just before the season started, was a strict advocate of 4-4-2. That system worked well for Villa, because it meant Gabriel Agbonlahor's pace was complemented with the strength of either John Carew or Emile Heskey. The move toward a 4-4-1-1 (or 4-2-3-1) shape under caretaker manager Kevin MacDonald and now permanent boss Gerard Houllier means a Hobson's choice between a speedy striker who can get in behind defenses, and a strong striker to hold the ball up. Agbonlahor was Villa's top scorer last season and therefore is difficult to leave out, but considering Villa uses two wingers who like crossing the ball -- Stewart Downing and Marc Albrighton -- it's more useful to have an aerial threat in the box. When Agbonlahor played alone up front against Liverpool on Monday, just one of 14 attempted crosses was successful.
2. Young's role still isn't settled
In theory, Houllier could use one of his strikers deeper than the other, and still broadly maintain the 4-4-1-1 system he favors. However, he is keen to deploy Ashley Young in the role behind the main forward, despite Young having spent the majority of his career on the flank. When asked earlier this season whether Young could become one of the world's best, Houllier told the English press: "As a left-winger? No. He can play on the wing. Whether he can be one of the best in the world in that position … I think he can be one of the best in another position." That presumably means in the center, supposedly the role Young prefers, but his performances have not been particularly convincing, and he carries little goal threat, having failed to score a league goal in open play so far this season.
3. Ireland failing to fit in
The knock-on effect of playing Young in a central attacking role is that it forces Stephen Ireland into a deeper position. Ireland complained about not being used as an attacking midfielder at his previous club, Manchester City, blasting former manager Mark Hughes. "The last six months under Mark Hughes was very frustrating for me," he told reporters. "I was being played out of position. Maybe as a holding midfielder, left wing, right wing. It's not me … If you want the best out of me you have to play me in my best position. Then I can be myself because the chains are off."
If Young is being used as the central playmaker, it seems Ireland is likely to find himself back as a holding midfielder, or at least in a deeper role where he will be shackled with more defensive responsibilities. Villa's injury crisis -- with Stiliyan Petrov, Nigel Reo-Coker and Steve Sidwell all out -- isn't helping matters.
[+] Enlarge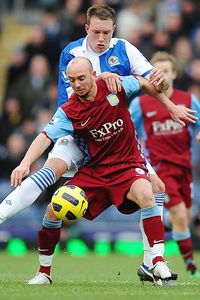 Laurence Griffiths/Getty ImagesStephen Ireland has been stuck in a deeper position, which doesn't suit his playing style.
4. Lack of cohesion
Against Liverpool on Monday, there was a worrying lack of cohesion and clear tactical objective. When Villa didn't have the ball, the players weren't sure whether they were pressing high up the pitch or sitting deep and trying to prevent the opposition from playing through them. The result was a half-hearted closing down approach that gave Liverpool time on the ball to loft passes over the top of the Villa defense, which in turn was too high up the pitch. When Villa did have possession, it struggled to move the ball forward from defense. Ireland moved into deeper positions and, as a result, Agbonlahor didn't have enough support. And the wingers' crosses were unsuccessful.
5. Players in slumps
Some players are going through a very poor run of form. Ireland has been completely unable to dominate games the way he frequently did at Manchester City. Richard Dunne, named in the PFA team of the year for 2009-2010, looks out of shape, error-prone and was uncomfortable with the high line Villa used at Anfield. It is Stephen Warnock, however, a member of England's World Cup squad, who is going through the most worrying dip in performance. He has collected more bookings than any other player in the Premier League because of his tendency to dive into tackles, and he was partly responsible for Liverpool's first two goals on Monday. He first gave away possession and conceded a cheap corner, and later he appealed for offside call rather than get tighter to Ryan Babel, who scored the second tally. It is no wonder Houllier told the press this week that he was concerned about Villa's form -- having finished six points off a Champions League place last season, the club is now just two places above the relegation zone.
Michael Cox is a freelance writer for ESPN.com. He also runs zonalmarking.net.
SPONSORED HEADLINES
MORE SPORTS HEADLINES
MOST SENT STORIES ON ESPN.COM