Commentary
The price of success
Updated:
December 20, 2010, 3:03 PM ET
By
Graham Hunter
| Special to ESPN.com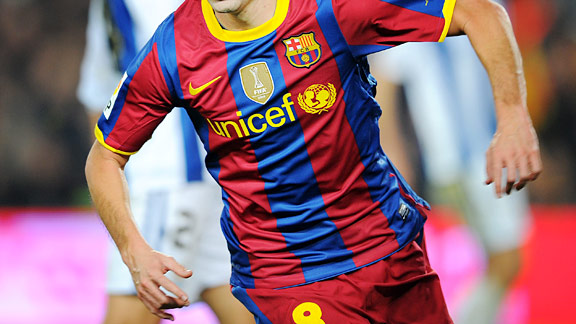 Lluis Gene/AFP/Getty ImagesBarcelona has ended its 111 years of tradition by selling its shirt sponsorship rights to the Qatar Foundation.
Until Monday afternoon there were three truly unique clubs in La Liga. Now there are two.
The trio comprised of Real Madrid, with its nine European Cup victories, an unparalleled achievement; Athletic Bilbao, which signs players only born or raised in the Basque region of Spain; and Barcelona, which has refused to take money to display a sponsor's logo on the team's shirts.
In fact, Barca was the only major soccer team to refuse to sell that real estate for financial gain. No more. Earlier this month, the club ended its 111 years of tradition by selling its shirt sponsorship rights.
During the past five years, Barca paid UNICEF to carry the children's charity logo. Now it will accept money -- 150 million euros over five years -- from the Qatar Foundation, making it the largest sponsorship in football. Barca will receive 30 million euros per season starting in 2011-12 from the nonprofit organization, which is located in the country where the 2022 World Cup will be played.
If Barcelona has refused to cash in over the years, you could easily argue that the Catalan club has voluntarily left itself out of pocket by several hundred million euros to support a point of pride and principle.
Coincidentally, several hundred million euros is about the equivalent of FC Barcelona's current global debt. Imagine seeing minus 600 million at the bottom of your bank account. It's not just a figure on a piece of paper, but a petrifying sum for any club to owe its creditors.
But the issue of how to "keep paying the bills," as Barca's new president Sandro Rosell put it when announcing the historic agreement, is not the only poisoned chalice for the club. No sooner had news of the deal leaked out that it was clear Pandora's Box had been opened.
Barca's new sponsor has been linked with the work of a Muslim cleric Yusuf al-Qaradawi, who has voiced anti-Semitic and anti-Western propaganda, and who is banned from entering the U.K. But despite his views, the Qatar Foundation -- an organization with a stated mission of fostering education, scientific research and community development -- has named a scholarship and school after al-Qaradawi.
"El Pais" is quoting Ma'ariv, an Israeli newspaper, saying that the Israeli government is pressuring Barcelona to dissolve its agreement to sponsor the Qatar Foundation. "Israel is basing its pressure on the fact that, according to its espionage services, Qatar Foundation constitutes one of the principle sources of financing of Hamas, an Islamic organization that governs in Gaza and promotes terrorism in the United States and the EU."
No matter the club's debt, no matter the quality of work the Qatar Foundation undertakes in other areas, and no matter the ways in which such a small part of the new sponsor's investments can be marginalized, FC Barcelona has committed an unjustifiable act. It should have unequivocally stated that it would accept the sponsorship only if this man was disowned.
The cleric is entitled to his views in a free-speech world, but in my opinion no person or organization should come within light-years of endorsing them. How could Barca accept the deal without doing the due diligence?
Barcelona president Sandro Rosell directly responded to the criticisms. "The work of Yusuf al-Qaradawi has nothing to do with us or the sponsorship," he told Al Jazeera. "I am convinced that everything the Qatar Foundation has done has been in good faith. If there has been a misstep, then that can happen to anyone. But the important thing is that the original intention was in good faith. In every decision that a club such as Barca takes there will always be people who disagree … But I think the immense majority of our members have been pleased with the addition of Qatar Foundation to UNICEF on our shirts."
On a far lesser but nevertheless damaging scale, the club's legendary former player and manager, Johan Cruyff, has blasted the endorsement deal. In his weekly column El Periodico de Catalunya, he wrote, "We have sold this uniqueness for about six per cent of our budget. I understand that we are currently losing more than we are earning. However, by selling the shirt it shows me that we are not being creative, and that we have become vulgar."
The brilliant Dutchman -- easily my favorite all-time player until Lionel Messi happened along -- simply cannot stand president Rosell and will vehemently oppose almost any initiative he introduces. If Rosell said grass was green, Cruyff would happily and robustly argue that it was silver, woven by pixies and a poorer playing surface than hot coals.
Cruyff's attack on the sponsorship has opened a wound, divided the "socios" (FCB members who own the club) and threatened to undermine the team's progress.
Again, free speech … bravo! But there are consequences to keep in mind.
Price of success
Meanwhile, Athletic Bilbao soldiers on. Its jersey sponsorship was a dark battle, too. The club needed money, the fans hated the idea of a logo on that beautiful red-and-white striped top, but settled for a Basque oil company paying 2 million euros per season from 2008.
I also admire, though have never fully supported, the club's Basque-only signing policy. It's romantic, but nothing is more romantic than winning trophies. It brings pride, but so does lifting the European Cup. It gives Athletic a unique identity, but is being unique better or worse than being the best?
I don't have the answer. But watching Athletic Bilbao's back-from-the-dead victory over Espanyol on Dec. 12 while chewing on the dark news from Barcelona's choice of sponsor, I had an epiphany.
Athletic's San Mames stadium was full to the seams and roared Los Leones back into the match and eventually to victory. As Fernando Llorente (born in Navarro, which the Basques claim is theirs) headed home the equalizer and David Lopez scored an utterly fabulous goal, the hair on the back of my neck stood up. I couldn't help but marvel at the raw, hungry pride and joy of the Bilbao Basques after they defeated a team effectively named "Spanish."
I continue to think that Barca's position of insisting on a specific (and wonderful) football philosophy, rather than mandating that all their players be born within a specific territory, is the sensible way forward for Athletic, too. But I am going to back away from the argument and, quietly, give them more respect for the moment, as Barca contemplate what it has done.
Graham Hunter is a Barcelona-based freelance writer for ESPN.com who specializes in La Liga and the Spanish national team. You can reach him on Twitter at twitter.com/BumperGraham.
ESPN.com freelance columnist
Graham Hunter is a Barcelona-based freelance writer for ESPN.com who specializes in La Liga and the Spanish national team.
MOST SENT STORIES ON ESPN.COM