Commentary
The midterm grades are in
Updated:
December 20, 2010, 5:19 PM ET
By
David Hirshey
| Special to ESPN.com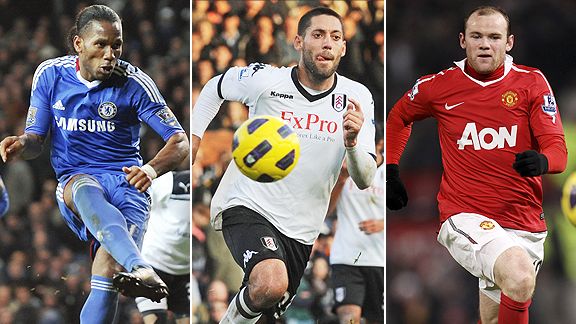 Getty ImagesIs it parity in the EPL this season or just mediocrity? We hand out the midterm report cards.
With the snow dropping faster than Uncle Roy Hodgson's job security, nearly all of this past weekend's EPL matches were postponed. So what better time for Headmaster "Hardline" Hirshey to offer midterm grades for 10 of the league's most headline-grabbing teams?
Unlike previous seasons that saw the perennial Big Four feasting on the carcasses of the lower-ranking herbivores in the EPL food chain, this year we're looking at a league that trades heavily in parity among carnivores. Last season's top three already have lost nine games and drawn 13 and are almost certainly trending to 2009-10's 22 defeats and 15 draws. Teams not named Manchester City are spending less, watching costs and looking to jettison anything that resembles Emmanuel Adebayor. Even preposterously wealthy Chelsea has invested in building from within. The result is topsy-turvy lunacy on a weekly basis. You might beat the Blues one week and lose to Stoke City the next.
So rather than resort to a Ouija board, the Headmaster has decided to compare this year's squads to their form from last season, when the EPL was a more predictable but less fun playground.
Arsenal (last season: 3rd; this season 2nd)
To love the Gunners is to love the bunny-in-the-pot crazy girlfriend. When she's on her meds, there's nothing quite like it, but when she goes off the rails, hide the pets. If there were a trophy for maddening inconsistency for the first half of the season, Arsenal would win it hands down.
Dominate against Man City but be hapless against United. Blow through the early Champions League games only to tank two of the last three group matches and thus draw their bête noire, Barcelona. While Samir Nasri has thrived in the void left by Cesc Fabregas' injuries and indifferent form, this coquettish tease has to end sometime. Arsene Wenger's "Project Runway" aesthetic is to be applauded, but the Gunners' style of play can only take them so far. It's been five years since Arsenal has won anything other than a free bottle of Beaujolais, and Wenger is determined to stop the drought this season, although there's no word on whether he'll open his wallet to do so. However, history teaches harsh lessons about asking the French to defend, and don't even get me started on the goalkeepers.
Grade: B
Blackpool (last season: 6th in League Championship; this season 10th in EPL)
No sooner did they win the right to play in England's topflight than the experts began proclaiming the Tangerines were a lock to shatter Derby County's league record for futility. As 2010 comes to a close, you can absolutely forgive the endlessly entertaining Ian Holloway for smirking ever so slightly as his team makes a mockery of the form sheets, not to mention some of the league's ruling bodies.
With arguably only one player -- Scottish midfield general Charlie Adam -- who could start for any of the top teams and a motley assortment of unathletic-looking grafters, Holloway's men have been playing some of the most carefree, spirited soccer seen around the league this season. It's partly a testament to the removal of the weight of expectations (Wigan and West Ham are currently crippled by those), but it's also a credit to Holloway's fearless, attack-minded formations. The Tangerines fly around the field like 10 mad men with nothing to lose.
It's a joy to behold, and let's hope they stay up because the EPL is better off for it.
Grade: B+
Chelsea (last season: 1st; this season 4th)
Life with Roman isn't good for your mental health unless you are a sultry Russian babe who likes art, yachts and the occasional romp on a private island named Abramovich. Carlo Ancelotti won the Double in his first season at the Bridge, but this year he's had to endure injuries to almost his entire starting defense as well as his talismanic leader Frank Lampard, and even Didier Drogba's monthlong bout with malaria. After his self-described "PlayStation Football" start to the campaign, Florent Malouda has disappeared. Salomon Kalou looks even more lost than usual and Ramires is the willow in the wind. Only Petr Cech and Ashley Cole have come close to displaying their usual form.
A five-game winless streak (three draws, two losses) and tabloid rumors that Abramovich is about to string up the genial Ancelotti by his salt-and-pepper eyebrows almost certainly has the Chelsea manager's blood pressure at dangerously high levels. And yet just when the jackals were circling, the Blues staged an impressive second half comeback against Spurs at White Hart Lane on Dec. 12 that reminded everyone that Chelsea still possesses the resilience and talent to reclaim its EPL alpha dog status.
Grade: B
[+] Enlarge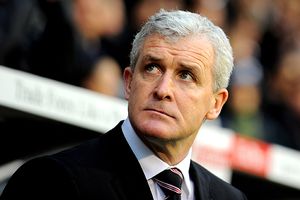 Clive Mason/Getty ImagesMark Hughes' Fulham could be in for a relegation scrap.
Fulham (last season: 12th; this season: 17th)
In his three-and-a-half seasons in the Prem, Clint Dempsey has proved that he's not about to back down from a challenge whether his antagonist be John Terry, Michael Essien or most recently Nasri, who got up in Deuce's face after a hard tackle in Fulham's 2-1 loss to Arsenal.
But is Dempsey ready for a relegation dogfight again? The Pride of Nacogdoches saved Fulham from the drop in 2007 with a winning goal against Liverpool, but the Cottagers appear destined for yet another scrap this season. And to think that things started so brightly when Mark Hughes arrived at Craven Cottage to replace the departing miracle worker Roy Hodgson, who had taken them to the brink of a Europa League title, thanks in part to Dempsey's wonder goal against Juventus.
Say what you want about Uncle Roy's cautious, rigid tactics, but they seemed to bring out the best in Fulham's overachievers, whose inexhaustible work rate and fighting spirit compensated for a dearth of skill and pace. Meanwhile, the combative Hughes, whose previous job had involved deciding which world-class multimillionaire to pencil into his starting lineup at Man City, has been slow to adjust to the collection of grafters he's inherited.
Add to that a succession of injuries to key players (forward Bobby Zamora has been out since September) and an attacking slackness (Dempsey is the team's leading scorer with five goals), and the danger of the drop is palpable. I'm betting that their Dempsey-led resilience will save the Cottagers in the end, provided that a desperate Hodgson doesn't lure him to Liverpool to rescue the Reds instead.
Grade: D
Liverpool (last season: 7th; this season 9th)
Unlike Blackpool, the Reds of Liverpool are so lumbered with expectations, it's amazing that their spines don't liquefy from the crushing pressure. There's no one reason for their precipitous decline. Is it the brutal, now mercifully ended, Hicks and Gillett ownership abattoir? What about Hodgson's paralysis in the face of shameful defeat followed by humiliating loss? Or is it a back line that would struggle to contain a strike force of Ian Darke and Andy Gray?
The gap between the hopes of the Merseyside faithful and the reality of this team's ability is so vast that Evel Knievel would laugh off any suggestion at jumping it. If you're looking for a season highlight, just pop in the tape of Liverpool's domination of Chelsea. And keep watching it.
Grade: D
[+] Enlarge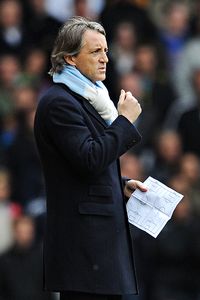 Christopher Lee/Getty ImagesRoberto Mancini has City poised for a strong finish.
Manchester City (last season: 5th; this season 3rd)
Unlike certain twitchy owners in Blackburn and Newcastle, Sheikh Mansour showed sensible patience in keeping Roberto Mancini at the helm. This relative period of stability has started to pay dividends, despite enough manufactured drama to fuel a million Lifetime movies.
Carlos Tevez continues to impress when he can be bothered to be on the field, and with the Toure brothers running the show, David Silva rounding into menacing form, and fantasy league talent two-deep in every position, you'd be a fool not to think that City won't be in it up until the end. In addition, the team's lack of Champions League rigors means that the light Blues will be more rested than will any of the other title contenders. Sitting in third just two points off the pace, Mancini's mercenaries are perfectly poised. That said, it's not all sunshine and light despite Carlito finally devoting himself and his snood to the City cause. A deflating defeat at home to Everton on Monday in which the Blues squandered a chance to go top at Christmas proves that their effort and focus is still lagging behind their bank balance.
Grade: B
Manchester United (last season: 2nd; this season 1st)
How does Sir Alex Ferguson do it? Tabloid and contractual drama but no output from Wayne Rooney. Will-he-or-won't-he-score, Dimitar Berbatov. Even his usual reliance on the grizzled duo of Paul Scholes and Ryan Giggs has abated this season. The result? Unbeaten in the league, and two points clear with a game in hand.
If there's a better man-manager in the game than Sir Alex, he's yet to be found. Other than a comprehensive and astonishing dismantling of a decent Blackburn side, you'd be hard-pressed to pick a game when United played a dominant 90 minutes, and still they bestride the Prem summit after making Arsenal look even more toothless than usual in last week's top-of-the-table showdown.
In simple terms, we're just not worthy to write about the purple-faced genius that is Ferguson, so we'll simply give him and his lads high marks and be done with it.
Grade: A
Newcastle United (last season: 1st in League Championship; this season: 8th in EPL)
This should be one of the feel-good stories of the year. The Geordies have crushed their archrival, Sunderland (5-1), drawn Chelsea in the league while chasing them out of the Carling Cup and even nipped Arsenal at the Emirates. All this after their Season from championship hell that saw this proudest of sides relegated to the second tier.
Held together in midfield by a fitter, less homicidal Joey Barton and featuring the attacking bromance of judicially paired roomies (captain Kevin Nolan and ponytailed attacking brute, Andy Carroll), Newcastle has been a revelation. Unfortunately, crazed, egomaniacal behavior is not simply limited to Russian and Saudi owners, as Mike Ashley took a bazooka to the heart of his squad by firing the much-beloved Chris Hughton. Will Ashley's controversial appointment as Geordie boss, Alan Pardew, bolster team chemistry or simply blow up the lab?
Grade: A-
Sunderland (last season: 13th; this season: 6th)
The Black Cats are one of the EPL's biggest curiosities: Ferguson protégé/manager (Steve Bruce) with a supportive owner (the American Ellis Short) who's willing to spend modestly when prompted, a core of players tipped for greatness -- Big Four transfer target Jordan Henderson, 2010 African POY Asamoah Gyan, the prolific Darren Bent and hard-as-nails foul machine Lee Cattermole -- and an obsessive fan base every bit as vocal as the rabble at Camp Nou. Yet, it's taken forever for them to show the kind of form that had many picking them for a Europa League spot last season. Gyan, Bent and United loanee Danny Welbeck have formed a menacing attacking trident, and they've got the defensive solidity in the back to allow them to maraud forward. Chelsea should know, as the Blues were humiliated 5-1 by the Mackems at home, a demolition that featured defender Nedum Onuoha's Messi-like dribble-and-finish through a hapless rearguard. So should the top eight finishers in 2009-10: Against those teams (Chelsea, United, Arsenal, Spurs, City, Aston Villa, Liverpool, and Everton) Bruce's boys are undefeated this season with three wins and five draws.
Look for Sunderland to finally fulfill its promise this season and nestle comfortably in the top half of the table for what figures to be a long stay.
Grade: B+
David Hirshey

For more from David Hirshey, check out his columns on all things soccer.
• The All-EPL Team, 2011-12
• Saying goodbye to Chinaglia
• Time to dethrone King Kenny Dalglish?
• In praise of Fulham
• The comeback artists
• Call it a comeback
• Death by Manchester
• The battle for third
• Spurs' title credentials
• EPL's best starting XI
• City handed first EPL loss
• Chelsea pushed to brink
• Fragile egos crossing
• City and United
• Is Newcastle for real?
• The bad-behavior derby
Tottenham Hotspur (last season: 4th; this season: 5th)
Oh, this one hurts. As much as I'd like to award the Spurs a failing grade, the truth is that 'Arry Redknapp's who-needs-tactics-when-you-have-Gareth Bale approach is working so well, I'm forced to admit that last season's fourth-place finish may not have been the unique astronomical event that I thought it was. Although Spurs' most eye-popping triumphs in 2010 have come in Europe -- just ask Maicon how well he sleeps following 180 minutes of torture at the feet of Bale -- Redknapp still has his squad playing with maximum confidence and a fair bit of élan. The ol' wheeler-dealer's biggest coup was signing Dutch dynamo Rafael van der Vaart, whose eight goals in all competitions has been as sexy and irresistible as Sylvie, his bodacious bride.
Redknapp is not much for the X's and O's that so excite the David Pleats of the world, but next to the ageless Sir Alex, nobody in the Prem is getting more from his players than the man hilariously tipped to become England's next manager. With only one decent striker and a back line as porous as Madonna's marital history, Spurs play one-way soccer. And for every cringe-worthy performance against Wigan, there's that epic, suicide-inducing comeback win at the Emirates to carry Spurs fans through the inevitable gloom of the next 40 years.
Grade: A-
Class dismissed, until the Headmaster returns on Thursday to grade the other half of the Prem.
David Hirshey has been covering soccer for more than 30 years and has written about the sport for The New York Times, Time, ESPN The Magazine and Deadspin. He is the co-author of "The ESPN World Cup Companion" and played himself (almost convincingly) in the acclaimed soccer documentary "Once in a Lifetime."
MOST SENT STORIES ON ESPN.COM