Commentary
Leonardo's shocking about-face
Updated:
December 30, 2010, 2:34 PM ET
By
Michael Cox
| Special to ESPN.com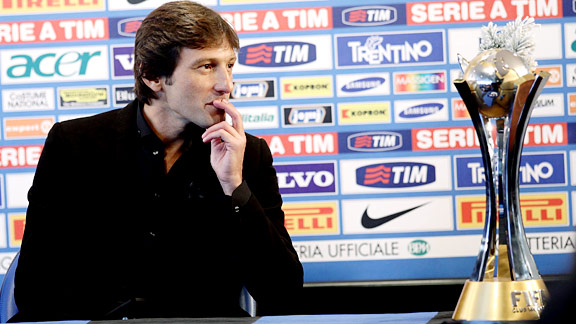 Vittorio Zunino Celotto/Getty ImagesAfter playing for and managing AC Milan, Leonardo has been appointed to helm city rival Internazionale's efforts to claim more silverware and build on last season's treble-winning success.
It didn't take long before the obvious subject came up at Leonardo's unveiling as Inter coach this week. The Brazilian, an intelligent man who frequently offers genuinely interesting views in news conferences, was not fussed: "Some consider me a traitor? I respect all opinions."
The process of replacing Rafael Benitez with Leonardo seemed to be one of the most protracted managerial switches in recent history. In fact, it was only six days between Benitez's rant at owner Massimo Moratti, which effectively signaled his demise, and the confirmation that Leonardo was to be his successor. But with little football happening in the run-up to Christmas, world football's attention was almost solely dedicated to this tale, and therefore everything was reported in minute detail, creating a complicated plot for what was essentially a fairly basic story.
That took away some of the shock value, because Leonardo is an extraordinary choice by Moratti, chiefly because he is an AC Milan legend, hence the accusations of him being a traitor. As a player, Leonardo spent his best years with Milan in the late 1990s, before managing the team to third place in Serie A last season. In between, he worked for the club in a capacity that was a cross between a director, a scout and an agent, helping to bring both Kaka and Pato to Milan. Crossing the divide in Milan is not as big an issue as in many of football's other great rivalries, as Leonardo was quick to point out in his first news conference.
"Inter shows respect to Milan and Milan shows respect to Inter," he said. "They're not enemies." But Leonardo had been so closely linked with the Rossoneri that his move to Inter won't seem true until we see him sitting on the bench for the first time.
If he was emotionally linked with the club, he was not so emotionally linked with Silvio Berlusconi, Milan's owner and the current prime minister of Italy. Berlusconi frequently criticized Leonardo's tactics and team selection last season, and Leonardo wasn't afraid to hit back. It's too much to suggest -- as some have done in the past week -- that Leonardo is taking the job purely to spite Berlusconi, but he certainly wasn't afraid of upsetting him.
There is further shock value, though, since Leonardo never seemed particularly keen on becoming a coach. He was a surprise choice when he took over at Milan 18 months ago, not least because he didn't have the relevant coaching badges for Serie A, and therefore required special dispensation from the Italian FA. His intention had been to focus upon football administration; rather than taking coaching courses, he had attended Milan's prestigious Bocconi University to study business management.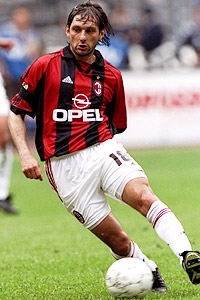 Getty ImagesA World Cup winner with Brazil in 1994, Leonardo scored over 20 goals during a productive period while playing for AC Milan.
"I think that this coaching thing will just be a phase in my administrative career," Leonardo told reporters last summer. When he was removed from his post in May, he was even more skeptical about his managerial future. "It was an extraordinary thing but I don't know if I will do it again in the future," he said. "Certainly not in the next few years."
Half a year later, Leonardo is back -- with a very difficult task ahead of him. Defending champion Inter is seventh in Serie A, when anything less than fourth place by the end of the season would be considered a disaster. The club can't afford to miss out on Champions League football in 2010-2011, as its finances are strained enough as it is.
More pressingly, Leonardo inherits a side that is exhausted both physically and mentally. Winning the treble last season meant a huge 56-game season. Manager Jose Mourinho barely rotated players in the tough run-in, squeezing every last drop out of his men and giving them a hangover they've yet to recover from.
With that in mind, Inter's injury crisis in recent months is no coincidence, especially considering the club has 14 players in its squad over the age of 30.
Tactically, Benitez generally favored a 4-2-3-1 formation, a continuation of the system Mourinho used toward the end of last season. Leonardo is a more attack-minded manager, using a 4-2-1-3 system at Milan. That might well be his strategy at Inter, which should work nicely -- it keeps the basic structure of the old formation while giving the two wide players license to stay up the pitch, rather than getting behind the ball when Inter is not in possession.
This is good news for the likes of Samuel Eto'o and Goran Pandev, strikers who have often been used in defensive-minded wide roles in 2010, and would also mean a deeper role for Wesley Sneijder. The Dutchman was key in Inter's success last season, but has endured an awful few months since the World Cup. His game is about far more than goal scoring, but if he fails to find the target in Leonardo's first match in charge, a home fixture against surprise title challenger Napoli, it will be a year since he last netted in Serie A. That's an astonishing record for an attacking midfielder considered among the top 10 players in world football.
For the January transfer window, Inter has already signed Genoa's Andrea Ranocchia, one of the best center backs in Serie A, but he's unlikely to be followed by many other new arrivals, despite the rumors about Kaka joining from Real Madrid.
Leonardo might well turn out to be a stopgap. He's been given a contract until the end of next season, but managerial contracts seem to mean less and less as the years go by, and especially at Inter. The same might be said of loyalty in football. Reports in Italy insist Leonardo is trying to boost Inter's backroom staff with Paolo Maldini, the legendary left back who spent 25 seasons at Milan before retiring in 2009.
For now, that is no more than speculation, but it would be a truly astonishing move that would cause more cries of treason.
Michael Cox is a freelance writer for ESPN.com. He also runs zonalmarking.net.
MOST SENT STORIES ON ESPN.COM