Commentary
The truth about Barca's system
Updated:
January 11, 2011, 5:08 PM ET
By
Graham Hunter
| Special to ESPN.com
BARCELONA -- A couple of weeks before Lionel Messi, Andres Iniesta and Xavi stood on the Ballon d'Or podium on Monday as the first finalists in the 56-year history of the award to come out of the same youth system, there was a security alert in the La Masia academy where they were trained.
Raynald Denoueix is the French football coach who marched Real Sociedad, starring Xabi Alonso, Nihat and Darko Kovacevic, all the way to the brink of winning La Liga in 2002-03 before being beat out for the top spot by a magnificent Real Madrid side managed by the wonderful Vicente del Bosque.
So even though Denoueix is now a media analyst, he was welcomed to La Masia, next door to Barcelona's iconic Camp Nou stadium and to the youth development section of its Ciudad Deportiva training ground, by Barca head of development Guillermo Amor.
Everything was going swimmingly until Denoueix broke an unwritten rule and alarms went off. "What is the secret of how to train your players to pass and move so well, to press the ball so intelligently and to be so aware of where they should be on the pitch when the ball is lost?" asked the Frenchman.
The atmosphere chilled. "That's like asking Coca-Cola to share their recipe," replied Amor with a very faint half-smile to remove some of the sting.
"Well, would it be OK for me to watch training and draw my own conclusions?" Denoueix added, amiably enough.
"You can have the first 15 minutes just like all the other media," said Amor, who played the fourth-most senior matches for Barca, at fullback, and won more trophies (17) than anyone else at the club.
End of discussion.
And so the mythological status of La Masia grows. But that mythology can be deceiving.
When Iniesta and Xavi lost the vote on Monday, they both spent the next 24 hours repeating two things: Messi is by far the best player in the world, and the overall feeling is that Barca's philosophy has been rightfully rewarded by this award.
Fair enough. La Masia might help hone the skills of Barca's young footballers, but it can't create exceptional talents such as Messi, Xavi and Iniesta unless the brilliance already exists.
The key reason that FC Barcelona won gold, silver and bronze in this first award to amalgamate the FIFA World Player of the Year and the Ballon d'Or is that Messi, Xavi and Iniesta break the mold as footballers.
Teammate Gerard Pique tweeted on Tuesday night, "With respect, I think that Messi is already the greatest footballer ever."
Xavi has been world champion with Spain at the youth and senior level. He's also European champion at both the club and international level, and he was an integral part of Barcelona's all-conquering 2009 campaign. He also leads the club's all-time appearances list with 550.
Iniesta has also received more than a few plaudits. One classic example: After Manchester United lost to Barcelona in the Champions League final in 2009, Wayne Rooney proclaimed to his teammates that Iniesta was "the best player in the world." A year later, of course, the Spaniard scored the winning goal to give Spain its first-ever World Cup trophy.
Exceptional players, all three of them.
La Masia molded them, sure, but Amor's attitude that it's the equivalent to the "secret of Coca Cola's recipe" just indicates how we all like to look beyond the facts and create mythology. Messi is the best example. When he arrived at La Masia just over 10 years ago, nobody, except coach Charly Rexach, put faith in his genius.
[+] Enlarge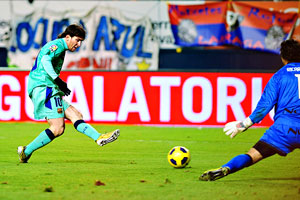 Rafa Rivas/AFP/Getty Images"There were a number of coaches in the youth development system at Barca who tried to change me, but I just ignored them," Messi said.
When I asked Messi about how he developed his preternatural skills, this was his answer: "I've always played this way. I do what is instinctive. I rarely plan in advance and I never study opposition players. There were a number of coaches in the youth development system at Barca who tried to change me, but I just ignored them and kept playing my game."
This fabled La Masia system was, for all intents and purposes, put in place by Johan Cruyff. Upon his arrival as coach in 1988, Cruyff was horrified that all the age levels at FC Barcelona were trained differently and played different formations dependent on which kind of man was in charge of their development. So the Dutchman imposed a few rules which abide to this day. One, all age levels must be trained to control the ball, have the vision to know where they will put the ball with one touch when they get it, and have the ability to pass well and to play in a 4-3-3 system. Two, the system had to train them to adore the ball -- to treat it like a cherished lover. Three, that FC Barcelona players needed to hunger for victory, but to achieve it with flair.
Yet not only is Cruyff no longer involved in La Masia, he is barely welcome at the club these days as he doesn't get along with new president Sandro Rosell. From creator to outcast.
The La Masia is also the same system that failed to promote Cesc Fabregas or Gerard Pique quickly enough through the ranks, to the extent that both of them left, Pique for Manchester United and Fabregas for Arsenal. Pique was brought back in 2008 and is now a footballing colossus. Fabregas is a magnificent midfielder and leader, but he remains -- for now -- just agonizingly out of the reach of Barcelona for reasons of price and, perhaps, the player's loyalty to Arsenal.
So make sure that one thing is not ignored when conversations spring up about the love affair the world is having with FC Barcelona right now and La Masia is described as a kind of Camelot fantasy where all the knights wear shining armor, goodness and virtue flow like milk, and all the battles are won. It ain't so.
The truth is that Barcelona has a golden generation of utterly exceptional footballers. La Masia helps complement their talents, but it's not responsible for them. No academy can "create" Messi, possibly the most skilled footballer ever.
Winners and losers
The Ballon d'Or award also put one or two other things into context, things that get lost in all the media chatter.
Iker Casillas: There was an outpouring of sympathy for Xavi and Iniesta that Spain was robbed of only a second Ballon d'Or winner and its first since JFK announced he was running for president and Elvis recorded "Are You Lonesome Tonight?" But I watched Iker's face closely during the ceremony. There was a wistfulness there. In the 56 editions of this award and since the FIFA World Player of the Year was founded in 1991, only one keeper, Lev Yashin, has won. Only Oliver Khan, Dino Zoff, Ivo Viktor and Gigi Buffon have managed a podium place. Casillas is to goalkeeping what Xavi is to midfield mastery. Perhaps neither of them will ever gain the individual honor they merit.
Ronaldinho: The last Barca player who won back to back individual awards as Messi has now done is the Brazilian who utterly dominated the world landscape in 2004 and 2005. Ronaldinho was also the extra element, beyond La Masia, that Messi needed. "When I was shy and unsure of myself in the first team, Ronaldinho treated me like a brother and looked after me," Messi told me. "He said 'Here, come and sit at the Brazilian table at lunch.' He told me I was the only Argentinean who would ever be allowed to do that at Barca and he made me feel like I belonged."
Almost at the same instant that Pep Guardiola was opening the envelope and reading out Messi's name in Zurich on Monday, Ronaldinho was completing his move back to Flamengo. The years after his last two awards have been slothful, frustrating and self-defeating. We never saw as much of his utter brilliance as we deserved to.
Part of Messi's claim to all-time greatness, I hope, will be that he keeps his focus and doesn't go down a similar path.
Graham Hunter is a Barcelona-based freelance writer for ESPN.com who specializes in La Liga and the Spanish national team. You can reach him on Twitter at twitter.com/BumperGraham.
ESPN.com freelance columnist
Graham Hunter is a Barcelona-based freelance writer for ESPN.com who specializes in La Liga and the Spanish national team.